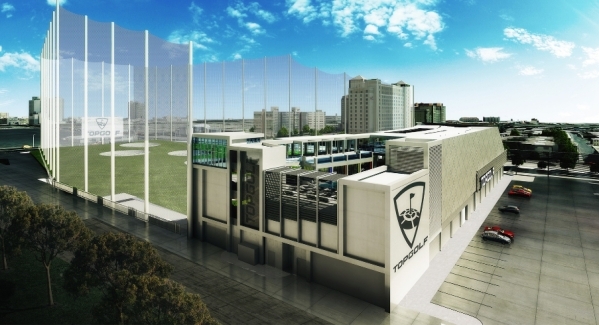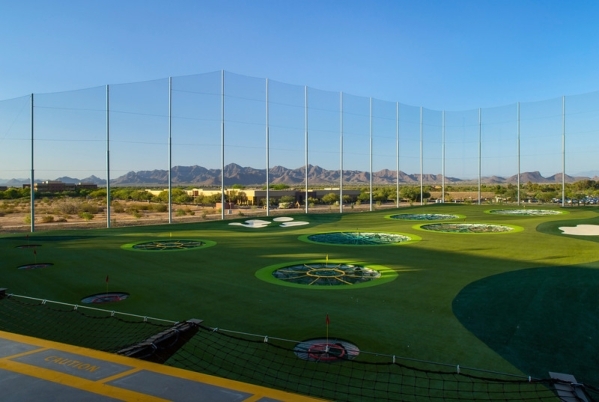 Topgolf, one of the fastest-growing entertainment companies in the country, is entering Las Vegas. And the golf-themed brand that's hot with the under-40 demographic is doing it in a style: It is building the brand's flagship location at the intersection of Harmon Avenue and Koval Lane.
The project, in conjunction with the MGM Grand, will feature an entertainment complex that is part nightclub, part high-tech golf range. One of the innovations, for example, is a point-scoring golf game played with micro-chipped balls. The closer to the center you get and the farther the balls are hit, the more points the player receives.
"Taking the opportunity to build our flagship location in Las Vegas fits perfectly into the Las Vegas landscape," said Adam Flierl, director of Topgolf Las Vegas. "The dynamic piece of Las Vegas landscape will drive domestic and international awareness. Having Topgolf in the entertainment capital of the world helps grow our brand, as well as our relationship with MGM Grand Hotel & Casino."
Ken May, CEO of Topgolf, went a step farther in talking to Golf Digest.
"It'll be Topgolf on steroids," he told the magazine. "Way over the top. It won't look like a traditional Topgolf. Vegas is different, so we're going big."
So is the price tag. While the average Topgolf costs $18 million to build, May told Golf Digest that the Las Vegas site is expected to cost more than $50 million.
With a scheduled grand opening of May, MGM Grand has already signed on as the first major corporate partner for the Las Vegas venue. It will be the first Topgolf location in Nevada, with a four-level, 105,000 square foot facility for games, food, beverages, sports and music.
For the first time in Topgolf's history, a full concert venue is being added as well as two water design features with signature Las Vegas style cabanas and suites. It is also Topgolf's first four-level venue and is almost double the size of their typical facilities across the U.S. that average 65,000 square feet. Topgolf Las Vegas also features a rooftop event space for up to 1,000 guests.
Topgolf Las Vegas will be able to host events for groups of 12 to 900 on a single level or a combination of levels. Full property buyouts are available at the venue for up to 3,000 guests.
"With players of all skill levels, Topgolf excites groups and creates stories that guests will tell long after they leave Las Vegas," Flierl said.
The first floor will feature a custom Callaway golf fitting center; the concert and event space will be on the second floor and the fourth floor will have the rooftop bar and event space. Topgolf Las Vegas will be open 363 days a year. Heaters will be built in the facility for cooler weather in the fall and winter, and a state-of-the-art cooling system will be implemented in the spring and summer.
Topgolf's entry into the Las Vegas market is being welcomed by all segments of the golf industry, as their presence will dramatically increase the visibility of the sport in the city.
"Both the physical location of the facility and the Topgolf brand entering the Las Vegas market is going to help us all out," says Karla Vandenberg, Nevada market brand manager for the Black Clover golf hat and fashion apparel line. "The Topgolf brand is relevant to anyone who wants to have a fun time, and it has an inclusive feel, instead of the exclusive feel that sometimes comes with the sport of golf. I am looking forward to their entry into our market and becoming a vital part of our local golf family."
The Las Vegas opening is part of a larger expansion into seven additional markets in 2015 and 2016, including Roseville, Calif.; Virginia Beach, Va.; Hillsboro, Ore.; and Salt Lake City.
Each Topgolf facility boasts more than 200 high-definition televisions, as well as an extensive food and beverage menu.
Topgolf will be bringing more than a dozen high-profile national and regional corporate partners with them to Las Vegas. AT&T, Red Bull energy drink, Pepsi, Dr. Pepper, Gatorade, Purrell and two major premium water companies, Fiji and San Pellegrino, are signed on as national partners. Regional partners include Audi and Big Red soda.
The 15-year-old company is privately held and based in Dallas. It expects to have 24 locations open by the end of 2015 and is projecting 10 new sites per year through 2018. Each Topgolf location employs about 450, the company said.