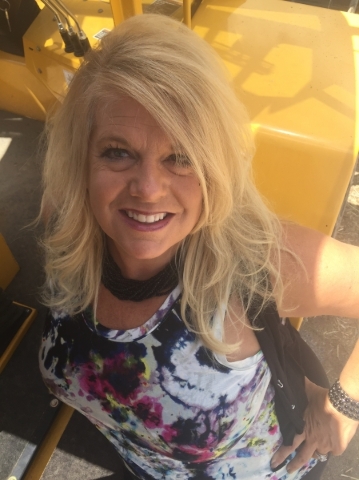 An underground utility installation company is heading down the path to recovery with dollars from Clark County's fuel indexing.
C&S Co. will play key subcontracting roles in two major public projects. One of them is a sewer package that will run along the 215 Beltway, mostly between Las Vegas Boulevard and Warm Springs Road, and up the airport connector toward Sunset, according to company officials. And C&S will install storm drains and provide electrical and water work on the Interstate 11 project.
Both the projects are partially funded by the county's fuel indexing program and will keep C&S busy for the next couple of years.
The projects come as a relief to C&S after the economy bottomed out and left the company in a seven-year-long slump.
"There's almost a relief in our office of 'we made it through, we're gonna be OK,'" said Stacey Lindburg, owner of C&S. "The economy is coming back; we're gonna be OK."
On the 2.5-mile I-11 project, C&S will be the subcontractor to Fisher Sand & Gravel on phase one of the Boulder City Bypass project, which will start at the south end of Henderson and head south toward U.S. 95. The second phase of the project will take the four-lane highway around to the south of Boulder City. Plans call for the I-11 project to connect Las Vegas with Phoenix along an international trade route.
On the 215 project, C&S will be the subcontractor to Las Vegas Paving.
Lindburg's good fortune was set in motion a few years back when Clark County Commissioners voted to approve a fuel tax, set to increase at a rate tied to inflation over the next three years. A cap of 10 cents by the end of 2016 was imposed. The passage gave the Regional Transportation Commission the resources to take out up to $700 million in bonds for future projects.
C&S has had a long history in Las Vegas stretching over six decades. C&S takes on projects involving water, sewer and power. The company once had a gas division, which Lindburg is working on reinstating.
Lindburg, a Cedar City, Utah, native, bought C&S in 2003 after spending the previous 17 years as a food industry broker in Las Vegas. She had a noncompete agreement, so she was barred going into that industry. Thinking she was too young to retire and didn't have enough money to retire with, Lindburg made the purchase.
She said one of her focuses when she bought C&S was to raise the bar on customer service in the construction industry, which, she said, was not that prevalent at the time.
With Lindburg's purchase, she joined a small group of construction company owners who are women. According to the National Women's Business Council's website, less than 8 percent of construction companies are female-owned in the United States.
Like many other construction ventures, C&S fell victim to the economic downturn. Lindburg said the company went from a high of $22 million in annual revenue to $1 million.
"Honestly, it felt like it was overnight," she said.
She remembered having $10 million in work with Nevada Power, Echelon and other residential projects around the Las Vegas Valley before things came to an end.
"The phones just quit ringing," she said. "It's like everything that you're working on, and your plan and all the things that you think you're doing that are great, and then you go, holy cow what the heck is going on here?"
Lindburg said if the phone did ring, it was a customer wanting to cancel a job.
With no work, Lindburg's employee count also dwindled. C&S went from 220 employees to a handful in less than 45 days.
But the company's upcoming public projects are set to breathe new life into the company.
Lindburg said C&S' employee count is set to increase from 18 to 40 with the upcoming I-11 project.
The crossover to the public works market came at a time when so many private-sector companies had become unreliable customers.
"We really had to go back to things that we knew were gonna pay because we just couldn't take the liability and the risk from going to the private market, because so many of the private people weren't paying," Lindburg said.
There was no control on when companies would pay. And many, even when they did pay, would take 60 days instead of 30 days, and some wouldn't send anything for 100 or 120 days, she said.
But that's all behind Lindburg now, and she doesn't see an exit from the public sector anytime soon.
C&S' wage rate is too high to compete in the residential markets anymore because it became a union contractor when it started working on public projects, Lindburg said.
"Once you go to the public market, you're committed," Lindburg said. "It's a brotherhood."
There is some concern across the industry that the public sector will be troubled unless the federal fuel tax is adjusted for inflation.
"This is something that we are extremely worried about," said Brian Turmail, senior executive director of public affairs at Associated General Contractors of America. "Since the last federal fuel tax increase in 1993, the purchasing power of federal gas taxes has been cut in half when you compare it to the increases in construction costs during the same timeframe."
AGC is working on efforts to get government to take action on the issue, but no deal has been reached yet. But in several states, including Nevada, there has been some action taken on the issue through the creation of a fuel tax at the state and local level.