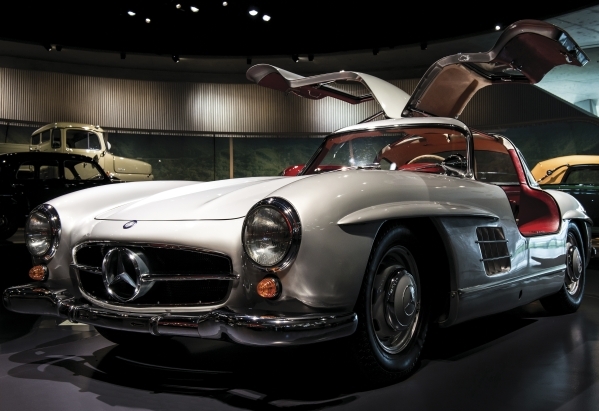 Few things made by mankind can turn heads like luxury automobiles. Their sleek lines draw the eye. The rumble of their engines triggers surges of the heart. They are the perfect melding of art and engineering.
On Sept. 20, residents of the Las Vegas Valley will get to experience the pinnacle of automotive art at the first Red Rock Concours d'Elegance at Red Rock Country Club. It will, in the words of Concours co-founder Michael Dugan, "celebrate the owning, collecting and showing the finest examples of (pre-1950s European) motorcars."
Taking its inspiration from the 17th century French events also known as Concours d'Elegance, or a competition of elegance, that saw French nobles parading their horse-drawn carriages through the parks of Paris, this modern-day exhibition is a throwback to a day when style and elegance mattered. "It now refers to a show of prestigious cars, judged for appearance, originality and livery."
For a part of the country known for elegance and luxury one can wonder why it has taken so long for an event like the Concours d'Elegance to appear under the desert sun. It all started with a conversation between co-founders Dugan and Saloman Braun alongside chef William Pfersching of Red Rock Country Club. This discussion morphed into the fact that there is "a woeful lack of a high-end car show in Las Vegas celebrating the best motorcars that the world has to offer." There was born an idea that became Las Vegas' newest charity event.
While the focus of the Concours d'Elegance will be the automobiles, it was always designed as a charitable event, with proceeds earmarked for Operation Homefront, a national nonprofit that serves service members and their families, with a focus on financial assistance.
"There will be a number of amazing cars there. One is a 1933 Packard in mint condition, which won gold for its class at several notable Concours d'Elegance. It is nothing short of eye-candy," Dugan says. "There is a Rolls-Royce that was a family car, served as an ambulance during World War II, and was rebodied after the war. It has a teak "boat tail." There are only two in the world. (Jay Leno has the other one.)
"There will be a 1954 Mercedes-Benz 300 SL Gullwing, one of the most memorable postwar-produced cars. It still wears the badges of competing in the Mille Miglia, a world-class, 1,000-mile endurance race held in Italy. The car is in magnificent condition and has never been restored. There will be several Type 1 (original design) Jaguar XKE's — a car Enzo Ferrari called "the most beautiful car in the world."
The Red Rock Concours d'Elegance is open to the public from 10 a.m. to 2 p.m. on Sunday, Sept. 20. Off-site parking and shuttle service are provided free of charge. Tickets are $20 in advance and $25 the day of the event. For more information, visit Redrockconcours.com.
This story first appeared in Luxury, a sister publication to the Business Press.