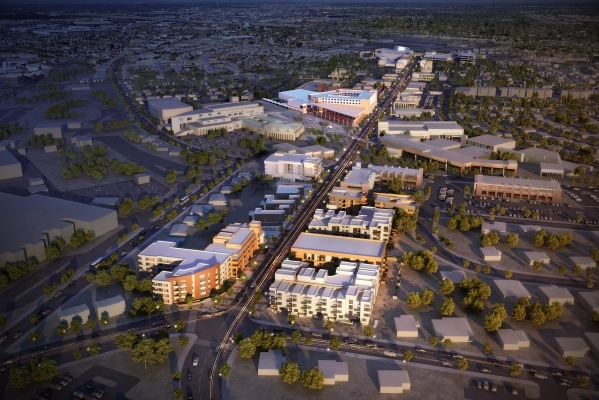 It's difficult to ignore the sounds of construction on Water Street in Henderson.
Crews are hard at work building Lovelady Brewing Co., a craft brewery, and are on the cusp of constructing new offices for the architecture firm, Tate Snyder Kimsey.
Those sounds are unusual to the nearly two-mile stretch of road sandwiched between North Boulder Highway and West Lake Mead Parkway. But it's just the start of a period of rebirth, city officials and business owners said.
Residents started moving away from Water Street in the 1980s to form the area of Green Valley, according to Barbra Coffee, the city's economic development director.
"What often happens is your core community, in this case the original downtown Henderson, is that people tend to move away and build up new spaces," she said. "It's important for the community to make sure that all areas are coming up at once and not letting one fall in decline."
However, that's exactly what happened to Water Street.
Prior to residents moving away from Henderson's core in the 1980s, a changing retail landscape began in the 1950s as shopping malls starting sprouting up across the country.
The Las Vegas Valley, however, didn't see its first shopping mall until 1968 when Boulevard Mall opened on South Maryland Parkway.
The City of Henderson waited another three decades for its own mall, Galleria at Sunset, which opened on West Sunset Road in 1996.
Residents were given more shopping options across the Las Vegas Valley and didn't frequent the businesses on Water Street as much as before.
In the early 2000s, developments were not scarce on Water Street as two three-story office buildings, Meridian and Pinnacle, were erected.
Once the recession hit, Coffee said everything slowed down.
"Before the recession, there was a fairly decent push for developments," she said. "Now that we're coming out of it, investments are once again being made."
The City of Henderson hopes the developments of Lovelady Brewery and the offices of Tate Snyder Kimsey bring other office, retail and residential opportunities to Water Street.
Windom Kimsey, president and CEO of Henderson-based Tate Snyder Kimsey, is placing the 45-year-old architecture firm on the forefront of Water Street's revitalization.
"We're moving our offices to Water Street and we'll be opening a coffee shop on the first floor of our building," he said. "To me, it's one little step toward something much bigger. By having our presence there and participating in events, we can help make an influence so others can see what we're doing and want to do the same."
According to Kimsey, the recession may have benefited Water Street in the long run.
"In some ways I think the recession helped because it prevented things that shouldn't have been built and now there's an opportunity to do it in a wiser, slower way," he said. "The worst thing that could happen is having bad developments come in just because people want to see something happen. The city is taking a good, progressive approach but not rushing to it either."
Building a successful street, Kimsey said, takes people living, working, drinking, eating and walking there, and it won't happen overnight.
"It's a 10- to 20-year process and it takes a lot of patience," he said. "You have to have a vision and believe in it and I'm not the only one that does."
Tim Brooks, owner of Emerald Island Casino in Henderson, said he's planning to add more casino space and restrooms to his business, which is located just off Water Street, next year.
"Business has been good and we're very bullish about downtown Henderson," he said of Nevada's only penny casino, which he owns with his twin brother Mike. "We believe the market can sustain more growth from our business."
According to Brooks, who stepped down in March after serving four years as president of the Water Street Business District Association, the new developments on Water Street and the addition of the Cadence, a 2,200-acre master planned community off Lake Mead Parkway just east of Boulder Highway, are promising.
"I'd like to see more residential units and retail and I think we're headed that way," he said. "We saw the potential when nobody else did and the future is bright for the redevelopment area."
When Brooks opened Emerald Island Casino in 2003, the building, which was an old post office, had sat vacant for three years. He and his brother received $90,000 in city funds to help open the business.
"It's kind of like we took a chance on downtown and in turn they took a chance on us," he said. "Thirteen years later, we're still here reinvesting in downtown creating jobs."
Lovelady Brewing Co., which is under construction on Water Street just before Victory Road, plans to open in March 2016. The project has been approved through the City of Henderson's Loan Committee to receive $90,000 in developer assistance.
Since 1995, the City of Henderson has been working to revitalize downtown by buying and selling land and providing loans and grants to new businesses.
Grants are available to the property or business owner and require a dollar-for-dollar match of grant funds, which are made on a reimbursement basis after improvements are completed, said Tiffany Reardon, communications specialist for the City of Henderson's Economic Development/Redevelopment office.
"The grants are intended to leverage private investment into the downtown and eastside redevelopment areas in an effort to reduce urban decay, and spur economic growth through the creation of job growth, and to also act as a tool to encourage business recruitment and retention into the more mature areas of Henderson," she said.
In addition to the Lovelady Brewery and the Tate Snyder Kimsey developments, Reardon said the City of Henderson has a land purchase agreement in place for a residential development on Copper Street and has received a request to enter into an exclusive negotiation agreement with a developer for land on West Basic Road off Water Street.
"The redevelopment agency staff has seen a steady increase in developer prospects each week," she said. "The increased interest in new, mixed-use development projects in the Water Street District is a positive sign for our economic future and the continued redevelopment and revitalization of the area."
As redevelopment plans for Water Street unfold, Kimsey said his dedication to improving Henderson won't stop once his office building is complete in the next six months.
"Having a vibrant downtown is really important," he said. "I feel that the time is right. People have slogged through the recession and it's time for rebirth."
According to Kimsey, Water Street would be a good location for a public market similar to Pike Place in Seattle or the Ferry Building in San Francisco.
"Food is part of our culture and Water Street has the potential to be at the center of that," he said. "There's nothing like that in Las Vegas and I see it being a really good driver of traffic."
In addition to food, redeveloping existing housing and adding new housing options on Water Street would also propel people to the city's core.
"The infrastructure is already there and the idea is to come in and put some houses there — nothing big, just nice, urban houses that people would want to live in," Kimsey said. "The ingredients are here in Henderson."