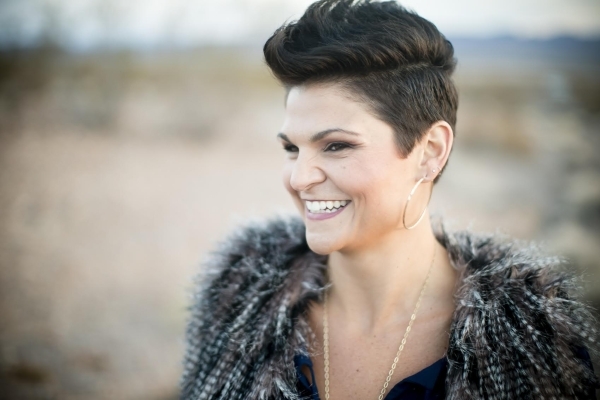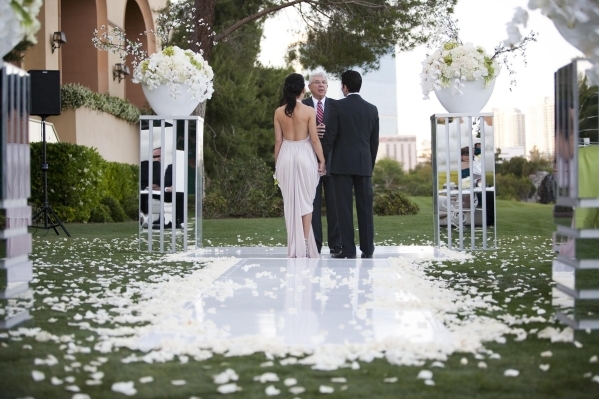 The wedding industry is an important part of the Las Vegas economy.
Last year, more than 1.2 million visitors came to Las Vegas to attend a wedding and the Las Vegas Convention and Visitors Authority estimates that they spent $1.4 billion while in town.
The Clark County Marriage License Bureau issued 80,738 licenses in 2014, however, that figure doesn't come close to its peak of 128,250 in 2004.
In an effort to preserve Las Vegas' reputation as the wedding capital of the world, Clark County commissioners voted last month to increase the marriage license fee to $77 to help finance increased marketing efforts.
Brit Bertino, a Las Vegas-based celebrity wedding planner and owner of Brit Bertino Event Excellence, which offers professional event management, destination management and design services for events and weddings, said increasing marriage license fees is a step in the right direction for Las Vegas to keep the wedding bells ringing.
BP: What is your reaction to Clark County raising marriage license fees?
BB: I think this is a great idea and I support Clark County's idea to raise the marriage license fees to help market the local wedding industry. We just need to ensure that these additional funds are going toward the marketing efforts to support the local Las Vegas wedding industry and raising the bar to bring in wedding tourism. I also think that raising the cost for the marriage license will set a tone for a higher quality of wedding to be produced here.
BP: Why do you think the wedding industry in Las Vegas has slowed down?
BB: We have growing competition from popular destinations that can provide "big bang for your buck" and that can accommodate "quicky" weddings. For example, the Bahamas, Riviera Maya, Cabo, Tahiti and even our neighbors in Arizona seem to be getting a piece of the action.
As a long-time wedding planner, I've noticed lately that many of the couples I work with get married at the courthouse in their hometown and then plan a smaller-scale destination wedding here to save the cost of having more than 250 guests at their celebration. They are tending to keep the weddings intimate with an average of 85 of their closest friends and family at their chosen destination. We want them to always choose Las Vegas as their desired and attainable dream wedding destination.
BP: What has the wedding industry done locally and nationally to boost Las Vegas' wedding reputation?
BB: We have a few local wedding associations that are striving yearly to help create awareness for destination weddings in Las Vegas. I currently sit on the national board of the Wedding Industry Professional Association, as incoming president. This is a prestigious group of wedding professionals who continue to raise the bar in providing over-the-top, luxury weddings worldwide. I decided that it was only right to start a chapter in Las Vegas as we still host the most weddings per year than any other city in the United States. Being in the local Las Vegas market, my goal was to share that we have a luxury wedding market that can host all the glitz and glam that Las Vegas has to offer to local and destination brides and grooms.
Many people associate the Vegas destination wedding with small chapels and drive-through ceremonies. These are quintessential to the Las Vegas wedding industry and they are part of the backbone of what makes Las Vegas a fun, popular place to get hitched in a nontraditional ceremony. But we want to gain traction for couples that want the big fairy-tale production or highly tailored, luxurious experience.
I also sit on the advisory board of The International School of Hospitality, where we ensure that their Wedding Coordination and Design program teaches aspiring wedding planners about full production and design for luxury weddings. We want to make sure that we send these students out into the field with complete knowledge of how to produce complete weddings that include all the refined touches for a memorable, romantic event that matches the couple's vision and expectations.
Additionally, WIPA has teamed up with TISOH to create the first ever Certified Wedding Certification for advanced wedding and event professionals, which we expect to roll out in late 2016.
BP: What do you think it will take in the future to ensure Las Vegas remains a top wedding destination?
BB: Couples love a good deal so making sure that pricing is competitive will be imperative. We also need keep on top of the culinary aspects, new shows, new nightlife and new hotels or venues. Being a leader in wedding production also will attract couples to wed in Las Vegas.
BP: How can the business community contribute to boosting Las Vegas' wedding reputation?
BB: The city tends to cater more to large convention business, which is great as most of those have more than just a one-time commitment, unlike a wedding. However, large budget weddings can also bring in some money even through a slow season. I have been invited on multiple free trips for people in the hospitality or travel industry, which are usually provided by a travel operators, hotels or the Las Vegas Convention and Visitors Authority. It would be great to have the city and the local market create a similar trip for people to experience the lux-side of the Las Vegas wedding industry and host a high-end bridal show at the same time to capture these brides. We need to spend money to make money.
I'd also like to see some creative marketing done to capture a new demographic of brides and grooms. Vegas.com has always had a fresh approach to getting tourism here, now let's do a campaign for weddings.