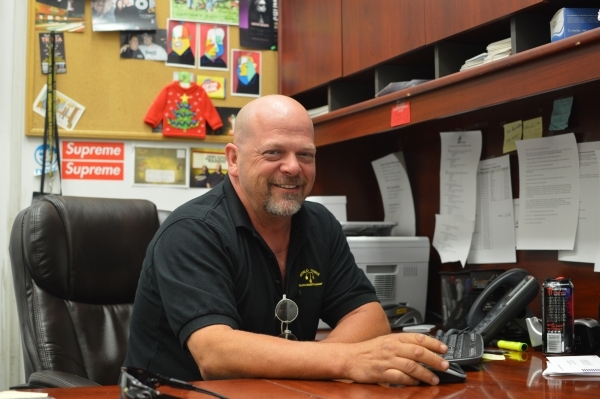 Rick Harrison is one unique business executive. He's truly a self-made man. And a self-acknowledged "weird guy" who has turned that to his advantage.
In addition to his History Channel television show, Pawn Stars, Harrison runs a business and develops properties and products. His latest project is the Pawn Plaza.
Located at 725 Las Vegas Blvd. South, the Pawn Plaza is adjacent to his core business — World Famous Gold & Silver Pawn Shop, America's most famous pawn shop. Restaurants such as the Rolling Smoke Barbecue and Rick's Rolling Stone Tavern will be staples of the Pawn Plaza. Harrison plans to tend bar two nights a week at Rick's Rolling Stone Tavern. "I'm hoping it will draw a little bit of a crowd," he said.
His entrepreneurial talents extend to his own razor, available for sale in stores and online, and he has a Trivia app available through iTunes and Android.
Q. What background information is important for people to understand?
A. I only finished the ninth grade. I was a really, really sick kid. I had epilepsy. It led to me being bedridden for weeks at a time. Can't go to school when that happened. It got to the point where I'd be in my 20s before I graduated high school. So, I finished the ninth grade. I worked my whole life. I started when I was 12 years old; I had a paper route with my buddy. When I was 13, I used to set up at the swap meet with my brother. I've bought and sold things my whole life. I've always been sort of a business man. My whole life I've been that way. There's been a gazillion businesses I've been in.
My entire life I bought and sold stuff. I opened the pawn shop here in '88. My dad's my partner. I've built things before; this is not my first shopping center. I built one before. I bought and sold houses before. I just love to do business, when the government lets you.
Q. Where are you at with the Pawn Plaza construction schedule?
A. We're having a soft opening soon and our grand opening will be Oct. 9. It's all ready to go. It's the million little things at the end. Construction's always easy but the end is always a nightmare because there's 500 little tiny things you have to get done. And that's the brain damage.
Q. Why did you decide to come up with your own redevelopment plan for downtown?
A. One day I was just looking across the parking lot and I own all that property and I'm thinking I should be able to make some money off it. We average right at 4,000 people a day here. I'm sure all those people would love to maybe do some more shopping besides the pawn shop. And maybe get something to eat, maybe get something to drink, and maybe go watch a band, and hang out and spend a lot of money.
Q. What's the biggest challenge you've faced as an executive without a formal education?
A. It's sort of learn by the seat of your pants. But if you watch my show, I really am that nerd. I remember when I was 17 my car broke down and I was pissed because I couldn't fix it. I was walking to the swap meet and there was like a 1,300-page American Society of Engineers Automotive Repair Book. It's the book you took for the class for a year. So I bought it for five bucks and read it twice. So now I can fix cars. You know, I read tons of business books. It's sort of weird from a guy who's on television all over the world but I don't watch television, I just read books at night.
Q. How do you price so many random items without constantly having to research everything?
A. I'm that nerd. I'm involved with my business all the time. Sometimes we have to stop filming because the bizarro organization of my brain. I'm just going like "'I think it's this, someone check real quick." I don't want to be giving messed up information on television. It's basically the weirdness of Rick. I just drink information. I can tell you all sorts of facts and everything but I can never remember anybody's name, which is the weird thing.
Q. Are you surprised how well Pawn Stars has done versus King of Cars, which came out about the same time?
Well, you know I pitched the show for four years. Everyone told me no one wants to watch a show about fat guys in a pawn shop. And that's all that the networks and productions companies were saying. I just thought it would be successful because it's not like the Chopper, where it's all about cars at a dealership, or American Choppers was about motorcycles every week. This, it was everything; it was a million different things every week. It's always different. It's always surprising. It's not the same old thing. One of my God-given gifts is I can make a story out of anything.
Q. Where are you at with filming? How will the upcoming season distinguish itself from others seasons?
A. Well, we're in season 12. I don't know if it's going to distinguish it more. I really believe in the theory if it's not broke don't fix it. This season, I am trying to get a little bit more history, more stuff, just more stuff. More history lessons, Love giving lessons and people all the time tell me that's what they love.
Q. When and why did you establish the Pawn Stars Poker Run Benefiting the Epilepsy Foundation of Nevada?
A. I started working with the Epilepsy Foundation a few years ago. I suggested doing a poker run because I'm a businessman and, in general, in the world it's a lot easier to get, say, $5 out of a thousand different people, than $1,000 out of five people. Plus, if you have that many people involved, there's a lot more awareness and things like that they'll tell their friends and hopefully next year it'll be bigger. Epilepsy affects a lot of people. Literally more people have epilepsy than Alzheimer's, Autism, and a bunch of other things combined. Epilepsy's had a stigmatism with it for centuries. We still see people who can't seem to get away from it. It's just hard to raise money for it. I had epilepsy when I was a kid. Hopefully my motorcycle run and everything will change the business dynamic of raising the money a little bit.