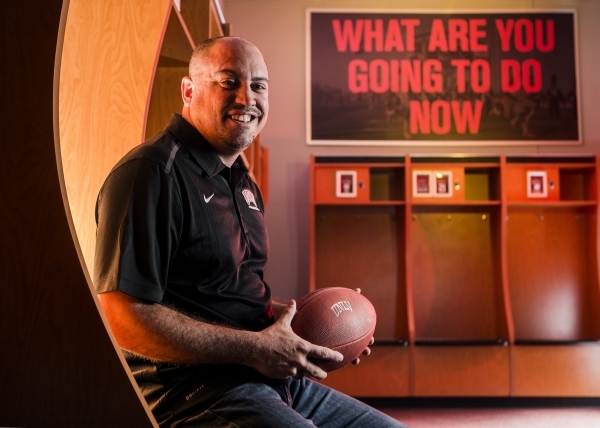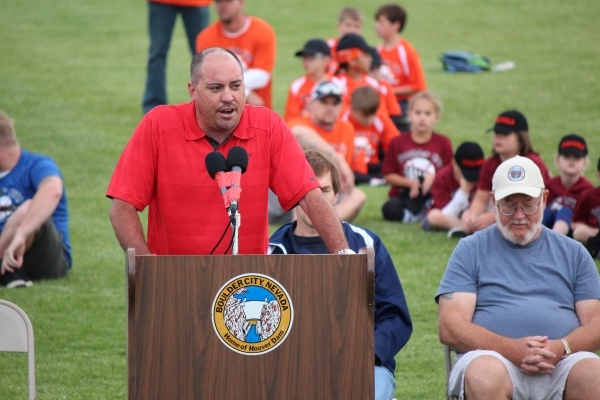 Throughout UNLV football's disappointing past, coaches often have hesitated to embrace the city that has built a global brand on the bright lights of the casinos and hotels.
That mindset changed when Tony Sanchez, who guided Bishop Gorman High School to national football prominence, was named UNLV's head coach Dec. 11.
Sanchez's passion to market the team has inspired the local community to get behind the program, which has had eight two-win seasons since 2004.
"I don't think there has ever been a coach who has embraced the city of Las Vegas like Tony has," UNLV athletic director Tina Kunzer-Murphy said of Sanchez, who has lived in Las Vegas since 2009. "Since he has come in as the head football coach at UNLV, he has totally embraced Las Vegas as a city, and I think that is the No. 1 thing that has changed how the city has embraced him. (For) all of us who are from here, live here and send our kids to school here, it is our city. So Tony has done a magnificent job of embracing the city.
"You are going to see it in his uniforms, his local recruiting, and (athletic department staff) have had the opportunity to be at environments where Tony is talking and meeting people. Whether it is at Nellis Air Force Base, Summerlin, Boulder City, Green Valley, or with a group of students, he speaks of UNLV, the love he has for Las Vegas, and what he wants to do with the football program."
Those speaking engagements have gotten the business community excited about UNLV football. Kunzer-Murphy, a member of the Las Vegas Executive Association, had Sanchez speak to the group during a July breakfast meeting.
"He was spectacular," she said. "People bought season tickets, people came up and made donations, and a restaurateur came up and said, 'I will feed your team any time. How can we help?' It's the same thing every time we go out.
"He spoke at a Boulder City business group. And Tony is pretty much a God-Bless-America-type guy, and he had them his first day there. It's all about how he relates to different people. The Boulder City group is a lead group. Tony told them his one year out of coaching (1997), he was a businessman and he sold copiers, so he said he was used to doing this. All of a sudden everybody in the room was looking to make a connection with our head football coach. They absolutely loved him, and it's like that every place we go."
Coach ′em up
Ken Howe, president of the Las Vegas Executive Association, is a local Pizza Hut franchisee with 41 locations in Southern Nevada, and he attended the breakfast meeting at which Sanchez spoke.
"He fired everybody up about Rebel football," Howe said. "He was just very passionate and contagiously exciting. When I was done listening to him, if I had a million bucks, I would have given it to him to build a new facility."
Instead, Howe, who has lived in Las Vegas for five years and never attended a UNLV football game, bought four season tickets that morning. He plans to distribute some of the tickets to managers of his local stores to get more plugged into the community.
Howe said he got behind Sanchez because of the way he spoke about the city.
"It's certainly one of the reasons I got behind him," he said. "He is a local guy and speaks from the heart. He didn't seem worried about the number of zeroes on his contract. He was worried about recruiting good kids, playing quality football, and long-term, having a legacy of getting kids a college degree. It was exactly what somebody like me wants to hear.
"He seemed to be a highly moral person who understood that football was one element in a young person's success. He spoke about maintaining grades, appearances, and a lifestyle that wasn't like 'Animal House.' When he was done talking, all I wanted to do was help the guy succeed."
Howe said he wasn't the one who offered to feed the team, but, "If Tony called me up and said he needed pizzas one night after a practice or a game, then he's going to get it."
Viva Las Vegas
Sanchez's affection for the city is evident when he speaks. During the Mountain West Conference football media days, he spoke glowingly of Las Vegas and the opportunities it can present for student-athletes after their playing days. He also spoke of his family and the academic successes at UNLV, which soon will be the only university in the Mountain West with medical, law and engineering schools.
"The biggest thing is embracing Las Vegas," Sanchez said. "For a long time, it was one of those things where people have kind of hidden it. We are Las Vegas. We are a vibrant community with great opportunities. We are the entertainment capital of the world, and we want to be a part of that process. People are excited that we are talking about the history of this town and being a part of it. We are not afraid to show it. It is who we are."
Unlike many football coaches, Sanchez seems to embrace the marketing end of the profession. He enjoys speaking to people. When he was the coach at Bishop Gorman, Sanchez spent a week during the summers talking about marketing strategies at Nike headquarters in Beaverton, Ore.
To show he is serious about marketing Las Vegas, Sanchez redesigned the uniforms to incorporate the city name. A three-inch sticker of the world-famous "Welcome to Las Vegas" sign is displayed on all three new helmets. One of the pants designs has "Las Vegas" written on the sides, while the other two sets of pants will feature elements of the old Stardust sign, said Mark Wallington, athletic department director of media relations.
UNLV isn't releasing ticket sales numbers yet, but there has been an increase from this time last year, according to Darryl Seibel, deputy athletic director/external relations. That's a measure of success, given that the 2013 team had been to a bowl game, while the 2014 team won only two games.
"Suffice it to say, on a year-to-year comparison on season tickets sales, we are well ahead at this point heading into the 2015 season as compared to where we were heading into the 2014 season," Seibel said. "We are very careful about that because, realistically we are working from a low base, and it's a base that is not acceptable to Tina and not acceptable to any of us.
"However, we are trending exactly where we should, which is to say we are making progress, but by no means are where we want to be. Tony would be the first one to say that as well. We have a lot of work to do there, but as a point in time, we are well ahead in season ticket sales as compared to a year ago. We haven't gone on sale with individual game tickets yet, and that is the next thing to happen."
Getting started
In the past, game times might have kept many fans away from Sam Boyd Stadium on Saturdays in the fall. This year, the athletic department had a little more control over start times, and Sanchez prefers earlier starts to draw more families, Wallington said. Of course, start times also have a lot do with TV contracts.
"We got to pick more game times this year," Wallington said. "Instead of starting at 7 p.m., we want to start at 6 p.m. Our homecoming game (against Hawaii) will start at 3 p.m. We plan to track attendance at the earlier starts and compare it to what it has been. We've had earlier start times before, and it has gone well."
The UCLA home game on Saturday, Sept. 12, will be at 7:30 p.m. in order to dodge higher afternoon temperatures. Kickoff for the Oct. 31 game against Boise State remains to be announced; the start time will be set 12 days before game day by ESPN, which is telecasting the game. The San Diego State game is starting at 7:30 p.m. on Nov. 21.
"That was set by TV. We never have a night game in November unless we have to," Wallington said.
High-profile home slate
The added excitement has not led to a big increase in ticket prices. The athletic department added priority seating in three sections, and those prices had a modest increase, Seibel said. The Rebels also might see an attendance boost with two high-profile home games against UCLA and Mountain West foe Boise State, and a home matchup against conference rival Hawaii.
"We like the idea of playing a home-and-home against a premier Pac-12 program," Seibel said. "That is why we did the Arizona State deal (for a home-and-home series in 2020 and 2021). You'll see a few more things like that, and we've had a few other marquee programs wanting to play a home-and-home with us."
Sanchez and the Rebels begin the season on Saturday, Sept. 5, at Northern Illinois before opening their home schedule against UCLA the following Saturday.