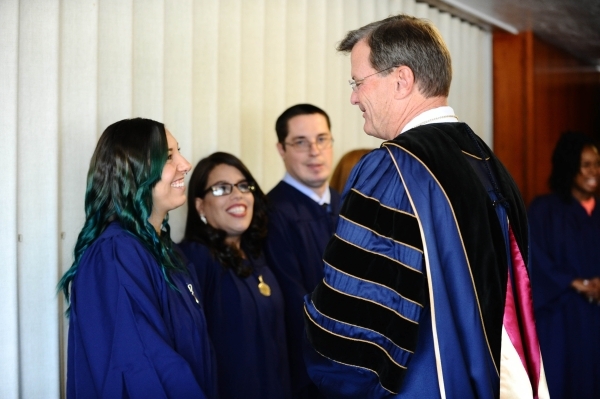 Nevada's $1 billion push to improve the state's education system has drawn the headlines, but a less-heralded drive could deliver quicker results in upgrading the state's workforce.
Though Western Governors University was founded nearly 20 years ago, a partnership with Nevada in June expanded higher education options for state residents.
The online, nonprofit, competency-based university offers more than 50 undergraduate and graduate degree programs in the areas of business, K-12 teacher education, information technology and health professions.
Las Vegas resident Jax Lutz is scheduled to begin pursing a Bachelor of Science degree in accounting this October.
As an operations manager at Savers, Lutz said obtaining a degree from WGU Nevada will help her earn more money and work toward her goal of becoming a certified public accountant.
"At WGU, I will learn the skills necessary to be successful without sacrificing time away from my job or family," she said. "I also like that I can learn at my own pace and take more time with subjects I may struggle in while going through others at a faster pace."
Terms at WGU are six months and students may begin on the first day of any month.
"The great thing with WGU is you take one class at a time, which allows you to really focus and absorb all the information," Lutz said.
WGU Nevada's price tag, she said, is also appealing.
Tuition is approximately $6,000 a year for most programs and is charged at a flat rate. It has not increased since 2008.
"WGU is cost-effective and I can obtain the degree and knowledge I need to pursue my career in accounting without having an enormous amount of loan debt," Lutz said. "Obtaining a degree from WGU will help me to earn more money in a secure job."
Pursuing higher education was on the mind of Las Vegas resident Andrea Petty when she moved from Salt Lake City two years ago.
"I wanted a school that honored the years of work experience I had acquired and WGU fit my criteria because I knew that I had the ultimate control over when I graduated," she said. "I wanted to finish fast and I also wanted something affordable so I could pay out-of-pocket and not graduate with any debt. I also needed something that would fit with my schedule and, due to the virtual nature of the program, it was perfect."
Petty graduated from WGU in December 2014 with a degree in marketing management.
WGU degrees are accredited through the Northwest Commission on Colleges and Universities. Teachers College programs are recognized by the National Council for Accreditation of Teacher Education and nursing programs are endorsed by the Commission on Collegiate Nursing Education.
"WGU was difficult — as any college experience is — however, I loved it," Petty said. "As far as making time for classes, I had to squeeze it in every single moment possible. I often woke up at 6 a.m. to study and read and then did more schoolwork before and after work."
Petty now oversees social media management and digital marketing for various clients.
"Graduating despite many hurdles and a constant state of self-doubt meant everything to me," she said. "It's given me the confidence to pursue my goals — even if I think they are outlandish and scary."
Lutz and Petty are just two Nevadans who have sought to continue their education at WGU Nevada.
According to Jeff Burton, public relations manager at WGU Nevada, 900 students enrolled in June, followed by another 100 new students in August. He anticipates an additional 180 will enroll this month.
"Application numbers have gone up as people continue to learn more about WGU," he said.
Whether or not enrollment at WGU Nevada does rise, Nevada System of Higher Education Chancellor Dan Klaich said he views the online university as an asset, not a competitor, for the state.
"I think every hand on an oar is good," he said. "WGU addresses a generally narrow band of students who are typically over 30 with some college and have other obligations. They also offer education and health care, which is something we need more help with in Nevada."
Klaich added that Nevada has a big job to do to in order to raise the attainment level of the workforce by 2020.
"WGU serves a very small band of students right now so I'm not expecting WGU in the short run to move any needles tremendously forward," he said. "It's unrealistic for us to say they'll cure our teacher shortage in the next five years because they're not that large at this point."
Nevada does, however, have a responsibility to look at any and every method of delivering public higher education, Klaich said.
He anticipates the future of education in Nevada will include increased pressure on higher education institutions to become more aligned with the state's economic development plan in order to build a skilled workforce to help Nevada attract more businesses.
"Competency-based education is something WGU does very well," he said. "I think if we can learn about how to help students be more successful we have an obligation to do that."