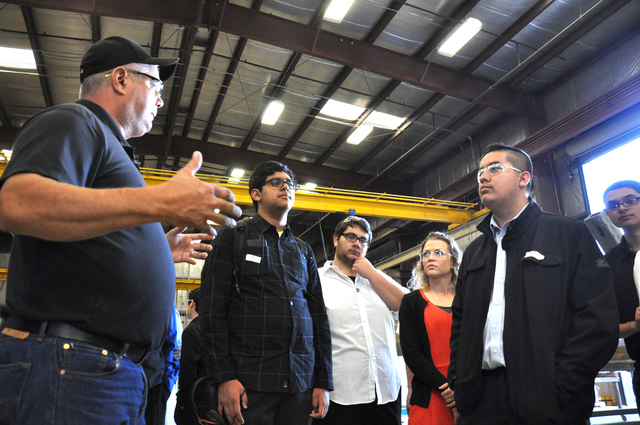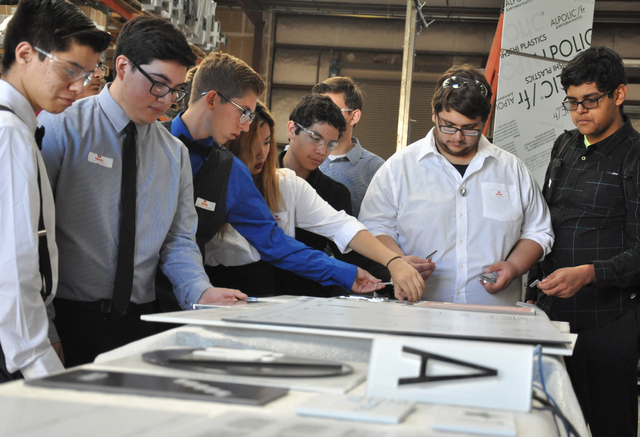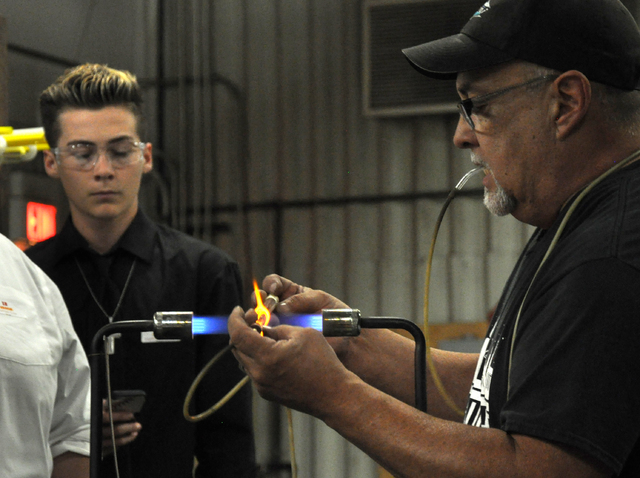 The glistening, onyx-hued profile of Luxor juts from the horizon behind the damaged and obsolete pieces of signs and monuments that fill the boneyard on the grounds of the Young Electric Sign Co.
YESCO has created iconic and captivating signage elements that line the nearby Strip — including the midcentury Fremont Street cowboy Vegas Vic and the Wynn marquee — but the manufacturing facility just below Tropicana Boulevard feels like a world removed from the universe of panoptic glitz it helps create.
"Sometimes, you never realize we are here, doing what we are doing," said YESCO Regional Human Resources Director Bill Ivie. "We think it is a real success story and are happy be a part of a program that allows students to see it."
That program is FutuReady Tours, a collaboration by the Las Vegas Global Economic Alliance and the Clark County School District that offers local industry representatives an opportunity to interact with students from many of the district's 38 magnet schools and seven career and technical academies.
The nonprofit LVGEA was founded in 1956 — originally named the Southern Nevada Industrial Foundation — and focuses on promoting economic diversification within the region. FutuReady is the brainchild of LVGEA Vice President of Business Retention Perry Ursem and School District Magnet and Technical Academy Director Gia Moore.
"Perry and I connected a couple of years ago," Moore said. "We had some similar goals we wanted to achieve."
Those goals included increasing awareness among business entities about the school district's dedicated tech training programs and highlight for students in those programs the fact that many hiring industries are finding a depleted pipeline of skilled workers.
"Our initial thought was that if we partnered to bring industry and the education world together, we could promote what we were doing, educate our community about these great offerings and also form partnerships, including mentorships and job shadowing opportunities," Moore said.
"Last year we had five tours," Ursem said. "They were industry tours on campus for the businesses to see the teachers, students and programs in action. And then, over the course of the summer, Gia and I got together to discuss how to evolve the program further. That is when we came up with this format of Day One still being the industry tours on campus, but the second day is when we take a group of students from these programs out to industry to get that career guidance from the professionals."
This school-year event focuses on three main categories: manufacturing, construction and hospitality. The manufacturing phase consisted of school and site tours of Southeast Career Technical Academy and YESCO.
"We think it is a great opportunity," said Ivie, who hosted about 30 SECTA juniors and seniors Oct. 26. "Not just for us, but for others, to allow students to realize that what they are learning in school — vocational and manufacturing areas — lead to real tangible jobs, particularly in Las Vegas."
Around 400 people are employed at the Las Vegas location, and the company also operates major facilities in Phoenix, Denver and Salt Lake City, where YESCO is headquartered. Additionally, it runs 28 service locations and is represented by more than 100 franchises across the eastern United States and Canada.
"We do jobs all over the world," Ivie said. "Our skill set here is pretty good. We get a lot of major projects: the Beverly Center (a major shopping mall on La Cienega Boulevard in Los Angeles) and the Apple campus in (Cupertino) California. Both of those are multimillion dollar projects.
"We hire people with no experience, but it is really great if we can bring people on that have prior knowledge, experience and education in the areas of things we do," he said. "But in Las Vegas, it is not a major problem for us. Usually we have no problem because of our reputation — people know it's a great place to work — and our product."
Tour participant Ruby Venegas, a junior at SECTA studying graphic design, was impressed with the artistic elements required in sign fabrication, including the need to be skillful with one invaluable but decidedly low-tech tool — the pencil. "It's nice to know that there are people behind the products — sketching, things man-made — instead of all machines," she said. "I like it a lot because I am really good at drawing and also graphic design. I think this is something I can grow in."
"It gives us a good view to see possibly what field of study to go into," added Ruby's classmate, Cameron Pink. "I am taking 3-D animation classes and also manufacturing, so I am actually interested in a little bit of everything here. Because there are so many things that go into it — the design, the actual manufacturing itself and the electrical."
Matthew Palmer is a SECTA junior who is interested in pursuing a career in welding. "I like to get that hands-on experience," he said. "Most definitely I would be interested in a company like this."
"It adds relevance to what they are doing in the classroom; that is the point to these tours," Moore explained. "The beauty of our technical academies is that they do get that hands-on piece — it is part of the attraction for students to come to these kinds of schools. Then to go out into industry and see that the skills they are learning in the classroom are completely applicable and can lead to well-paying jobs in areas they are interested in is huge for us."
The construction portion of FutuReady takes place in December and consists of a school visit to East Career and Technical Academy and an industry sector trip to Martin and Harris Construction, just west of Las Vegas Boulevard.
In February the focus shifts to hospitality, with a school visit to Northwest Career and Technical Academy and an industry sector tour, which is still being finalized.
According to LVGEA figures, more than 40 percent of district students are enrolled in career and technical education programs related to the region's top occupation sectors with acute need for added workers, and of these, 90 percent achieve diplomas.
Those sectors are health care, business information technology ecosystems, logistics and operations, manufacturing and defense, aerospace and unmanned aerial vehicles (drones).
"We love to reach out to the community to be able to try to be of service and help," Ivie said. "We want to be a good neighbor, and it has been good for us. We hope it is good for the youth as well. As a company, we are very interested in promoting manufacturing."