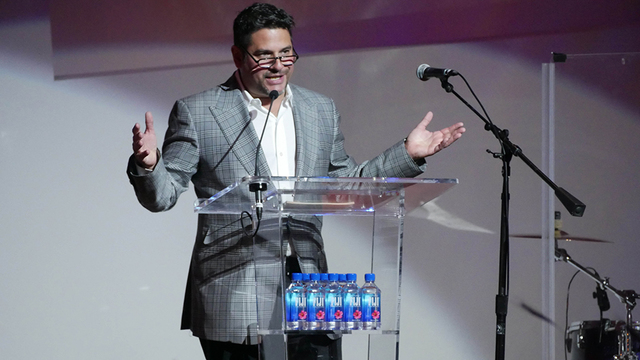 Golden Entertainment Inc. participated in two community events that helped raise more than $200,000 to benefit the ALS Association Nevada Chapter. The company played an organizational role in the Food is Art event and steered donations from its corporate golf tournament to the chapter. The funds will be utilized to provide services and support to more than 100 people afflicted with ALS in Nevada. Steve Arcana, Golden Entertainment executive vice president and chief operating officer, spearheaded local fundraising efforts for the organization, specifically reaching out to the hospitality industry to increase awareness of the local chapter. The event, which took place Nov. 4 at the Keep Memory Alive Event Center at the Cleveland Clinic Lou Ruvo Center for Brain Health, was a dine-around that paired food dishes and wines selected by award-winning chefs from Las Vegas. The Golden Entertainment Golf Tournament on Nov. 10 at the Spanish Trail Country Club included company team members, vendors and business partners. April Mastroluca, executive director of the ALS Association Nevada Chapter, said the proceeds raised by Golden Entertainment will allow the organization to provide programs and services that it didn't previously have the resources to offer, including a communication program.
Smith's offers way to support food bank
Smith's Food &Drug is offering customers a convenient way to reach out and help others during the holiday season. Beginning Nov. 14 and continuing through Dec. 31, customers may add a $1, $5 or $10 donation to their grocery orders, and 100 percent of the contribution will be converted into Smith's gift cards for Three Square Food Bank to purchase meat, grocery items, dairy or other needed items at cost. In addition, stores will donate nutritious but unsellable foods each day to local food banks. In 2015, enough food was contributed this way to create 1.1 million meals through food bank and pantry networks in Nevada.
WestCare Nevada holds candy drive
WestCare Nevada held a candy drive to benefit U.S. troops overseas. The nonprofit organization worked in coordination with the Douglas J. Green Memorial Foundation, which hosts a candy drive after Halloween each year. The foundation sends the candy to the troops in an effort to remind them people at home are thinking about them. WestCare accepted the candy donations at all of its valley locations.
TeamHealth donates $25,000
MassMedia Corporate Communications announced that TeamHealth, a national provider of outsourced hospital-based clinical and administrative services, will contribute $25,000 to Miracle Flights, a charity that provides free commercial airline tickets so children and their families can obtain special medical care.
Miracle Flights received the most votes from attendees at the American College of Emergency Physicians conference, held Oct. 16 to 19 at Mandalay Bay. Visitors to TeamHealth's booth discovered how TeamHealth delivers the highest quality staffing, administrative support and management across the full health care spectrum, and also about the critical work performed by other local charities, including Sunrise Children's Foundation, Three Square Food Bank, Ronald McDonald House Charities of Greater Las Vegas and the American Foundation for Suicide Prevention.
TeamHealth's contribution will expand the Miracle Flights mission to fly seriously ill children and their parents to medical specialists and treatment appointments around the country. The donation translates to more than 32,000 air miles and helps ensure access to critical care for children and adults with serious and rare diseases.
Nevada State Bank sponsors toy drive
As a sponsor of the 18th annual KLUC-FM (98.5) toy drive, Nevada State Bank is collecting new, unwrapped children's toys and bikes from Nov. 21 to Dec. 7 to support the CBS radio station's efforts. Toys can be dropped off at any Nevada State Bank branch location in the valley and will be delivered to KLUC's Chet Buchanan &the Morning Zoo in early December. For a list of Nevada State Bank branches, visit nsbank.com/locations.
Village Square supports charities
In a benefit for the Salvation Army food pantry, Village Square welcomed the Boy Scouts Scouting for Food drive to its Third Thursday Car Show and Craft Festival on Nov. 17. Village Square supports community nonprofit organizations during each monthly event held on the third Thursday of every month. Las Vegas Area Council Boy Scouts and volunteers were on-site at Village Square with signature yellow bags to collect nonperishable food items. The pantry serves approximately 1,730 households a month, giving out 56,837 pounds of food to families and individuals in need. Village Square was also a supporter of this month's United Blood Services Blood Drive. The holiday season is a time when demand for blood increases, and these blood drives provide opportunities to ensure proper volume is available for life-saving purposes.
Santas overrun downtown las vegas
Santas took over Downtown Las Vegas for the 12th annual Las Vegas Great Santa Run on Dec. 3, benefiting Opportunity Village. Human Nature joined Opportunity Village's "OVIPs" as the Grand Marshals of 2016. The Strip's famed Chippendales served as the Grand Marshals for the 1-mile Kris Kringle Jingle Walk. The Great Santa Run raises funds and awareness for Opportunity Village's programs, which provide opportunities, enrichment and support to more than 3,000 individuals with intellectual and related disabilities throughout the Las Vegas Valley.
IKEA collects toys to benefit HELP
IKEA Las Vegas will benefit HELP of Southern Nevada during the store's Let's Play for Change campaign by collecting toys through Dec. 24. Customers of the furniture store at 6500 IKEA Way will be encouraged to purchase and donate a toy to HELP of Southern Nevada, which then will distribute the donations to families in need throughout the holiday season. This local campaign to benefit HELP of Southern Nevada is part of a national campaign which supports children's development and learning through participation in sports and play. For every toy, book, and/or small play furniture item sold, the IKEA Foundation will make a donation of $1 to support children's right to play and develop in some of the world's most vulnerable areas.