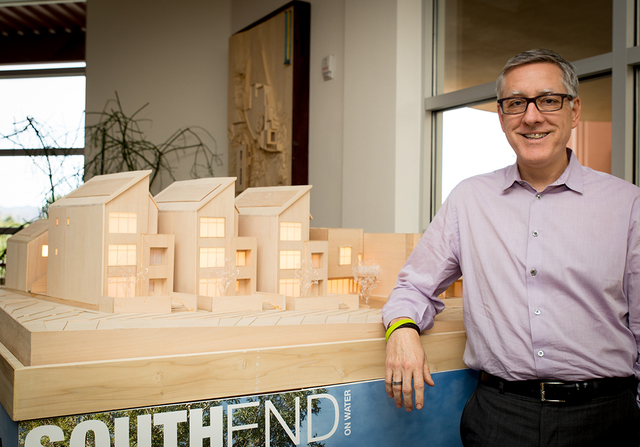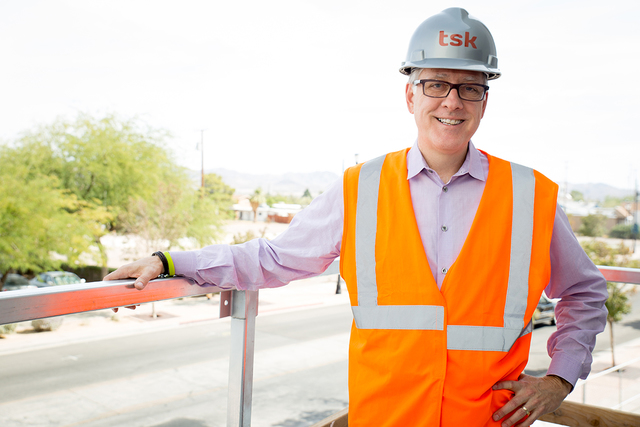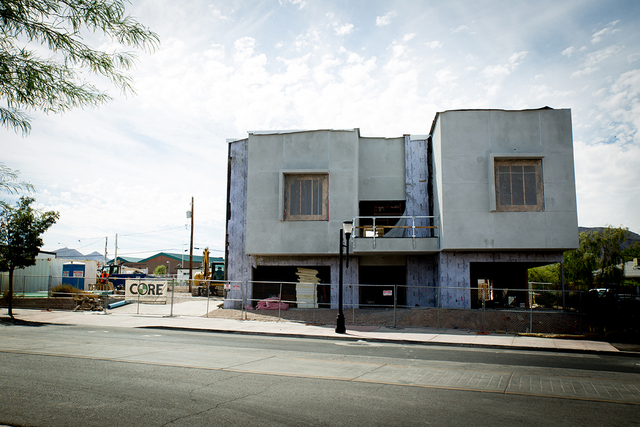 An architect in downtown Henderson is investing in his business and housing in the region.
Windom Kimsey, president and CEO of Tate Snyder Kimsey (TSK), packed up his company from Valle Verde and Sunset roads a few months ago to downtown Henderson with a vision to reshape the neighborhood.
Kimsey is no small player. His firm has designed several megaprojects across the Western United States and China, where it keeps an office in Shenzhen. Some of the firm's most recent local projects include the Clark County Regional Justice Center, the University of Nevada Las Vegas' Student Union and College of Southern Nevada's Health Sciences building. He also helped design the 3 million-square-foot CXTX auto mall with Runsun Development Group in Kunming, China.
But there are big projects and interesting ones. Kimsey's attention was captured after helping the city with what redevelopment would look like.
"I didn't think about moving the office down here until we helped them with that," he said. "Now, we've got something under construction. It's a lot more exciting, and I want to do more."
From Kimsey's temporary office at 303 S. Water St., he can see progress on his future second-floor offices being constructed across the street.
Kimsey said he hopes to move in January into his second-floor space — right above his future tenant: Makers and Finders, a coffee shop. In total, the building will house 6,500 square feet of space between the two floors. That number also includes space for a conference room adjacent to Makers and Finders on the first floor.
This room could have many uses.
"The conference room is big, and we wanted to make ours available to community groups," Kimsey said.
This space is going to be left unlocked, Kimsey said, so people in the coffee shop could use it to eat, chat or just get work done.
This is only part of Phase One. Kimsey is planning a 3,000-square-foot addition, where another design firm will be housed.
"I was trying to design a building that could be compartmentalized in different areas for retail," Kimsey said.
And for good reason.
"The one thing I learned during the recession is if you have to downsize — you don't want to think about it — but you have to: Can some of the space be leased out to someone else?" Kimsey said.
To the south of the new commercial space is an open area for Kimsey's next phase. This is more of a residential vision. There are three more buildings planned for this space: one will be Kimsey's home. Each residential unit will have 3,000 square feet in a main house that will face Water Street.
But behind that is part of Kimsey's special design. Each home's garage will face toward an alleyway behind the main house. A separate 800-foot structure will sit on top the garage with a yard in between the two.
Kimsey said the buyer of one of his homes has several options.
Each contains three floors, with the apartment in the rear. Users could decide to use the entire space and rent the apartment over the garage; they could even choose to rent each floor and keep one for themselves, he said.
"We're going to sell them, so people can kind of configure them how they'd like," he said.
So far Kimsey has invested $1.5 million in the commercial space, which he said is a large investment for the downtown area.
Mark Hobaica, redevelopment manager at Henderson's redevelopment agency, said reinvestment is already happening in the region. There are two developers purchasing existing residential properties and looking to turn the structures into multifamily properties.
Redevelopment doesn't come without infrastructure upgrades.
Hobaica said the city and the redevelopment agency have partnered to improve the streets in the downtown area near the Eldorado Casino.
"Those improvements include a complete renovation of existing streets," Hobaica said.
The future looks bright for downtown Henderson.
"If you want to get into the big picture, I think five years from now — even 10, when Cadence gets more built out," Kimsey said.
He hopes to see the downtown Henderson area as a place for Cadence residents to eat, drink and shop.
Hobaica hopes that businesses also will move down to the region. But it's not for everyone.
"We don't have big swaths of property to bring in corporate headquarters — business opportunities that are big scale," he said. "We're even looking to create some more incubator-type corporations, where businesses can start down here and grow — then maybe they'll stay down here or relocate somewhere in Henderson."