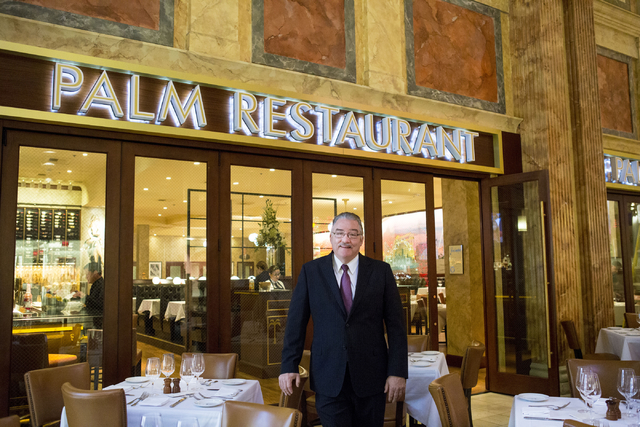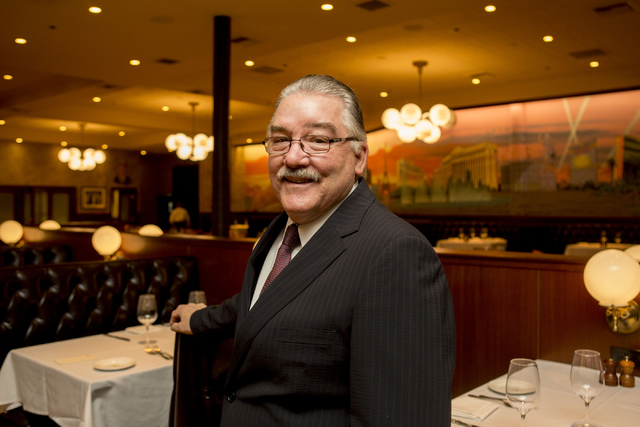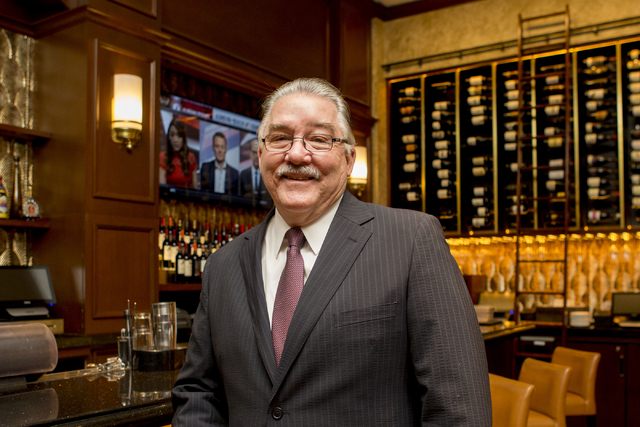 Larry Close, general manager of The Palm Restaurant of Las Vegas, inside the Forum Shops at Caesars Palace, has seen the famed label through a large part of its 23-year existence on the Strip and is leading the brand into the next phase of its evolution.
For the past two decades, Close has kept busy, working 12-hour shifts for a restaurant that serves about 125,000 plates annually. During that time, names like Jerry Seinfeld, Nicolas Cage and Celine Dion have dined at the steakhouse, now in its fourth generation of family ownership.
This summer, Close oversaw The Palm Restaurant's $2.5 million renovation, which brought it a new look and more open design. The space now holds a 500-square-foot mural by Zack Bird, out of Philadelphia, that captures Las Vegas, from past to present.
Before moving to Las Vegas in the late '90s, Close was lived in downtown Chicago for about 20 years, though his career choice has always stayed constant.
"I've always been in the restaurant business, through high school and college," he said.
Close's educational background includes an undergraduate degree from Penn State University in hotel administration/management.
Q: Can you tell us something about the Palm Restaurant's history?
A: We're been in business 90 years. Originally, we were an Italian restaurant, back in New York City. We just did Italian dishes, your veal Parmesan, chicken Parmesan and pastas and what not.
Q: That changed over time?
A: We (The Palm) started dabbling into steaks, because the customers would come in and ask for steak. The owners would go down the street to the butcher, get a steak, bring it back and cook it, so we started carrying steaks, all prime steaks. Then, we started dabbling in lobsters. We now carry 3-, 4- and 5-pound Nova Scotia lobsters.
We were known for our prime steaks and Nova Scotia lobsters. Now, our seafood. Our claim to fame is ocean to the plate in 38. In other words, they catch it, process it and cook it in 38 hours. If you like fish, it's the best.
Q: How has The Palm kept going all these years in Las Vegas?
A: I believe they (customers) come back because we serve the highest-quality food in a relaxed and friendly atmosphere. They know what they're going to get.
Q: The Las Vegas restaurant just went through a remodel?
A: We actually had two separate entities going on before we remodeled, because we took over the shoe store next store, so that became our bar. So, we kind of had two different places for people to go to. We wanted to combine the two, make it a bit sleeker, a little more millennialish, even though it's still a work in progress to getting the millennials in.
Q: What else has The Palm organization done to get a younger crowd in?
A: Facebook, Twitter and Yelp, Trip Advisor and all those mediums. That's the goal of the Palm to attract the people, because that's where they're shopping. They're not shopping on billboards. Word of mouth used to be the way. It used to be I had a great steak, you should check it out. Now it's I had a great steak, so I'm going to go back. That's the future of the Palm. They're (the corporation is) going to make sure (it) stay(s) current in today's technology.
Q: How does the Palm compete against other steak houses that pop up around Las Vegas?
A: The casinos can reinvent themselves at the drop of a dime. Steve Wynn will say I don't like it, close it and remodel it. But we can't do that. We've been around for 23 years because we feel that we offer the guests the quality they're looking for at a price that they can afford. With 23 other Palm Restaurants around the country, when they (visitors) come to Las Vegas, where do they go? They come to the Palm, because they know. We're the (Las Vegas) ambassador for all the Palm Restaurants.
Q: What do you like to do in Las Vegas?
A: I'm raising my two kids and playing lots of golf, when there's time.
Q: Any favorite courses in Las Vegas?
A: There's lots of them, but TPC Summerlin, DragonRidge, Southern Highlands. Paiute's a very good track. There's some really great tracks, and there's some really OK tracks … business gets in the way of golf.
Q: Are you ever going to retire?
A: We signed our lease for 20 years; I'll be here another 20 years. I love the business; I love the people.