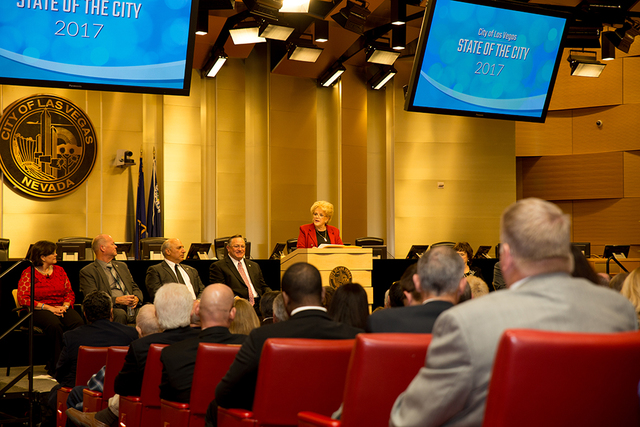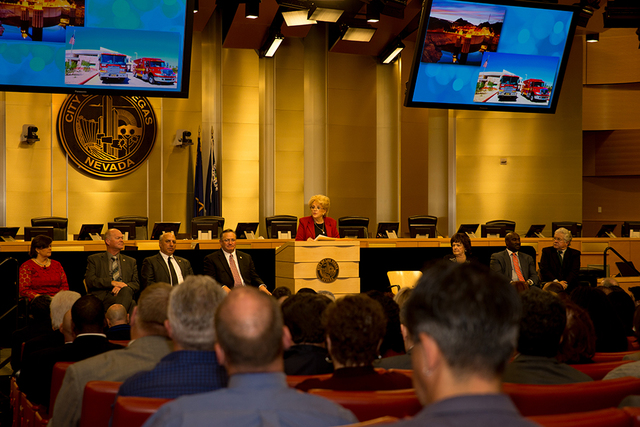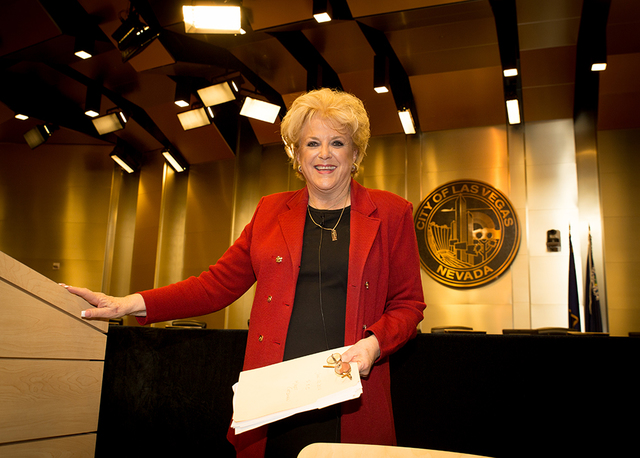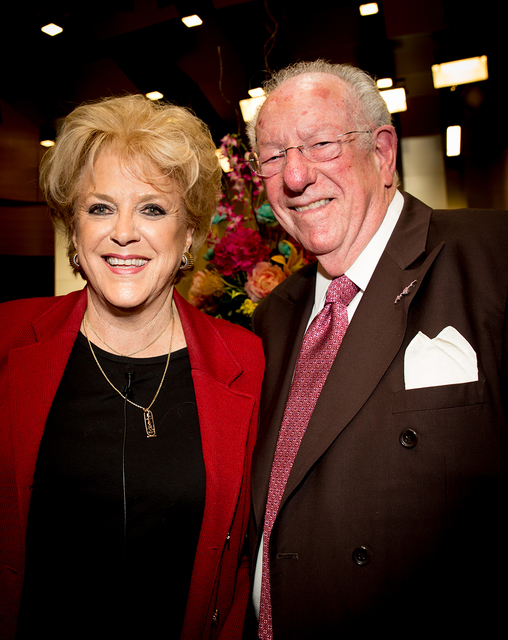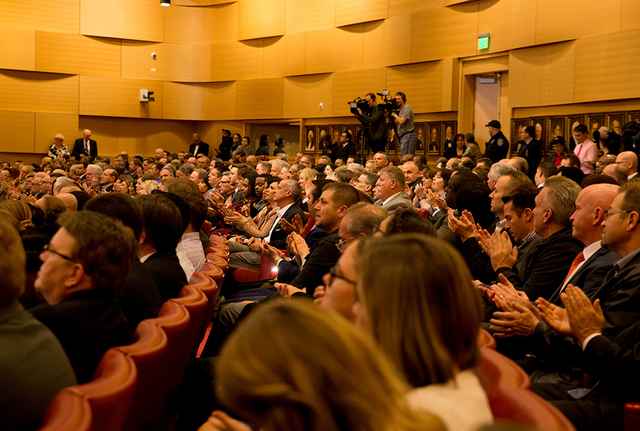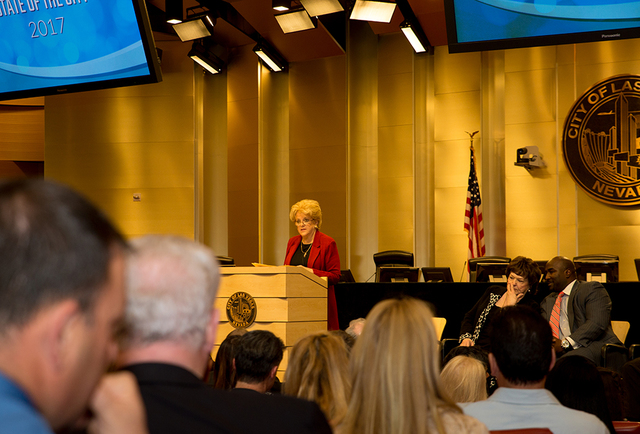 Las Vegas Mayor Carolyn Goodman had an extra bounce in her step when she gave her annual State of the City address, and a lot of it had to do with the investment and successes in downtown.
For the second consecutive year, the Gaming Control Board said downtown Las Vegas has led the way in the percentage gain in total revenues. It won out over 12 other markets statewide with a 6.1 percent increase over 2015 with $1.1 billion in revenue.
Gaming revenue rose by 3.9 percent to nearly $550 million. Downtown room revenue rose 10 percent or $19.5 million.
That comes on the heels of a report by the Las Vegas Convention and Visitors Authority that shows the number of visitors rose 1.5 percent to 42.9 million in 2016, and the LVCVA expects that number to surpass 43 million in 2017. Convention business rose 7.1 percent to a record 6.3 million in 2016, the most since prior to the Great Recession.
"I see tourist traffic increasing to the downtown and becoming explosive — a place in which the millennials and even their parents can come to enjoy living and being productive and having a phenomenal time," Goodman said.
Goodman cited the investments by brothers Derek and Greg Stevens in The D Las Vegas, by the Plaza, and how the Golden Nugget and El Cortez are driving in new customers with new restaurants and meeting space. She cited how Binion's is looking to reopen its tower and Boyd Gaming is investing millions in upgrading the California.
Downtown is getting a growing share of the region's visitors, Goodman said.
"It's happened because tourists have come to know and love the intimacy of the downtown experience," she said. "They don't have to take long walks from one property to another, and they can enjoy the close physical proximity of all the hotels, the new restaurants and inviting taverns."
Goodman said downtown visitation has been aided by the Smith Center for the Performing Arts that opened in 2012, art galleries, antique shops, museums, shopping centers and the Fremont Street Experience and other entertainment opportunities and events in downtown.
The Stratosphere on the Las Vegas Strip is gaining more visitors. The Lucky Dragon on Sahara Avenue south of downtown that opened in December is the home of the first new casino built in the city in more than a decade, Goodman said.
Goodman also mentioned other residential and business development in downtown that's happened in recent years and continues today. The World Market Center continues to expand, and the city plans to build a parking garage downtown. The UNLV Medical School will open in 2017, as will the Nevada Supreme Court building at Clark Avenue and Fourth Street.
"It's a beacon to other investment, to other investors who see we're back in business again," said Goodman, who added a growing population continues to reverberate on the region. "That portends to greater economic growth accompanying new jobs and more investment with great advancement throughout our city and the county."
Overall, Goodman described 2016 as a "solid and good year with even more positives coming out of the killer recession" than the city had in 2015. Even outside of downtown in Summerlin and the northwest valley, there's strong residential development.
"I see nothing but growth and prosperity throughout the city and continued explosion out in the northwest area of the city," Goodman said.
Even though the Vegas Golden Knights will kick off its inaugural season next fall at T-Mobile Arena on the south end of the Strip and the prospect of the Oakland Raiders relocating to Southern Nevada is improving, Goodman said she won't stop her efforts to lure other professional sports leagues to Las Vegas.
Las Vegas lost out in 2014 in a bid to land a Major League Soccer expansion team, but Goodman said she's not stopping her efforts, and that interest remains on both sides. That ball of luring pro sports teams started with her husband, former Las Vegas Mayor Oscar Goodman.
"The city has been the mouse that roared for over 17 years about bringing major league sports to Las Vegas with almost 2.2 million residents and 43 million tourists," Goodman said. "It's time. We do have the most compelling reason for major league sports for downtown. We know that other major league cities, like Baltimore, Los Angeles, San Diego and Pittsburgh, on bringing major league sports in the city core, (aided) redevelopment in areas that are blighted and need a big boost."
Cashman Field, where the Las Vegas 51s AAA baseball team plays, is the best location for a sports franchise, Goodman said. The city owns the property, and transportation infrastructure is being built. Sufficient parking is in place, and more is planned.
Elsewhere, Goodman said she's concerned the Trump administration and the Republican-controlled Congress will cut back on what the city receives in Community Development Block Grants for revitalizing deteriorating neighborhoods.
On the positive side, Goodman said Trump's plan for new infrastructure spending could benefit Las Vegas and Southern Nevada. She also said the region has lost out on anti-terrorism funds during the Obama administration, and that could change under Trump.
"If Hoover Dam were to be put out of commission, that would have billions of dollars in effect," Goodman said. "The paltry sum awarded to Nevada and Southern Nevada (should not be tolerated). We have to do more."
Goodman also said improving the Clark County school system is vital for the region going forward, and more must be done.
"No company will come to Southern Nevada and find it an attractive place to do business until we fix this," Goodman said.