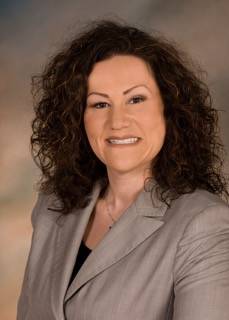 Johanna Blake is a native to Las Vegas, having grown up here since the 1970s. She attended Chaparral High School and both CSN and UNLV. Blake has more than 30 years of financial services experience and started at Bank of America in high school before leaving to start her own investment advisory firm, Stonehedge Financial Group. She returned to Bank of America in 2008 to manage its ultra-high-net-worth Private Bank offices of Nevada, San Francisco and the California North Bay. She is a mother of identical twin boys, Grayson and Steele, 11. In her spare time, she is the executive sponsor for the bank's employee networks LGBT + PRIDE Nevada and LEAD (Leadership Advocacy Educations & Development) Nevada Chapter, as well as a National Diversity & Inclusion Co-Chair for The Private Bank, Bank of America.
Q: How has the wealth demographics changed in Nevada in the three decades that you have been a wealth manager? Larger emerging wealth and mature wealth, expansion of retirees?
A: While Nevada continues to be a "retiree haven" based primarily on mature wealth, there's been a sea change in who has wealth today as new generations reside here. It's no longer just older retirees and seasonal snowbirds, as more and more younger business entrepreneurs are staying and growing wealth here. In 2018, the median age in Nevada was 38 with millennials and Gen-Xers accounting for almost half (47 percent) of the state's population.
What is happening in Northern Nevada is particularly notable, in Reno and Lake Tahoe in particular where we have seen double-digit wealth growth year over year. The economic diversity happening there coupled with a multigenerational presence has resulted in more business owners choosing to call Northern Nevada home and become full-time residents.
Overall, low business operating costs have made all of Nevada very desirable to have a company. While leisure and hospitality remain the leading industries in the state, manufacturing is also a strong industry and we've seen some businesses choose to locate here, bringing more jobs into the state.
Q: How has the recovery from the Great Recession affected the local wealth landscape?
A: The recession created both hardship and opportunities, depending on the financial strategies you had put in place prior. While the housing market took longer to recover, our investment clients, who didn't sell or make drastic changes to their portfolio strategy, realized strong gains over time. In fact, most clients were back to the pre-recession levels within just two years. As we came out of the recession, it became more important than ever for financial advisers and clients to be more proactive in planning. We also put greater emphasis on the diversification of asset allocation so that clients can weather unforeseen economic events. For example, 15 years ago in Las Vegas, it was gaming and real estate that primarily created high-net and ultra-high-net wealth. But today, the local and state's economy have diversified such that wealth can, and should, come from a variety of industries and sources. My team of advisers and our clients have found that discussing such strategies in-person, face to face, make all the difference. Frankly, having a relationship with your financial advisor can be a game changer for the longevity of your wealth.
Q: We know we are getting a lot of Californians relocated to Nevada. How has that changed our population's wealth stats?
A: There is no doubt that Californians have played a pivotal role in Nevada's population and economic growth. Nevada has always been attractive to residents from states like California given the difference in state income taxation, as well as the favorable cost of living, less tax burden and being able to maintain proximity to family. The key variable is when the tax law changed in 2017 limiting the federal benefit of the state and local tax deduction (SALT), many individuals, particularly those who are retired, have found that it is a good time to leave states like California and move to Nevada. For Nevada, it's fueled the housing boom and jobs, economic stimulation, investments into schools and universities as well as into infrastructure to keep up with growth. While former Californians may have brought us their wealth from a Los Angeles home sale or from a Silicon Valley liquidity event, for example, Nevada benefits as that wealth stays here and regenerates here. There is a correlation to be made between wealth growth here and migration into the state — in Reno and Lake Tahoe in particular, the year-over-year, double-digit growth in household and personal wealth is tied to specific population influx from the Bay Area.
Q: Many economists have called our era a "great sea change" of wealth, meaning as baby boomers die, their assets will be transferred to the next generation. Can you tell us what our local economy can expect from that?
A: The next generation wealth transfer anticipated in Nevada and across America is staggering. It has been estimated that $68 trillion of wealth will transfer over the next 25 years — $58 trillion going to heirs and the other $10 trillion going to charity. Baby boomers have accumulated a large amount of wealth due to the propensity of spending less than what they earned in their lifetimes and were good savers. They are in the process of passing on that wealth, and the beneficiaries of that wealth transfer will cause the local economy to grow as more goods and services are consumed. It will come in waves, with boomers transferring to Gen-X in the next five years, followed by a subsequent transfer to millennials 10 years from now. However, here in Nevada, with a larger-than-average retiree community, it's already happening and the topic of next-gen wealth transfer is top of mind for my clients and my team, who focus on intergenerational wealth planning, trust services, estate planning and philanthropic structuring. We take a very personal approach to this and get to know our clients' children and extended families who will be beneficiaries. An important part of this approach is also helping the next generation understand how to manage money. Our Financial Empowerment program was designed to help the next generation make good financial decisions today and support a solid foundation for the future.
Let's not forget that Nevada also has some 4,600 nonprofits and charities that can be beneficiaries for this wealth transfer as well, which is significant asset for the nonprofit sector here.
Q: Does this mean there will be more young entrepreneurs creating more businesses in Nevada?
A: Business owners and entrepreneurs in Nevada are already getting younger. We definitely see this in Reno and Lake Tahoe, but also in Southern Nevada. Gen-Z and millennials actually make up the largest percentage of Nevada's population at nearly 50 percent. When we talk about the monumental shift in the next generation's wealth transfer, that is not only for personal households. Bank of America Private Bank research tells us that more than half of business owners expect to exit their business within the next five years, which will certainly change the age demographics in company C-suites, either by sale or passing the business to their sons and daughters. Younger entrepreneurs are known to be serial entrepreneurs, meaning they don't stop at just one business venture, so we can certainly expect more businesses in Nevada as younger generations take over the C-suite.
Q: We have a lot of retirees moving to our state. How does this affect us?
A: The retiree population will change the composition of goods and services for such needs as home care, long-term care, medical and professional services. Affluent seniors and snowbirds make up a significant portion of Southern Nevada's population, spending millions of dollars annually, and we don't expect this trend to change since Nevada does not have a state income tax, and any income from a pension, a 401(k), IRA or any other retirement account is not taxable. This represents significant savings when compared to most other states that tax at least some forms of retirement income.
Q: How diverse is our wealthy population?
A: Nevada's wealth is getting more diverse in both gender and age. Women in the U.S. are predicted to control a staggering $22 trillion of wealth by the end of this year, 2020. This is derived both by the wealth transfer from outliving a spouse and due to more women running successful companies. As a matter of fact, the number of women-owned businesses grew 58 percent in the past 10 years — nearly five times faster than the national average — and the trend continues. And Nevada once again has one of the highest number of the richest self-made women, according to Forbes' annual list, behind California and New York. In addition to women, younger generations are also becoming beneficiaries of wealth transfers expected across Nevada, given that Gen-Z and millennials comprise nearly half of Nevada's population already. These assets can be personal household wealth or from strategic business succession planning as more and more sons and daughters plan to take over the family business. I especially see significantly younger entrepreneurs building wealth in Reno and Lake Tahoe, choosing to live and reinvest there.
Reflecting these demographic growth trends, more of our wealth advisers are women as well as advisers who are younger in age. I hire teams who understand and relate to our clients, and vice versa.
Q: Do you have other insights you can give us?
A: My favorite thing about living in Nevada for my entire life is the "can-do" attitude of both the longtime and new residents. While pedigree and previous experience are important, Nevada is home for those who believe in themselves and want to make things happen. Plus, with additions like the Vegas Golden Knights, the Raiders and all the new businesses relocating to Southern and Northern Nevada, the opportunity for our state to further diversify and grow on our storied history is a real thing. Between the can-do attitude, the favorable tax environment and incredible weather, I'm even more excited and opportunistic for what the next 100 years hold.