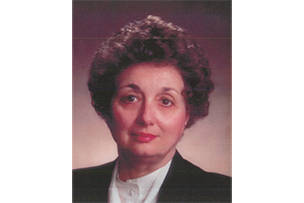 EDITOR'S NOTE: If you have an audio that has an inspirational or educational message for businesses, please send it to lcollier@reviewjournal.com.
Each year, retired Coldwell Banker Premier Realty Realtor Marilyn Squitieri addresses the company's agents at its annual awards ceremony. She was a leader in the real estate community from 1983 to 1996. This year, she was not able to make the Feb. 20 event, which was held at The Smith Center for Performing Arts. So, the former elementary school teacher sent an audio recording instead.
The company even has a prestigious award named after her that is given each year to one sales or staff person who "consistently demonstrates high standards of service, including community service, productivity and leadership."
This year's recipient is Lavert Benefield who's been with Coldwell Banker Premier Realty since 2010.
Here is Squitieri giving business advise and tips on how to "keep an happy aura about you."