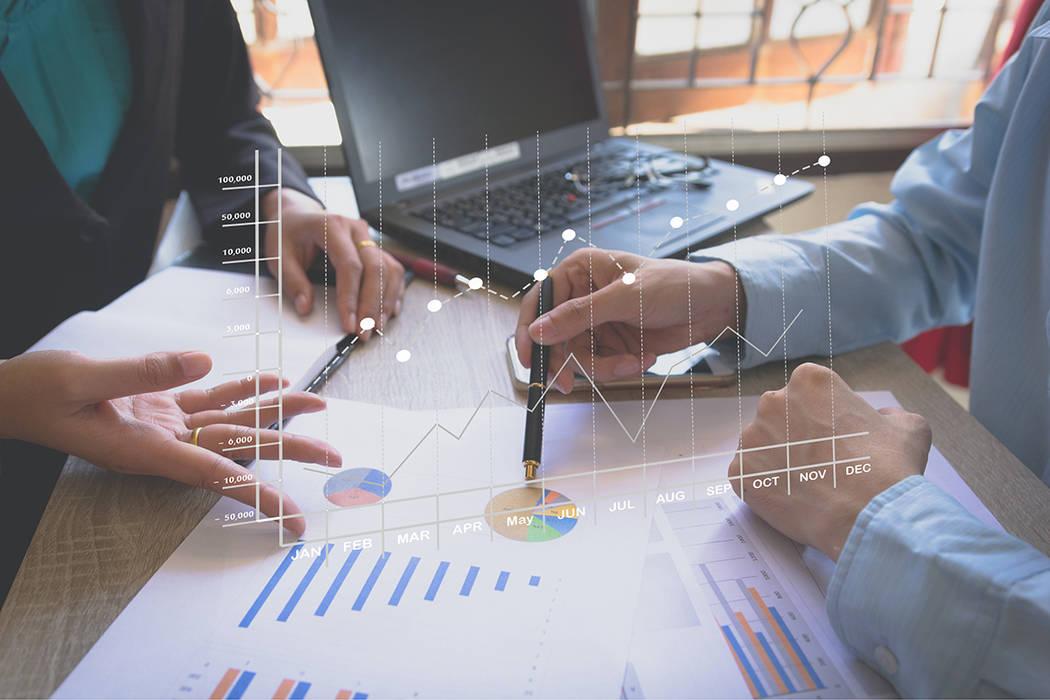 The UNLV Lee Business School's Center for Business & Economic Research released the 2017 Midyear Economic Outlook report. Director Stephen M. Miller during a June 14 presentation at the Palms gave an overview of the report that indexes business confidence and economic factors, such as tourism, construction and employment in Southern Nevada.
Highlights of this latest report show a slight rise but continued business confidence along with some positive trends for Southern Nevada.
The Southern Nevada Business Confidence Index is a guide used to judge whether or not business owners feel that our economy is headed in the right direction. According to a poll conducted by UNLV's Center for Business and Economic Research, the Index, which surged by 14.3 percent from 118.6 in the fourth quarter of 2016 to 135.5 in the first quarter of 2017, continued the trend with a modest gain to 138 during the second quarter of 2017. The index includes five components: business expectations of general economic conditions in Nevada, sales, profits, hiring and capital expenditures.
A positive trend can also be found in the Southern Nevada Coincident Index and the Leading Index, both of which have continued to climb since the end of the recession.
The CBER Coincident Index measures the ups and downs of the economy using an index of employment variables. Before the recession, that number had reached a high of 245 but took a sharp downward turn to a low of 210 during the recession. By the end of 2016, that number had steadily climbed back to 245 and continued its path up to a new high of 259 by the second quarter of this year.
A similar trend can be seen with the CBER Leading Index which tracks the economy relative to employment trends combined with unemployment filing, and the 10-year Treasury interest rate by inverting some numbers and qualifying others to develop an economic predictor. During the recession, the Leading Index peaked at 104 before sharply dropping to 94. As the recession began to wane, the leading index steadily climbed to 105 by the end of 2016, and by the end of the second quarter 2017, the Index sat at 107.
Individual strong growth indicators include the number of people employed in Las Vegas, which sits at 975,000 (up from a previous high of 950,000), and Clark County taxable sales, which have also risen to $3.4 billion (up from the previous average of $3 billion). Another positive sign is the Las Vegas unemployment rate, which at its height reached 14 percent, has shown a steady downward glide to just under 5 percent.
Even though Clark County hotel occupancy rates are back up to the 90 percent range and visitor volume has reached new heights at 3.8 million, gross gaming revenues have not completely recovered from the recession average low of $700 million. Although the revenues have improved, hovering around the $8.25 million mark, they still fall a little short of the $900 million pre-recession average.
It is interesting to note that since the 1950s, government and influential business leaders have been talking about the need to diversify the Las Vegas economy. While leisure and hospitality are still the dominant employers in the Las Vegas Valley, their percentage share has fallen by almost 5 percent (from nearly 35 percent in 1990 to the current 30 percent level), due to employment growth in other industries. Key increases have been made in education and health services (rising from a 5.5 percent share to 10 percent), along with professional and business services (rising from 9.8 percent to 14 percent). Manufacturing has remained flat at a 3 percent share of the employment sector.
During the early days, when it came to judging how vibrant the Southern Nevada economy was, most residents bragged about the population growth and pointed to a skyline full of construction cranes. During the boom years, the Construction Index showed a nearly steady rate of climb from 80 points in 1990 to a peak of 130 points in 2006. The Index began dropping just before the recession and lasted till midyear 2012 when it bottomed at 98 points. The current Construction Index has risen to 110 points.
Likewise, construction employment, which had reached 115,000 by 2006 and dropped like a rock during the recession to around 38,000, has rebounded to about 60,000 employees.
Currently, in Southern Nevada, it is a sellers' market as housing supply is estimated to be only two months. On the commercial side, vacancy rates are still higher than building owners would like. The apartment market rental rates, which have increased in the southwest and south Las Vegas Valley areas is looking strong with a 5 percent average across the valley and is seeing an increase in construction activity.
And finally, Stephen Miller and his analytic staff predict that Southern Nevada will experience a mix of continued growth into 2018. The following are the numbers for the rest of 2017 and 2018.
• Visitor volume for 2017 will fall off by 0.2 percent but pick back up in 2018 with a 1.0 percent growth.
• Gross gaming revenue will finish 2017 with a 2.9 percent growth and continue in 2018 with a 1.3 percent growth.
• Hotel/motel occupancy will show a 0.4 percent growth in both 2017 and 2018.
• Both single-family and multifamily housing permits will show a 2017 gain of 4.8 percent but in 2018 will show a negative percentage of 10.5 percent.
• Employment in Southern Nevada will continue to grow, finishing 2017 with a 2.6 percent advantage and a 1.2 percent growth in 2018.
• Unemployment, which has been steadily falling is predicted to continue the trend another 1.1 percent in 2017 and an additional 0.4 percent in 2018.
• Personal income is expected to grow by 4.3 percent by the end of 2017 and an additional 4 percent in 2018.
• The Southern Nevada population growth will remain fairly consistent at 2.2 percent growth in 2017 and 2.1 percent in 2018.