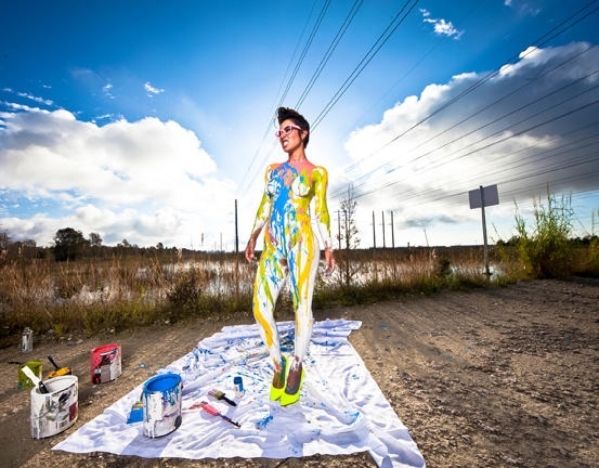 PTMD by Maka, an international provider of designer home furnishings, is collaborating with Deep in Paint, a Miami company that specializes in creating artworks using the human body as a canvas and focal point.
The result — a PTMD collection painted by Deep in Paint owner and artist Shannon Defreitas — will be on display at the Las Vegas Market, which runs through Aug. 6. Some of the proceeds from sales are going to a PTMD-founded youth home in Vietnam that provides housing and care for homeless girls ages 8-18 in Ho Chi Minh City.
PTMD found Deep in Paint through the Wynwood Design Lab, a "lifestyle laboratory" venue in Miami's Wynwood Arts District that pairs talented artists with high-end, design-conscious product manufacturers.
"The combination of our beautiful pieces and Shannon's amazing talent, creativity and sensitivity have resulted in some truly extraordinary works of art," Maricarmen Castillon, PTMD's CEO, said in a statement. "The passion we both have for what we do is clearly visible in the final product."
In business for more than 15 years, PTMD operations cover the U.S., Europe, Asia, Mexico, parts of South America, Qatar and Dubai. The company focuses on products that create an air of tranquility for their owners.
"The Las Vegas show is a great market. The quality of the exhibitors, the quality of the buyers, and the exposure you get is far beyond what we expected," Castillon said in a statement. "I truly believe that art and creativity enhances people's souls — both the artist and the art lover. Las Vegas Market is an amazing forum for sharing our work and our passion."
PTMD's products will be on display at the Las Vegas Market, 475 S. Grand Central Parkway on the fifth floor of Building C, in spaces C591 and C598.
Events center opens
An events facility with on-site overnight accommodations debuted near McCarran International Airport.
IPEC features more than 20,000 square feet of flexible meeting and events space suitable for groups of 50 to 720 attendees as well as overnight accommodations for up to 200 attendees.
The venue can host corporate meetings, association conferences, education events and training seminars. Its 5,000-square-foot foyer, with 29-foot-high ceilings, and a 10,000-square-foot ballroom can easily accommodate weddings, reunions, birthday and anniversary parties.
"In developing IPEC, we envisioned a venue geared especially for education and training, meetings and special-occasion events," Michael Fiorentino, IPEC asset manager, said in a statement. "Las Vegas is the meetings capital of the world, and IPEC allows planners and attendees the best of all worlds — a self-contained, tranquil atmosphere free of distractions and conducive to the greatest productivity, yet close enough to the Strip and all it has to offer for off-site excursions. Plus, there's no other free-standing events venue in Las Vegas, or anywhere else, that offers onsite guestrooms exclusively to meetings attendees."
IPEC partnered with AWG Destination Management Services, Metropolitan Exhibition Services Inc., and Hospitality Performance Network on the project.
For more information about IPEC, or to inquire about booking an event, go to www.IPECLV.com or contact Catherine Price, sales director, at catherine@IPECLV.com.
PR for Hunks
Aussie Hunks, an Australian-based erotic male strip show, chose Preferred Public Relations as the agency of record to initiate a strategic awareness and branding campaign.
Comprised of Australia's top ight, classically trained dancers in hip-hop, break and street dance, Aussie Hunks offers patrons 75 minutes of fun. Aussie Hunks began performing seven nights a week at 10:10 p.m., in the D Las Vegas showroom on July 31.
Preferred Public Relations was founded in 1999 as a full-service, award-winning public relations agency and is located at 2630 S. Jones Blvd.
"As a company we love getting new, fresh and exciting client-partners such as the Aussie Hunks," Preferred Public Relations Founder Michele Tell-Woodrow said in a statement. "The guys are exactly what downtown Las Vegas is missing. We look forward to launching a successful campaign and highlighting that gorgeous male revue celebrities can also be classically trained in a wide variety of dance mediums," she said. "We hope to take downtown by storm."