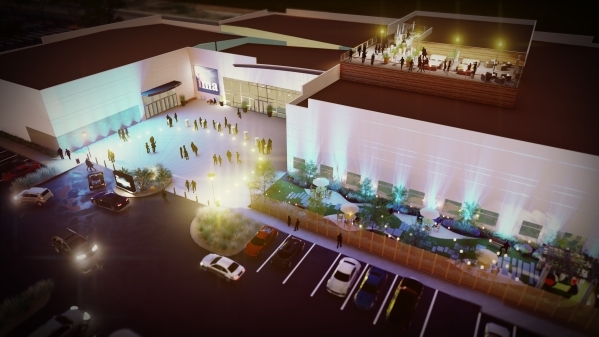 Developers of a planned convention and event space in the southeast part of the Valley are gearing up to take on their client's small- and large-scale technological and logistical needs in early 2017.
Keith Conrad, managing partner of the Enclave, a planned three-story, 75,000-square-foot events center, said the new venture is set to handle clients looking for full-scale video production to broadcasting their event, along with offering meeting and convention space for corporate clients and other various types of events.
Enclave, an off-Strip venture that will take shape near the southeast corner of Eastern Avenue and Russel Road, will offer space from as small as 200 square feet up to 9,000 square feet — though Conrad said clients could take on the whole building if they want and brand the venue as their own.
The capability of a client being able to brand the building and making it their own was something Conrad saw as unique, as casino properties aren't able to offer this to meeting and event clients.
Other ranges include the 1,000-square-foot Sonata and Toccata rooms and the 6,250-square-foot Madrigal Ballroom. In Enclave's larger rooms, features such as elephant doors and a 30-foot clear height will be available. Enclave's large loading dock area enables clients to host larger shows.
Some of Enclave's other options include a 5,000-square-foot rooftop deck with Strip views, along with other indoor and outdoor offerings.
The ideas for the events center have been nearly three years in the making, said Conrad.
Early on, the reasoning behind bringing the structure to fruition was to fulfill the needs of a client list that included many of the major players on the Strip such as Caesars, MGM and the Wynn. 3G Productions, an event production outfit and a sister company to Enclave, has been the force working behind the stage on the project since 2004.
3G is headed up by Conrad, CEO, and owners Jay Curiel and Eli Stearns — who are also managing partners in the Enclave venture.
Locally, some of 3G's major work included installing a system for Britney Spears at the Axis Theater at Planet Hollywood and another system at the Cosmopolitan. In recent days, it's taken on projects for the Mandalay Bay Events Center and the new T-Mobile Arena.
Conrad said the organization started out as an audio production and rental company and later spread its wings into other facets.
Now, the future center is set to fuse these relationships and 3G's work under one roof, along with creating offerings for a wider audience.
On top of the meeting rooms for corporate entities and other types of events, 3G intended the new building to house a place for entertainers such as Spears to rehearse.
On the second floor, the new building will contain 16,000 square feet of space. The organization is planning on consolidating its operations from another southeast location it currently leases in order to store its equipment and house its offices in the new building.
But 3G won't be the only ones housed under the new roof.
Heather Coldwell, director of meetings and special events for Enclave, said the space will also house companies that are in a similar industry in order to "create a little bit of a campus environment."
The terms on the future space are still being worked out, but the proximity of similar businesses are pegged to benefit both Enclave and the future tenant.
Future event and meeting goers can either take advantage of 3G's expertise in the event industry or bring in their own meeting planners.
Enclave is going to be comparable to other off-Strip venues and competitive with other Strip venues, officials said.
"We are in the earlier stages of that right now, but because we do have our own in-house AV and production, obviously we're going to be able to pass those cost savings on to our clients," said Coldwell.