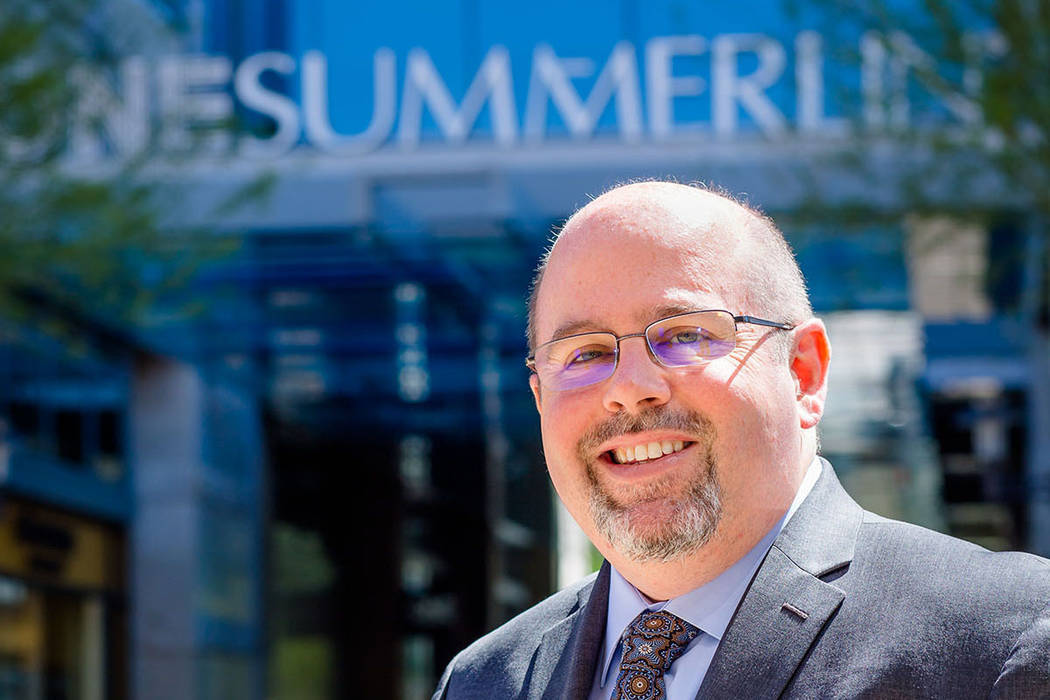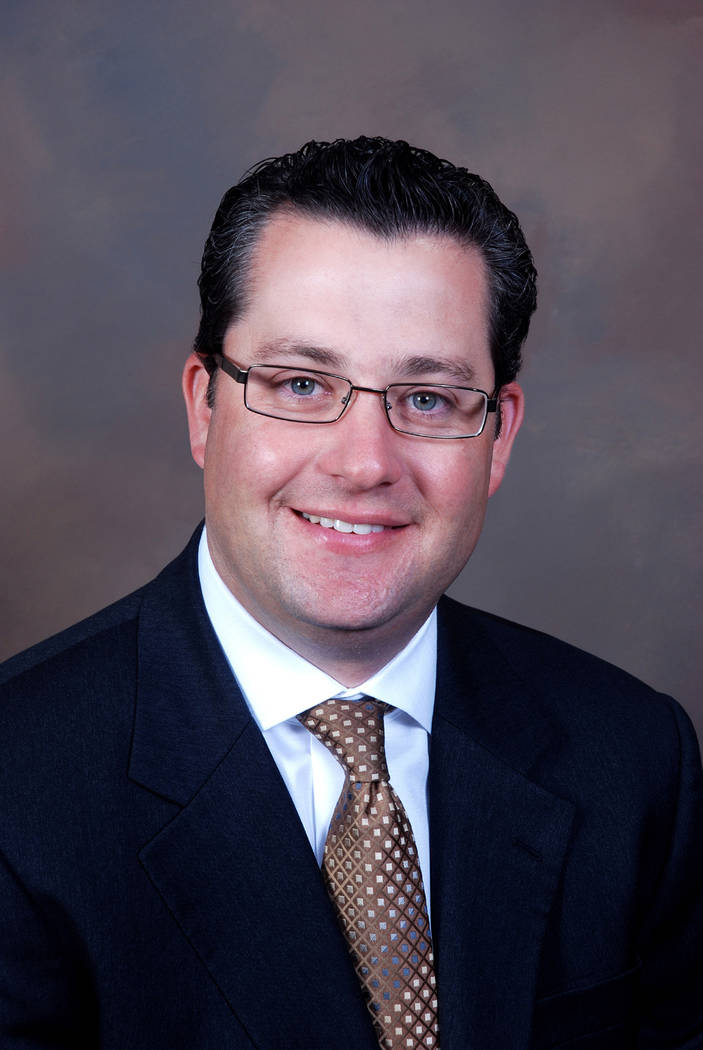 While national forecasts call for holiday retail spending to increase at a minimum of 4 percent to 5 percent nationwide, local analysts said a strong Southern Nevada economy and population growth will boost sales here even higher for the November and December period.
The National Retail Federation said it expects holiday retail sales during November and December to increase nationwide between 3.8 percent and 4.2 percent over 2018. The average holiday sales have increased 3.7 percent over the previous five years but only by 2.1 percent in 2018 when sales suffered from a federal government shutdown, stock market volatility and tariffs.
Brian Gordon, a principal with Las Vegas research firm Applied Analysis, said he wouldn't be surprised if holiday sales in Las Vegas were as high as 7 percent compared to last year based on ongoing trends.
"The expectation for Southern Nevada is that holiday shopping growth rates will be likely to exceed the national average," Gordon said Monday. "Taxable sales in Southern Nevada have been growing in the 7 percent range and retail shopping categories coming into the final month of the year are expected to be in that range of somewhere between 5 to 7 percent on a year-over-year basis."
Gordon said the biggest factor in comparing the local to national forecast is the population of Southern Nevada is growing at more than 2 percent a year whereas the national growth is less than 1 percent.
The economy has been strong with job and wage growth. The average weekly wage in Nevada is $865, which is 6.6 percent higher than a year ago and believed to be the highest on record, according to Applied Analysis.
"The volume of consumers the local market is adding is one key factor to the growth in overall consumer spending," Gordon said.
The Retail Association of Nevada (RAN) put out a report Tuesday morning based on National Retail Federation survey data. RAN projects up to $593 million will be spent across Nevada over Thanksgiving weekend and Cyber Monday, a 5.5 percent increase from the estimated $562 million spent a year ago. It will have a full holiday forecast on Dec. 4.
RAN also projects that 1.65 million adults in the state are planning, or considering, to shop over the four-day Thanksgiving weekend and Cyber Monday. It projects the average consumer will spend $360 over that period, up from $350 a year ago over the holiday weekend.
"Nevada retailers are preparing for a robust holiday shopping season," said Bryan Wachter, senior vice president of RAN. "We're very optimistic. Consumer spending seems to be going strong, and I think that will translate into some strong retail sales here in Nevada."
Wachter said 9 percent of sales are online and one of the narratives of the holiday season is capitalizing on retailers that have seamless transitions in all of their modes from the store to social media and websites.
"Those are going to be the stores that are going to be immensely successful," Wachter said. "The other thing we don't remember is that most of the online purchases are made at some of the traditional brick-and-mortar retailers."
Wachter also said shopping centers and stores that can drive experiences will capitalize on the holiday shopping season.
Andrew Ciarrocchi, vice president of management and operations for the Howard Hughes Corp., said they're trying to capture both of those at Downtown Summerlin, which he said has had a "fantastic year" with the opening of the adjacent Las Vegas Ballpark in April.
"The Las Vegas Ballpark helped introduce some of the market that doesn't live near Downtown Summerlin, Ciarrocchi said. "We started out on a high note and expect that to continue through the last couple months of the year."
Traffic is up more than 10 percent in 2019 over 2018 and Ciarrocchi said he expects strong holiday sales without projecting a number — in part aided by a holiday parade and ice rink and other non-shopping amenities that draw people to the property like the ballpark did. The 1.2 million-square-foot center, which opened in 2014, also has online retailers that have added a retail stores to serve shoppers, he said.
NATIONAL OUTLOOK
Holiday sales have risen every year since 2002 except in 2008 during the Great Recession.
Holiday sales this year will grow by 4.5 percent to 5 percent over last year's season, according to Deloitte's annual holiday retail forecast.
The International Council of Shopping Centers predicted 4.9 percent growth.
The Wells Fargo Economics Group overshot others by predicting a 5 percent gain nationally. The "math will flatter" the year-over-year numbers because of what happened in December 2018 with a cratering in sales, according to Wells Fargo Senior Economist Tim Quinlan. Everyone overshot the 2018 forecast and many may be overcorrecting this year, and it could be even higher than the 4 percent to 5 percent projected, he said.
However, Quinlan noted thattariffs and projected lower gross domestic product growth forecast could slow retail sales to 2 percent nationally in 2020.
NRF Chief Economist Jack Kleinhenz said there's "significant economic unease, but current economic data and the recent momentum of the economy show that we can expect a much stronger holiday season than last year. Job growth and higher wages mean there's more money in families' pockets, so we see both the willingness and ability to spend this holiday season."
NRF President and CEO Matthew Shay said the U.S. economy is continuing to grow and consumer spending is the primary engine behind that growth. He added, however, that there's been a slowdown in GDP growth brought on by uncertainty around issues including trade, interest rates, global risk factors and political rhetoric that are concerns going forward.
"Consumers are in good financial shape and retailers expect a strong holiday season," Shay said. "However, confidence could be eroded by continued deterioration of these and other variables."
The effect of tariffs on holiday spending — either directly or through consumer confidence — remains to be seen, Kleinhenz said. Some holiday merchandise — including apparel, footwear and televisions — is subject to new tariffs that took effect Sep. 1, and other products will have the tariffs applied on December 15, he said.
Retailers are using multiple tactics to limit the impact on consumers, and the impact will vary by company and product, Kleinhenz said. Small businesses, in particular, have already been forced to raise prices, he said.
Some 79 percent of consumers surveyed for NRF in September were concerned that tariffs will cause prices to rise, potentially affecting their approach to shopping, Kleinhenz said.
There are 26 days between Thanksgiving and Christmas this year, which is six fewer than last year, and the smallest number of days possible between the two holidays. That number, however, doesn't make as much difference as it used to because consumers have started their shopping earlier for years now and retailers have responded by offering deals and promotions sooner, Kleinhenz said.
WHAT CONSUMERS PLAN TO SPEND AND BUY
Consumers say they will spend an average of $1,047.83 this holiday season, up 4 percent from the $1,007.24 they said they would spend last year, according to the NRF's annual survey.
Consumers will spend in three main categories during the holidays: gifts for family, friends and co-workers, at an average $658.55; non-gift holiday items such as candy and food, decorations, greeting cards and flowers at $227.26; and other non-gift purchases that take advantage of the deals and promotions throughout the season at $162.02, according to the NRF survey.
Shoppers between the ages of 35 and 44 plan to spend the most at $1,158.63. More than half of shoppers between the ages of 25 and 34 (52 percent) plan to purchase gifts for coworkers, and 82 percent of those between 18 and 24 plan to purchase gifts for their friends, according to the survey.
"Younger consumers are helping drive the spending increase this year," according to Prosper Insights Executive Vice President of Strategy Phil Rist, who's firm conducted the survey. "They're not just spending on their immediate family members, they're also treating their larger circle of co-workers and friends to gifts."
NRF research showed that 39 percent of consumers surveyed said they would begin this year's holiday shopping in October or earlier. Another 43 percent planned to start in November while 15 percent were waiting for the first two weeks of December and 3 percent for the last two weeks, Kleinhenz said.
Some 65 percent said they plan to shop over the Thanksgiving weekend because the deals are too good to pass up; 28 percent said it's tradition; and 22 percent said that's when they like to start, according to the NRF. Of that 76 percent said they plan to shop on Small Business Saturday.
Black Friday and Cyber Monday are part of the five-day shopping event that begins on Thanksgiving Day and continues through the following Monday. Together these five days represent some of the busiest shopping days of the year as consumers browse and buy online, in stores and, increasingly, on smartphones and other mobile devices, Kleinhenz said. In 2018, some 165 million people shopped during this period, spending on average $313.
The NRF said 59 percent of consumers plan to buy gift cards; 52 percent clothing and accessories; 35 percent books and other media; 24 percent home decor; 23 percent jewelry; 21 percent personal care products; 18 percent sporting goods; 17 percent home improvement; and 7 percent other.
SALES ONLINE VERSUS STORES
The NRF expects online and other non-store sales, which are included in the total, to increase between 11 percent and 14 percent to between $162.6 billion and $166.9 billion, up from $146.5 billion last year.
The NRF says 56 percent plan to buy online; 53 percent in department stores; 51 percent in discount stores; 44 percent in grocery stores: 34 percent in clothing stores; 23 percent in electronics stores; 23 percent in local businesses; 17 percent in crafts stores; 14 percent in drug stores; 13 percent in specialty stores; 10 percent in thrift stores; 9 percent in outlet stores; 7 percent by catalog and 4 percent other.
Some 92 percent said they plan to take advantage of free shipping and 48 percent will buy online and pick it up in the store, the NRF said.
Even with trade uncertainty and the increasingly tight labor market, retailers have been hiring extra staff to meet expected demand during the holiday season, Kleinhenz said. The NRF expects retailers to hire between 530,000 and 590,000 temporary workers, which compares with 554,000 in 2018.
The Retail Association of Nevada estimates retailers would boost hiring by 7,100 new positions during the October to December holiday shopping period and outpace national trends.
Applied Analysis reported permanent retail job additions in the valley were up 1.1 percent through September or 2,300 positions.
Overall, holiday sales represent about 20 percent of annual retail sales each year, but the figure can be higher for some retailers. Hobby, toy and game stores report the highest share at about 30 percent. In addition, holiday sales can be more profitable because the increased volume of purchases comes without significantly increasing retailers' fixed costs of doing business, Kleinhenz said.
LAS VEGAS RETAIL MARKETPLACE
Applied Analysis pegs the vacancy rate at 7.5 percent through the end of the third quarter.
In the third quarter, the retail market saw the completion of the second phase of Deer Springs Village, adding 48,000 square feet of new inventory. New tenants included Providence Pet Hospital, Tutoring Club and SOS Wax Studio, the firm noted.
The second phase of Skye Canyon Village also completed adding approximately 15,000 square feet of pad space to the Smith's Marketplace anchored center.
The retail market recorded 155,200 square feet of net absorption during the quarter. Some of the notable leases during the quarter include Big Lots! leasing 36,700 square feet of vacant space at Sahara Decatur Specialty Center, 5015 W. Sahara Ave., and DollarPlus Discount Center absorbing 11,000 square feet at BFT Plaza, 3726 E. Flamingo Road. Victory Village Plaza, 200 E. Lake Mead Parkway leased 10,300 square feet of inline space to tenants including LKM Health & Wellness and The UPS Store.
There was 462,500 square feet of ongoing construction by the end of the quarter. Skye Canyon Village, 9710 W. Skye Canyon Park, began construction on another phase of its neighborhood center that will add roughly 84,000 square feet to the northwest valley.
The southwest at 237,100 square feet leads the way in retail development followed by the northwest at 146,000 square feet and southeast at 79,400 square feet.
There's more than 2.3 million square feet of retail inventory in the planning stages, according to Applied Analysis.
Gordon said demand remains steady as construction activity ramps up going into the end of the year. Developers, however, remain cautious of starting new projects, which has helped lower the vacancy rate. They are focused on projects that are pre-leased instead of speculative, he said.
The Las Vegas Valley has seen an increase of large retailers expanding their distribution centers in the area, providing easier shop online, pick-up in store accessibility for their clientele, Gordon said. At the same time, traditional brick-and-mortar retailers have partnered with online dominant retailers to find mutually beneficial relationships, he added.
Some national retail chains continue to shutter, including Sears, which will close its store at Meadows Mall by early 2020. It previously closed a store at Boulevard Mall and at South Grand Canyon Drive.
A developer, Remington Nevada, plans to build an outdoor shopping center in the Boulevard Mall parking lot that will replace the space once occupied by Sears and Sears Auto Center. The mall has added entertainment to fill some of the space previously vacated by retailers as well as a call center.
"As national chains continue to be impacted by the evolving nature of the real estate industry, we will likely see some continued closures in Southern Nevada, but property owners have become increasingly creative in how they backfill some of those vacant spaces," Gordon said. "We will continue to see retooling of retail centers that maybe losing some of their larger tenants, in order to maintain occupancy. While we have seen a lot of shutdown of brands in recent years, there's not been a lot of it as of late."
Some shopping centers are dividing up the larger space to create smaller retail outlets, and in some cases retailers that are a fit with the neighborhood, such as Hispanic grocery stores, are filling it.