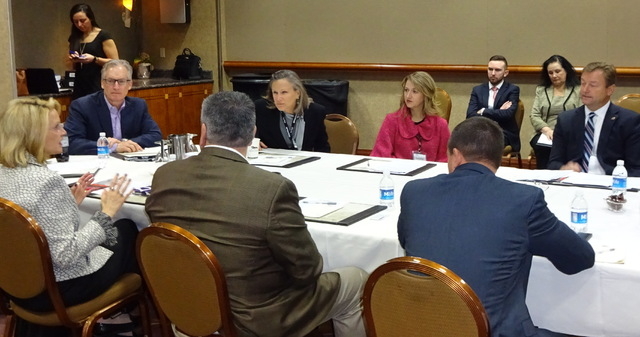 U.S. Sen. Dean Heller used a small business round table at the recent International Franchising Association's convention as an opportunity to do some big game hunting. His quarry was the elephant in the room — a recent finding by the National Labor Relations Board that employees of individual franchises were employees of the parent company.
The Nevada Republican didn't miss, much to the delight of the round-table participants, most of whom have a stake in the issue.
Heller requested the participants to speak from their heart. And they did, although it took a while to focus on the NLRB ruling.
As a general consensus, each of the participants expressed concern about the increasing amount of government regulations they face. Heller agreed, stating that "It has been very difficult to run a business in the U.S. for the past four to five years because the government has not been predictable. One thing that we will have this year that we have not had in five years is a budget. Budgets set priorities and that is key to you knowing how to plan your business."
Then the discussion moved to NLRB ruling that McDonalds, the world's largest hamburger chain, could be named as a joint employer in several complaints regarding worker rights at franchise-owned restaurants. The decision is pivotal because it could expose McDonald's Corp. to liability for management practices in those locations. This decision also comes at a time when fast food employees in the U.S. have been protesting for higher pay, and labor groups calling for pay of $15 an hour and the right to unionize.
Catherine Monson, CEO of Fast Signs, attacked the issue head-on: "I don't know the names of my franchisees employees, I don't control their hiring practices or tell them how to run their business. This ruling can be devastating to our corporation and our franchisees."
John Noellert, a Fast Signs franchise owner with two locations in Reno and Carson City, confirmed Monson's comments stating that "The most you have ever said about my employees was just a moment ago."
The issue is crucial for Noellert. "My business is excellent; I have doubled over the past four years despite the recession. I have a P &L and a budget but my biggest problem is trying to figure out my HR cost due to changing regulations. My lowest paid employee is making $4 above minimum wage. I believe that franchising is successful because you are an independent businessman but have the support from corporate."
That position was echoed by Debbie Shwetz, co-founder of Nothing Bundt Cakes Enterprises, who said: "Corporate is there to support and give advice but not control the franchisees business."
Mara Fortin was the first Nothing Bundt Cakes franchises owner and operates six bakery locations in the San Diego area. Fortin stated: "I have a business degree and a law degree but what I need is a crystal ball degree. I thought that I would be using my business degree to run my business but I spend more time using my law degree trying to figure out all of the government regulations. I would like to expand my business more but there are too many question marks for growth."
Heller quoted a portion of a letter that he and other senators have signed, and sent to the National Labor Relations Board:
"In particular, we are concerned about the lack of public reasoning supporting your conclusion. Small businesses like franchises are the foundation upon which the American economy is built. In fact, there are more than 700,000 franchises in America. While they may be associated with a national brand, in reality they are small, independently operated entities that contribute to economic growth in countless towns and communities across America — and have for decades. Treating franchisors as joint employers with their franchisees will likely disrupt this well-functioning, established business model.
"As you know, franchisees generally control hiring practices, working conditions, wages, and hours of operations. They also file their own taxes. Franchisors do not control any of these activities. A franchisee's employees do not work for the franchisor. Federal labor law has long recognized the importance of these distinctions.
"In light of the serious consequences that could follow from your decision, we respectfully request that you make public your supporting reasoning and relevant data. This information will allow Congress and the public to evaluate the merits of your decision and enable franchisees and franchisors to better understand the possible legal implications of their relationships."
Jeffrey Tews, owner of multiple locations of BrightStar Healthcare of Madison, Wis., was encouraged by Heller's endorsement of the letter. "We (the IFA) have 150,000 franchisees in 800,000 locations in the U.S. and we are the small businesses that drive the economy. What can we do to become more involved?"
Heller urged all concerned about the issue to make their feelings known to their elected representatives. "Change is coming in D.C.," Heller said. "What makes the biggest difference is the telephone calls, emails and letters. I receive 2,000 correspondences each day and from them I get a feel for the current topic of concern and the way the general population is leaning."
Heller's round-table meeting was a small part of the annual three-day International Franchise Association Convention and trade show that included 3,800 attendees from around the world. Both franchisors and franchisees had the opportunity to network and attend educational sessions that dealt with a full spectrum of business management, operations, human resources, and marketing topics.