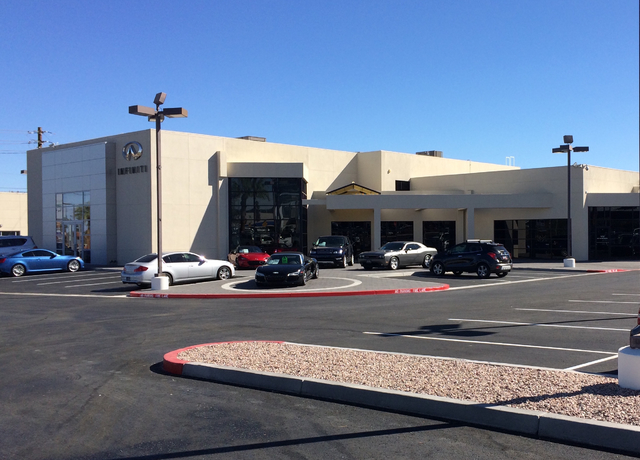 Horizon Minerals Corp. announced the appointment of David A. Bending to its board of directors, as well as the acquisition of several lithium concessions in the Southwestern United States.
Horizon engaged Gold Exploration Management Inc., a corporation controlled by Bending, to identify and assist with the acquisition of concessions in the lithium-rich areas of Nevada and California.
The company acquired 1,003 claims covering 20,600 acres of land in the Great Basin from GEM.
Under the terms of the acquisition agreement, Horizon will issue GEM 30 million restricted shares of the company's common stock, a 2 percent carried gross production royalty on any mineral production, and appoint Bending to Horizon's board of directors.
Bending has more than 35 years of experience in the mining exploration and development industry, having held numerous senior executive and senior consulting positions with large exploration and mining companies.
Iron Chef Masaharu Morimoto
opens las vegas restaurant
Masaharu Morimoto, famed Japanese chef and star of Food Network's "Iron Chef America," made his official Las Vegas debut with Morimoto Las Vegas in the MGM Grand.
The restaurant offers three distinct dining experiences: sushi bar, main dining room and Teppan tables.
"Fate brought Morimoto Las Vegas to MGM Grand at an exciting time when the city's dining scene is flourishing," Morimoto said. "I'm continually inspired by Las Vegas' glamour and wanted to create something we haven't done before with a stimulating culinary show, bold cuisine and delicious drinks that my guests will not soon forget."
MGM Grand President and COO Scott Sibella said, "We want to officially welcome Chef Morimoto to MGM Grand. The addition of his restaurant to our culinary portfolio has elevated the dining scene not only at our resort but within Las Vegas. We are honored to have him as part of our culinary team and look forward to creating once-in-a-lifetime dining experiences at the city's newest dining destination."
Envisioned by design firm Glamorous, Morimoto Las Vegas reflects a modern and chic dining environment offset with Japanese artwork. Diverse spaces are punctuated with compelling design elements, such as the cherry blossom wall behind the bar.
Morimoto Las Vegas is open 5 to 10:30 p.m. Friday and Saturday and 5 to 10 p.m. Sunday through Thursday. The restaurant is in The District at MGM Grand, adjacent to Tom Colicchio's Craftsteak.
Park Place Infiniti completes
renovation of Sahara dealership
Park Place Infiniti this month completed a multimillion-dollar renovation of its 6-acre property at 5555 W. Sahara Ave.
This renovation created a new main entrance and refurbished façade for its preowned vehicles sales center to match the adjacent, recently expanded showroom for new Infiniti models. Construction by Boyd Martin Construction LLC included a 6,000-square-foot display area near the doors to the new entrance. The project also included 18,000 square feet of improved parking.
"Park Place represents luxury brands, and we're committed to providing our clients an exceptional purchase and ownership experience," said Park Place Infiniti General Manager Rob Schweizer. "From the moment a client enters the property, we want them to experience a level of luxury and service indicative of the Park Place and Infiniti brands."
This latest renovation comes on the heels of the dealership's 2014 multimillion-dollar expansion that included a state-of-the-art showroom, luxurious client lounge, a new drive-in service canopy and an expanded garage.
"With an improving economy and steady growth in local car sales, our continued investment in Las Vegas is key to our long-term success," Schweizer said, noting state taxation revenue reports show motor vehicle and parts sales have been growing steadily for the past couple of years.
Founded in 1987 by Ken Schnitzer, Park Place Dealerships represents luxury brands including Lexus, Mercedes-Benz, Porsche, Volvo, Jaguar, Rolls-Royce, Bentley, McLaren, Maserati, Lotus and smart. In June 2012, Park Place purchased the Infiniti dealership in Las Vegas. For more information, visit, www.parkplaceinfiniti.com.
Businessman opens upscale billiards parlor on South Decatur Boulevard
Mark Griffin, who has owned some of the most renowned billiard parlors in the U.S., launched his newest venture, Griff's, on Oct. 31 at 3650 S. Decatur Blvd. in Las Vegas.
Griffin has transformed the 8,000-square-foot space (formerly known as Pool Sharks) into a tasteful, elegant pool room featuring the highest quality billiard equipment, a full restaurant and bar.
The non-smoking venue features eight 9-foot Diamond pool tables; 17 7-foot Diamond pool tables and an antique 12-foot Brunswick snooker/golf table.
Raised bench seating surrounds the billiards area, offering comfortable seating for guests and providing the ability to watch sporting events on the 25 flat-screen televisions from anywhere in the room.
"Las Vegas needed a (billiard) room to give pool the respect it deserves," said Griffin, who opened his first pool room in Anchorage, Alaska in 1969.
In addition, Griff's televisions will be tuned to all NFL, NBA, NHL, MLB games and feature pay-per-view boxing and MMA fights – catering to the sports bar crowd.
Griffin has been an avid pool player since he was a teen and he has supported the industry for nearly five decades, owning pool rooms and organizing world-class professional and amateur tournaments.
He has lived in Las Vegas since 2004. He is the founder and president of CueSports International (CSI), which owns BCA Pool Leagues and USA Pool Leagues, and provides league services and tournaments to amateur pool players throughout the country and internationally. CSI also produces the premier professional tournaments, such as the US Open 10-Ball, US Open 8-Ball, US Open One Pocket and US Open Straight Pool Championships.
Griff's is open from 11 a.m. to 2 a.m. seven days a week until gaming is added, when the room will open 24/7. For more information, go to Griffslv.com or find them on Facebook.