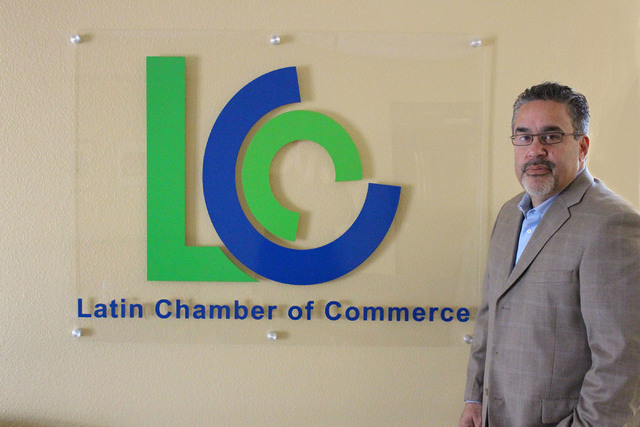 Peter Guzman is leading the charge for small businesses in the Las Vegas Valley from his new post as president of the Latin Chamber of Commerce Nevada Inc.
"Small business is the engine that really drives the economy," said Guzman. "It's what drives our city here, so the more representation they have, the better off the whole community is, and the whole state is."
One of Guzman's initiatives after taking over as president on Jan. 1 has been to drive into a wider field of politics.
"Things that are going to affect the small business community, we're very involved in that now," said Guzman.
At the end of April, the chamber will begin its new push with the creation of Bagels and Politicos, where the chamber will be interviewing candidates.
"That is so the chamber is seriously involved in the discussions of the future of the business community and the community at large," said Guzman.
The chamber will start off April 26 by interviewing Catherine Cortez Masto, who is running as a Democrat for the U.S. Senate seat Harry Reid is vacating.
To keep members informed, Guzman said the Latin Chamber has created the LCC Business Newsletter. The newsletter will not only inform members about politics but real estate prices, leasing warehouse space and other information businesses will find helpful.
Guzman's rise to chamber president began more than 12 years ago when he first started getting involved with the chamber.
"My career was helped by the Latin Chamber of Commerce, through its education and seminar programs," said Guzman. "That's when I became involved."
Guzman said he saw how much business owners can be helped through assistance making connections and networking. He's been a longtime board member for the chamber and served as treasurer of its foundation.
Guzman is familiar with small business owners and their needs; he's been one for more than two decades. Guzman's background has been in residential and commercial real estate — sales, construction and development.
Guzman was the founding principal of the Opa Group, a global business and real estate consulting firm based in Las Vegas. The firm assists companies interested in investing, manufacturing and acquisitions.
Guzman is also making a push for increased activity by the Latin Chamber's board, utilizing the strengths of each individual member.
"I have them (the board) engaged predominately in the industry that they're in," said Guzman. "I have 20 board members, and they're all from 20 different industries. They bring expertise about that industry, which is how they're able to become valuable to my members."
On top of that, the chamber has several business educational seminars on topics such as insurance and real estate, along with connecting its members with Accion, an institution that helps small businesses get funding.
With a background in real estate, Guzman is using his resourcefulness to maintain the building, which the chamber fully owns. Guzman stressed the importance of maintaining the chamber's assets. In Guzman's phase-one plan, the chamber got a new driveway, landscaping, lobby and signage.
"We want people to come here and feel good about coming here," said Guzman. "That was important to do that."
The chamber has a building next door, a joint venture with the housing authority, that serves 70 to 100 seniors a day who otherwise wouldn't have anywhere to go. The center also has a nurse on staff.
The chamber has had a strong history in the community.
"There's only a few organizations that have been around this town for 42 years," said Guzman. "We're the conduit to reach the Hispanic community because of the trust that has been built over 42 years."
Membership and revenue are also way up, he added.
When fighting for small businesses, it's always good to have strong partners.
The chamber's next monthly luncheon will be held at Nevada State College. Its focus is not just networking but also connecting with NSC as a potential partner.
Bart Patterson, president of Nevada State College, said there will be information available and people to talk with on the business side of NSC.
The partnership between NSC and the Latin Chamber began four years ago, said Patterson. The school signed a memorandum of understanding with the chamber stating it would grow the college and better serve the Latino community in higher education.
Patterson said NSC is now ready to announce that it has reached a threshold of 26 percent Latino students. This number qualifies NSC as a Hispanic-serving institution under the federal Department of Education guidelines, he added.
On helping the community get educated, Guzman said there are students in college because of the chamber's scholarships.