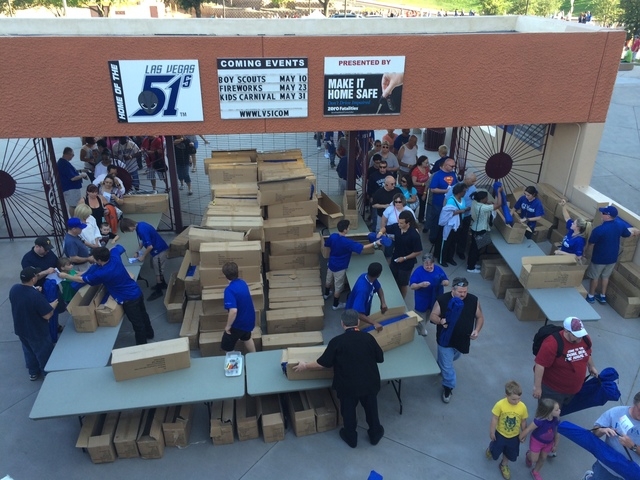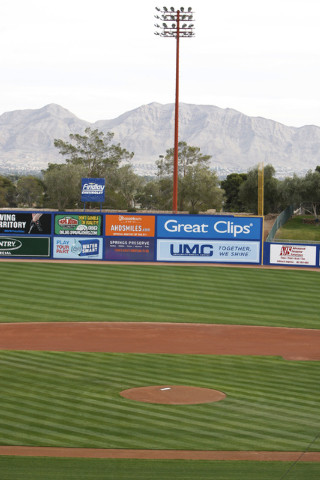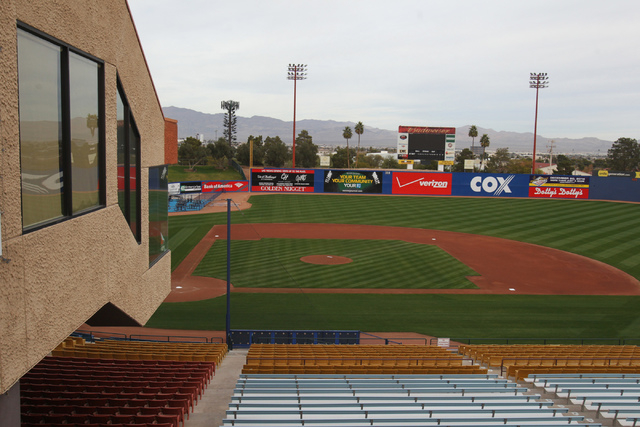 The Las Vegas 51s are not known for the wacky Minor League Baseball promotions that garner national attention, but the local franchise's promotions calendar keeps sponsors happy and local fans flocking to Cashman Field.
Come to the ballpark Monday and the stands are packed with families enjoying $1 hot dogs, popcorn, Cracker Jacks and pretzels. Cashman Field also has become a popular hangout on Thursdays as more than 7,000 people show up for Budweiser Dollar Beer Night. Once a month, the Friday night home games draw fans with a postgame fireworks show.
"When we look at planning our promotion schedule, we do it based upon the games we are playing and when," said Chuck Johnson, the 51s general manager and vice president of sales and marketing. "Traditionally, we know Thursdays is our Dollar Beer Nights, which are certainly popular. Those nights are sponsored by Budweiser, so it's all Budweiser products for $1. The attention that Nevada Beverage gets for promoting Budweiser brand is incredible on a Thursday night.
"There is not a lot of product promotion behind Value Menu Monday. It's just a way to draw some fans by offering an opportunity to come out and save some money during the summer. Last season, Smith's was the sponsor of it, and we did that as a way to help us promote it and give them some extra bang for being such a good partner of ours utilizing their name and logo in the ads that we do."
Johnson and his staff start looking at Fridays and Saturdays for giveaway items, such as player bobbleheads, hats, plush toys of Cosmo (the team mascot), T-shirts, blankets and posters.
And as usual, the 51s — the New York Mets AAA affiliate — will be giving away replica jerseys this season. It's a promotion that always draws huge crowds of fans hoping to be one of the first 2,500 to get a jersey. This season, there will be a jersey honoring former 51s pitcher Jacob deGrom, who won the 2014 National League Rookie of the Year award; a patriotic jersey; a Hawaiian-themed jersey; an orange Mets-style jersey; and a Susan G. Komen breast cancer awareness jersey.
"The jerseys give us an opportunity to give something back to our fans that adds a little bit more value to the ticket," Johnson said. "It's also a great strategy for us to be able to give away an item that is extremely popular. We open the gates at 6 p.m. and by 6:20 p.m., we'll have over 2,000 fans in the ballpark waiting for a game to start at 7 p.m. Those fans will be looking in the gift shop and hitting up the concession stands, buying beverages and food. It also helps alleviate traffic congestion. We are able to take what might be a well-attended game and bring in the traffic over a longer period, reducing traffic on Las Vegas Boulevard and at our ticket window."
Johnson said because there are only five jersey giveaways during the season, the sponsorships are reserved for longtime and premium partners. This year, Smith's will once again sponsor a jersey, along with the Value Menu Monday promotion.
"We have recently become sponsors of the Las Vegas 51s and have found baseball to be a good reach for family entertainment in Las Vegas," said Marsha Gilford, Smith's vice president of public affairs. "Our associates enjoy attending the games, and we enjoy supporting the community of Las Vegas through this investment."
The team's largest sponsors — Budweiser, the Golden Nugget, the Las Vegas Review-Journal, Verizon and Cox — get their own advertising on the left-field wall. Johnson said all of the team's sponsors have a desire to connect with the community.
"We have 72 home games, plus our two exhibition games, with more than 360,000 people coming out to Cashman Field during the baseball season," he said. "It's a great opportunity to get in front of our audience, which is typically middle-class, family-oriented Las Vegas residents. We don't do a lot of tourist business, and so when you look at the sponsors, and we have a couple of national sponsors, but for the most part, a lot of them are businesses that have a strong local tie. From the College of Southern Nevada, to local credit unions, to car dealerships to hospitals, that is our market."
He said the 51s are a community entity that tries to build sponsorship packages to fit any budget.
Johnson said the 51s also offer sponsors opportunities to put new products in front of all those baseball fans on home dates. Car dealerships are allowed to park their latest models in Cashman Center's front plaza to catch the fans' eyes. Other sponsors hand out coupons, set up information tables and talk to consumers.
"Sports is like any other business," Johnson said. "We know we can count on a certain amount of business to be renewed every year. But, there is also attrition, and we know that there is a need to go out and get new business, which is difficult in any industry, because you have to get to know somebody, a company's products, their marketing desires and to figure out how to best fit within the business of baseball.
"The main hurdles we're going to get is the advertising competition. Being involved in a sports sponsorship is something atypical. We are not radio, TV or billboards, and we are certainly not part of any digital online marketing. We tend to fit into someone's marketing budget as an ancillary item. We can be considered a luxury purchase, but we also strongly fit that niche of being able to come out in front of the community to reach out and touch fans and consumers. It's hard to gain that kind of attention through a TV commercial, radio ad or a banner ad online."
Smith's sponsorship renewal is a testament to the power of sports. A few years ago, the company backed off sponsoring sports, but it is happy to be involved again.
"Years ago, we were very involved in several sports franchises, but we backed off and went in other directions," Gilford said. "We came back to it last year because it is such a good tie-in in a very local and meaningful way, and it provides great family entertainment. Another surprise we have gotten out of sponsoring local teams is the pride our associates feel to take part in something as wholesome and fun as their local team."