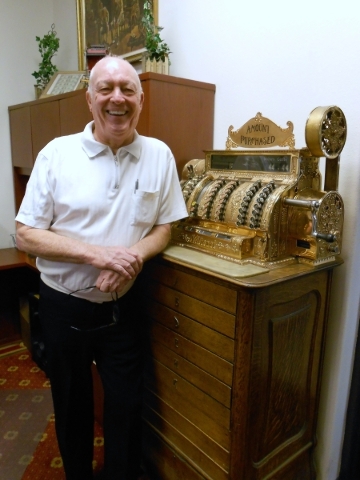 Jim Marsh Chrysler Jeep, an auto dealership wiped out by the Great Recession and a bankruptcy in the automotive industry, is making a comeback in Las Vegas this summer.
It took a prolonged legal battle that extended to the steps of the Supreme Court.
But Marsh, now 82, came out on top and is building a 30,000-square-foot facility in the northwest valley to house the Chrysler Jeep dealership when it returns in June or July after a seven-year absence.
It's a case of perseverance for Marsh, who opened an American Motors Corp. and Jeep dealership in 1971 in Las Vegas.
In 2009, Chrysler LLC cancelled the dealership's franchise. Marsh was among four Chrysler Jeep dealers in Las Vegas. He and 788 other of Chrysler's 3,200 U.S. dealerships were ordered shuttered as part of Chrysler's its bankruptcy at a time the automaker was receiving $4 billion in federal loans.
In its announcement at the time, Chrysler said it wanted to bring all three of its brands – Chrysler, Jeep and Dodge – under one roof and limit competition. Chrysler executives said they were trying to preserve its best-performing dealers and eliminate ones with the weakest sales. More than half of the dealerships being eliminated sold fewer than 100 vehicles per year, the company said, and those 789 dealers accounted for 14 percent of Chrysler's U.S. sales.
That decision left Towbin Dodge and Chapman Dodge as the dealerships for the Las Vegas market.
Marsh said his hope of regaining the franchise was renewed after Congress passed a law allowing dealerships like his that lost their franchise a chance to go through arbitration.
Marsh said 82 of the 789 franchises chose to go through the arbitration process. Some 35 of them won arbitration and received a letter of intent to go back into business in 2011, Marsh said.
But Chrysler sued in federal court in Detroit, arguing the law dealing with arbitration was flawed, Marsh explained. Chrysler won at trial but the Sixth Circuit Court of Appeals in Cincinnati reversed the decision, he said. Chrysler appealed to the U.S. Supreme Court but it decided last fall not to hear the case.
Marsh and three dealers in Detroit were left standing at the end while the others dropped out or settled their cases, he said.
Marsh said he feels vindicated but sad for dealerships that were in business for a long time and "family dynasties" that are no longer in operation. Two dealerships were eliminated in Cedar City, Utah, and one dealership in St. George, Utah, lost their franchises.
"We're very excited," Marsh said. "We have a lot of customers we do service for who are waiting to buy a new car and continue to get service here."
In regards to Marsh reopening, Fiat Chrysler Automobiles released a statement saying that "FCA US looks forward to the dealer's successful fulfillment of the requirements of our customary and usual letter of intent."
Marsh in response said he has no ill feeling toward Chrysler.
"It's a new regime from what was then and the people running it, most of those are gone. It's a new day so to speak. Chrysler has been very cooperative so far and shown no antagonism at all."
His dealership continued to service Chrysler vehicles over the years.
Marsh said his automotive group was able to survive because it added the Kia and Mitsubishi brands in 2009 ahead of losing his Chrysler Jeep franchise. He had planned to build a new facility to house those two brands in 2009 but instead kept them in the existing headquarters at 8555 W. Centennial Parkway.
"It was the only way that we survived thanks to acquiring the Kia franchise," Marsh said. "That was a blessing. It kept me in business."
Marsh said he had about 85 employees at time and didn't have to cut back any staffing. He has more than 100 employees today and plans to add about 35 to 40 people when he opens the new facility for Chrysler and Jeep on the adjacent 3.5 acres on West Centennial Parkway.
The contiguous properties comprise more than 17 acres.
Marsh said that the timing is perfect for the addition of the new dealership.
"Jeep is especially on fire right now," he said.