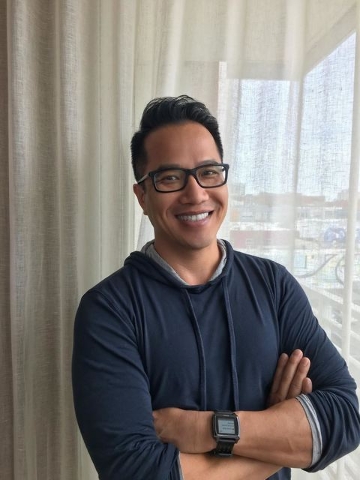 More than 25 years ago, three men planted a hot dog cart on the corner of West 53rd Street and Sixth Avenue in New York City.
After realizing the lack of meal options for nearby Muslim cab drivers, they began offering a platter of chicken and gyro over rice and the Halal Guys was born.
Since then, the Halal Guys has opened more than 20 restaurants across the country including in Houston, Chicago and Los Angeles.
Next month, Las Vegas will have the restaurant's latest location.
Binh Tran, a San Francisco-based former software engineer and co-founder of Klout, a website and mobile app that uses social media analytics to rank its users, is behind the Las Vegas launch of the Halal Guys, which is to open in mid-August at 3755 Spring Mountain Road.
Tran was first introduced to the brand while in New York City for the New York City Marathon in 2012. When Hurricane Sandy caused the event to be canceled, he ventured out and tried Halal Guys.
"I was out there and wanted to try the No. 1 most Yelped food in New York City," he said referencing the website and app that's used to review businesses across the nation. "There was a 30-person deep line in the rain and after I tried the product there was a quick understanding as to why there was a line."
Two years later, Tran was looking for something else to invest his time in after Klout was acquired by Lithium Technologies.
"I learned that the Halal Guys were just starting to franchise," he said. "For me, meeting the founders and getting to know them was important because when you're doing business with someone you need to understand their motivations, and if this is something they truly believe in and will provide a lot of support for."
Tran headed back to New York to meet the founders.
"I had to convince them that I was the right partner and I had to be convinced they had the right motivation to build a strong national brand," he said. "This was a breath of fresh air that was exactly what I was looking for."
The transition from software to restaurants has been natural, Tran said.
"People have such a great emotional tie to food and being a huge fan of the product myself, I just wanted my friends to eat it," he said. "It was also interesting to me to build a business that's traditional and has a physical location because it's something I've never done.
"There are very few cities outside of New York City that are true 24/7 markets and Las Vegas is similar because there's no hour that it doesn't run," Tran said. "If you're serious about creating a brand, Las Vegas gives companies access to so many people and it's a great place to start a business."
Rene Hjorth, director of operations for FOMO THG LLC, the Halal Guys franchisee, said in a statement, "We are thrilled to share this concept that has generated incredible loyalty everywhere it has opened, with the thousands of people who live in and visit Las Vegas. It's a perfect match for the non-stop, international environment that has made New York such a successful environment for The Halal Guys as well."
Tran said the Halal Guys wanted to make its Nevada debut off the Strip.
"When we think long term, we want to have a mix of both tourist traffic and local community support," he said. "Locals don't typically go to the Strip that often so we want to get that support off the Strip."
Once the Halal Guys is going strong on Spring Mountain Road, Tran said he'll figure out the franchise's next step.
"We could be downtown or at the New York-New York since that's where it all started for this brand so it seems like a pretty natural place to be," he said. "The Strip is constantly changing and expanding, so that's definitely where we want to be but I hear great things about the surrounding parts of Vegas, too."
He added, "I'm looking forward to getting into the community and serving customers."