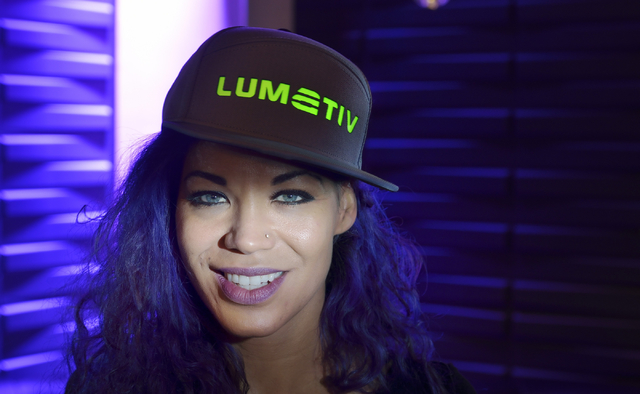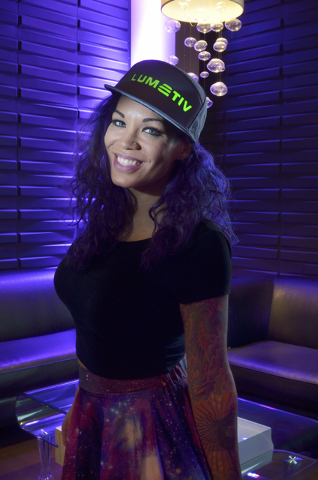 When most of us think about LED lights in a Las Vegas nightclub setting, what comes to mind are fancy multicolor lights bouncing off the walls and large digital screens serving a jam-packed dance floor. But if newcomer Lumativ has its way, LED technology will go from something that is on the top of the nightclub walls to a hat that is on the top of the nightclub workers' heads.
Founded in 2010, Lumativ is an innovative wearable technology company based in Los Angeles specializing in designing and producing illuminated systems for apparel and accessories. After taking three years to perfect its technology, Lumativ has entered the Las Vegas market and is in negotiations with popular nightclubs, DJs and retail stores to introduce lines of its customizable LED hats in time for the busy summer season.
"We are receiving positive feedback in the Las Vegas market because it is a seamlessly integrated technology," says Scott Campbell, founder of Lumativ. "It is not cheesy, or cheap looking with a large battery pack. It is sleek, with cutting edge technology so it is a natural fit for the Las Vegas market."
Lumativ has developed a state of the art, lightweight, patent-pending rechargeable electrical system that can be easily embedded into almost any wearable item of clothing.
In the Las Vegas market, the company has decided to start by introducing its line of hats, by far the company's most popular item. The LED lighting in the hats comes in 19 different colors, including blue, gold, green, orange, pink, purple, red, turquoise, white and yellow. The variety of colors allows flexibility in branding.
The colors represent the style of the product, while the substance of the product comes in a battery life that lasts between 20 and 30 hours. This means that Las Vegas nightlife employees could work three eight-hour shifts from Friday to Sunday night without having to recharge the battery, another fact that has been well-received by potential clients. When battery charging is needed, it only takes 45 minutes anywhere where there is a USB port.
"To change colors on the hat, all you have to do is click a small button that is strategically hidden beneath the small logo on the side of that," says Campbell. "It is our No. 1 'wow' feature and about 95 percent of the people who see it are instantly blown away."
Late last month, Lumativ introduced a customized hat for the NBA's Brooklyn Nets, just in time for the team to secure a 91-83 victory in game three of the first round of the Eastern conference playoffs. During the game's opening ceremonies, the Nets' dancers, crowd promotions team and drum line musicians all wore the illuminated Brooklyn Nets "E5 snapback" hat. Live models were wearing the hat in the team store at the Barclay Center, and the hat is an item offered exclusively at the arena.
"We were truly honored and flattered to work alongside the Nets' staff to bring the hat to the market," says Campbell. "Being an early adopter in a space isn't always easy and we admire the Brooklyn Nets for believing in our product and technology."
The New York metropolitan area has already been a niche market for Lumativ, as the company's interlocking 'NY' hat has been a point of city pride for New Yorkers, while the interlocking 'LA' hat has been popular with those wanting to simultaneously keep up with the trends in technology and apparel on the West Coast.
The popularity of those early hat designs led to a partnership with energy drink Red Bull. The limited Red Bull 'Crushed Ice' E5 snapback hat was released in January. Crushed Ice is an ice cross downhill competition in St. Paul, Minn., that draws crowds of more than 100,000 people.
Beyond the hat and the technology, Lumativ hired a new executive team at the beginning of 2015 to help propel the brand to the next level.
They hired two veteran technology entrepreneurs — Adam Alson and Ryan Totka — to its executive team.
Both will be playing key roles for the market development in Las Vegas.
Alson has worked with such sports celebrities as Muhammad Ali, Reggie Bush and Dez Bryant. Totka is the founder of Athlete Promotions, an athlete and celebrity booking company that counted Mark Cuban, Tim Tebow and Russell Wilson among its clients.
"We are all excited about the rest of 2015 and beyond," says Alson. "It is a team effort as we expand, so we all wear many different hats in this company."
Lumativ has come a long way from its humble beginnings in Campbell's Huntington Beach, Calif., garage just over five years ago. The partnership with the Brooklyn Nets and new clientele in Las Vegas is exactly the bicoastal marketing visibility needed to provide a 'bright' future for the LED hat company. The current cost per hat is between $60 and $80, and they are currently in the designing stages for an even higher quality hat that will cost between $100 and $200.
"Las Vegas is already known for being on the cutting edge of technology with the Consumer Electronics Show, and we are hoping to do our part to add to that reputation," says Campbell. "It has been fun to educate people of Las Vegas about our product, because if anyone knows about the importance of bright lights, it is the people of Las Vegas."