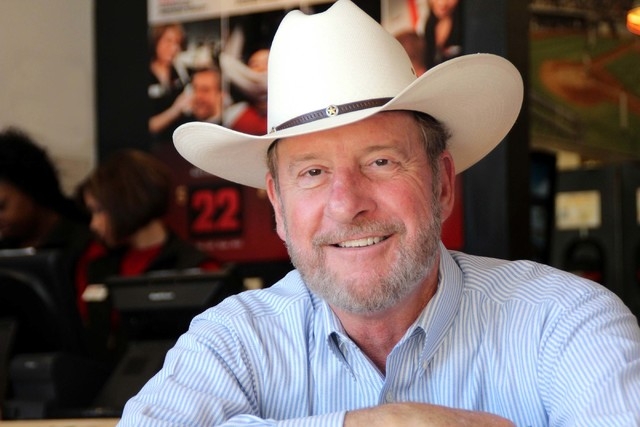 How many times have you been to a bakery or coffee shop and immediately been swept off your feet by the ambiance, the food, and the service? How many times have you thought, 'WOW', this business would go great near my house? Often, that is all it takes for someone to start a franchise.
However, in today's economy and cutthroat business world, it takes more than just a great idea to make a franchise work.
Earlier this month, Sport Clips Haircuts, one of the fastest growing and most successful haircutting franchises in the U.S., held its annual franchisee and managers conference at Caesars Palace. More than 2,400 were in attendance, including representatives of the 11 Sports Clips locations in the Las Vegas Valley.
The Las Vegas Business Press sat down with Gordon Logan, founder and CEO of Sports Clips, and asked him what he believes are the qualities of a successful franchise.
The heart of his philosophy includes a unique business concept, selecting the right franchisees, creating a cohesive corporate culture, and providing the proper support and training.
Logan's second career after leaving the military was as a consultant with Price Waterhouse. After a few years, he took his business knowledge and sought out franchising opportunities for his own personal investment, eventually purchasing a haircutting franchise. After his franchisor had gone bankrupt, Logan decided that he could develop a better, more targeted product and opened his first Sport Clips store in Austin, Texas, in 1993. After honing the concept and developing the support systems in the prototype store, Logan used that store as the working model for the launch of the Sports Clips franchising initiative in 1995.
The initial corporate concept was to develop a unique service that filled an unmet demand, created by the slow demise of the traditional barber shop. Sport Clips specifically targets the male haircutting market with a sports-themed interior that includes basketball court-style flooring and large screen TVs projecting the popular games of the season. They also offer the "MVP Experience," Sport Clips' signature service that includes a haircut, shampoo, hot steamed towel treatment, and neck and shoulder massage.
But it is not enough to have an updated barber shop with lots of zings. To be a success, you also have to have the right location and franchise ownership, Logan said. That is where due diligence enters the picture.
Sport Clips has a staff of close to 200, known internally as the "Support Team." Members of this team work together to review franchisee applications.
"We are not looking for someone who is buying a 40-hour a week job for himself," said Logan. "We want someone who is a leader, knows how to inspire employees, can set goals, develop action plans to achieve those goals, train, and grow their business beyond just a single store. The person who we accept as a franchisee is very important to the integrity of our brand."
In addition to the franchisee screening process, members of Sport Clips' Support Team also review new store location applications. Using a sophisticated software program and psychographic data developed by Nielson, a ratings and survey company, Sport Clips identifies target customer bases for its locations. In addition, the company chooses its shopping center locations based on this analysis and the retail synergy of the area.
"Competition for lease space is stiff," Logan expalined. "We are competing against Subway, and other food and service franchise business on a daily basis. However, landlords love us because we have only closed four stores since 2010; once we move in, we are there to stay."
The final and perhaps most important step in establishing a successful franchise is continued corporate support and training, he said. Sport Clips has established specific guidelines that are designed to ensure the success of its franchisees. But these guidelines are not set in stone.
All of the stores in the Austin and Las Vegas markets are company-owned, and these two distinctly different markets serve as testing grounds for any new product and business ideas. Once these ideas are perfected, they are sent out to the franchisees to help them improve their market share.
The company also provides extensive training to new and existing franchisees at their corporate headquarters in Georgetown, Texas, and in the local areas.
Logan serves on the board of directors of the International Franchise Association and strongly believes in the opportunities that franchising offers to entrepreneurs of all ages, cultures, and backgrounds.
Some of the most successful franchisee candidates have been military veterans, and Logan has made it his personal goal to support those members of the armed forces. As chairman of the association's VetFran Committee, he is proud of the fact that the IFA exceeded its goal of employing 80,000 veterans. Thee franchise industry is employing more than 200,000 veterans and assisting 5,000 more become franchise owners.
Logan believes that a company's culture is also a key to success. Working with the VFW, Sport Clips franchisees and employees have raised over $3 million to provide free phone calls home for troops overseas and in hospitals, and is now shifting those funds to provide scholarships for veterans making the transition from military to civilian careers.
Sport Clips also "takes care of its own." After losing several employees and franchisees to unexpected tragedies, the Wayne McGlone Memorial Relief Fund was established in 2012 to provide assistance to employees in need (McGlone was an area developer in Maryland). This fund is an on-going effort, with almost all franchisees contributing. Over a quarter of a million dollars has been awarded to those affected.
To future entrepreneurs or investors, Logan offers this advice, "Whether you are interested in a Sport Clips franchise or one of the other thousands of franchise investments available, complete your own due diligence to make sure the product is right for you and your market. Investigate the support and training program and corporate's commitment to making you and your franchise business a success."