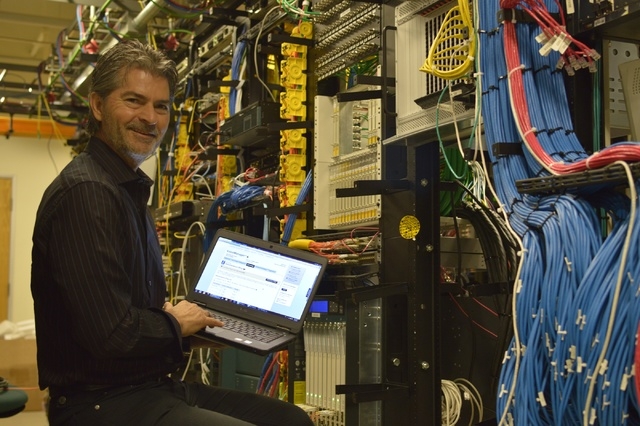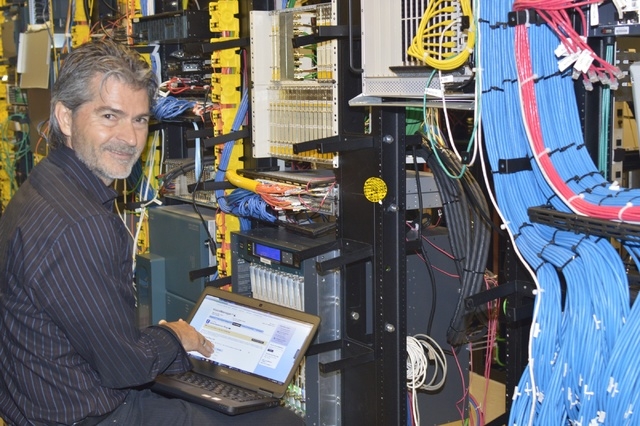 The telegraph. The fax machine. Voice mail. Although all of these may seem like outdated modes of communication, telecommunications providers are trying to ensure their corporate voice mail services are not branded obsolete. They're integrating the latest technology features to increase their market share in Clark County.
"Most basic voice mail platforms now offer specialized, and more innovative servers than in the past," says Juergen Barbusca, manager of communications, public and government affairs for Cox Communications in Las Vegas. "This includes specialty auto attendant, interactive voice options and fax features. Instead of using a traditional fax machine, some customers prefer to receive their faxes directly attached to an email address, or even delivered to a Web page in the cloud network."
Barbusca's Cox business division offers fax-to-email and readable voice mail to customers. He says these new features have been popular locally from Day One.
"Along with those products, our unified communications services are becoming increasingly popular to share messages, reach co-workers and collaborate in real time," Barbusca says. "Service providers are investing in messaging innovations like these to increase the value of voice mail and messaging capabilities."
Service providers in Clark County are seeing the demand, not just Cox.
"CenturyLink has noticed that businesses are not giving up on voice mail, instead companies are upgrading their outdated analog phone systems to Internet protocol-based voice systems," CenturyLink market development manager Jason Chan says. "These services are known as voice over Internet protocol, and our customers of all sizes are converging voice and data networks over VoIP for greater efficiencies, cost savings and flexibility.
"There is a sense that the next big thing in business communications will happen over VoIP."
CenturyLink has increased demand for its VoIP services by implementing business-oriented features. Along with traditional features such as standard voice mail, there is a market for specific features such as find me/follow me that transition to cellphones.
There's also a virtual desk to manage settings for working remotely, and to set distinctive rings on incoming calls.
AT&T is taking advantage of the telecommuting trend by offer its 'Business in a Box' voice mail product, tailored for businesses without brick and mortar locations or several remote employees. It allows the administrator to delegate responsibilities to several employees, instead of a sole administrator. To simplify into daily business operations, AT&T uses one piece of equipment to manage these fully integrated voice and data services.
The next level of technology CenturyLink has introduced to its voice mail services is a Microsoft Outlook browser tool bar that integrates on an IP phone, Outlook and a Web browser such as Internet Explorer or Firefox. It lets users enable and disable features such as call forwarding, do not disturb and sequential and simultaneous phone ringing.
"Traditional analog voice systems, and the voice mail systems that support them are a declining market that will soon go the way of the telegraph or the Pony Express," Chan says. "Eventually, businesses will transition to either hosted, or cloud-based IP voice systems that are managed by a provider or on-premise IP voice systems managed by businesses themselves.
"The many features and enhanced functionality make VoIP an easier and more flexible option to scale up or down as a business grows or contracts."
Figuring Out the Features
Once businesses are offered these voice mail features, it becomes the job of the provider or that company's representatives to identify the proper features for their daily operations. However, a few businesses don't use voice mail services at all.
"Five to 6 percent of our national business customers are not using their voice mail servers in any way," Barbusca says. "This could be for several reasons, including using the number as a fax-only line, an auto attendant-only line or they only want the phone line answered by a human for better customer service. Unfortunately, the data we have does not explain or clarify all of the details that make up this 5 to 6 percent."
Cox's business division has gained market share by mass marketing the readable voice mail as a free service to its unified messaging customers.
To ensure maximum flexibility and compatibility, the readable voice mail can be sent to any valid email address.
According to Cox, the transcribed text in readable voice mail is expected to be 85 percent accurate. Since the voice mail transcription is done by an automated program, the accuracy depends on several factors such as the caller's accent and noise level during the message recording. Names and nouns may not translate accurately, so to ensure the receipt of a message a copy of the audio or .wav file is sent along with the text transcription.
To help its customers manage VoIP accounts, CenturyLink emphasizes the use of its hosted VoIP administrator portal. This is especially valuable for midsize and large companies with employees who travel often or work remotely.
The portal lets the administrator manage users, modify user features and upload a large number of users. Services are managed through the portal, including auto attendant, hold music and setting group schedules.
The administrator can also identify subadministrators for managing voice mail inventory, services and products. These let CenturyLink connect and prove the value to a new generation of administrators.
"When talking to millennials, we emphasize how a cloud-based VoIP system has great features to support a mobile workforce," Chan says.
"Millennials are more comfortable with using technology in cloud-based resources than many older workers, and they may be more comfortable working on mobile devices … VoIP also helps users access advanced features quicker, which makes sense to millennials who are confident with using cloud networking services."
AT&T encourages users to share features via social media to educate other younger users about services for businesses. The services are not as intimidating when shared peer-to-peer compared to coming from a large, international telecommunications company. It maintains an active blog about voice mail features and the use of cloud technology to answer common questions.
With the cloud, unified messaging had brought new voice mail from being near obsolescence to real-time relevancy.