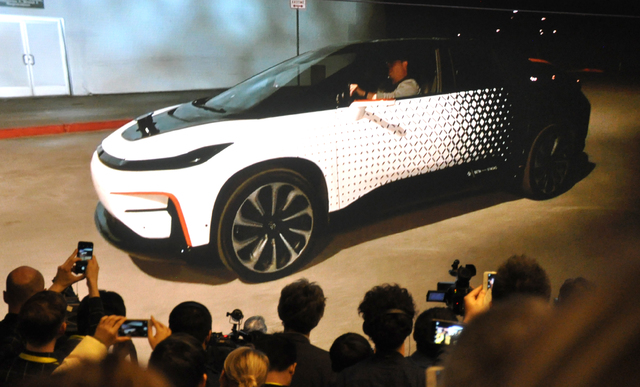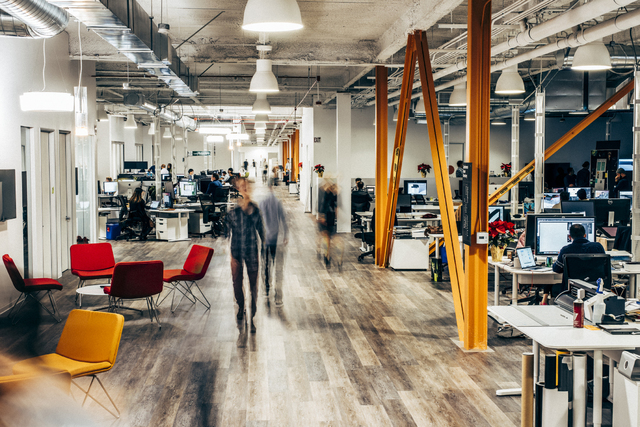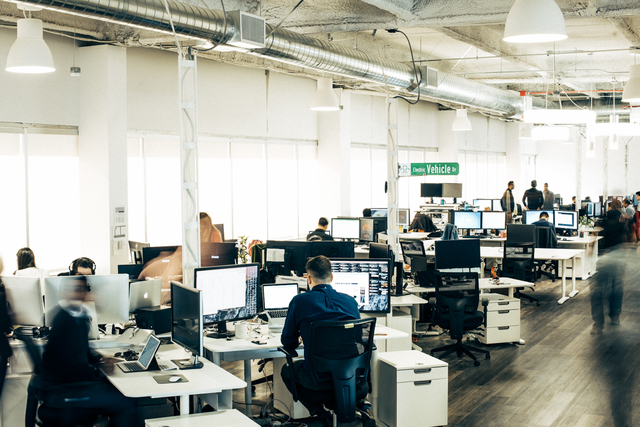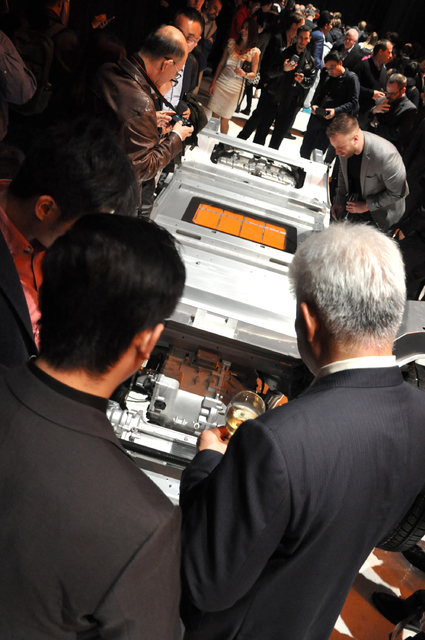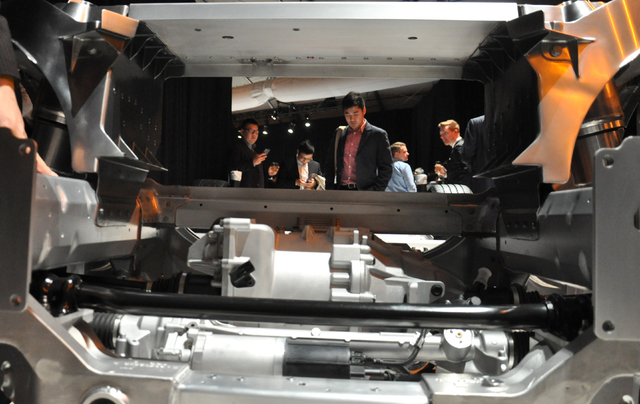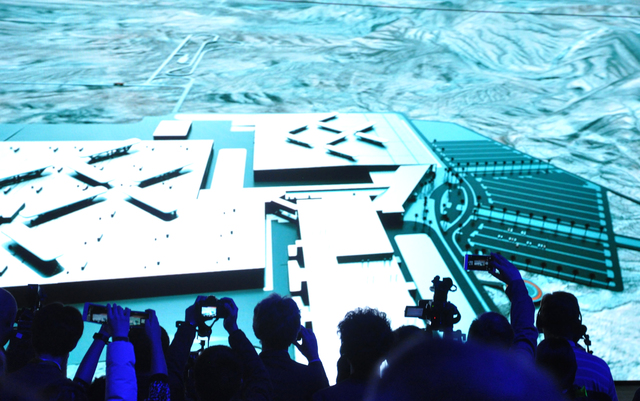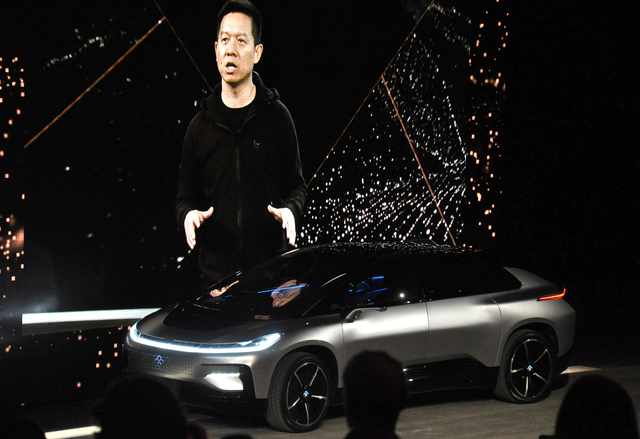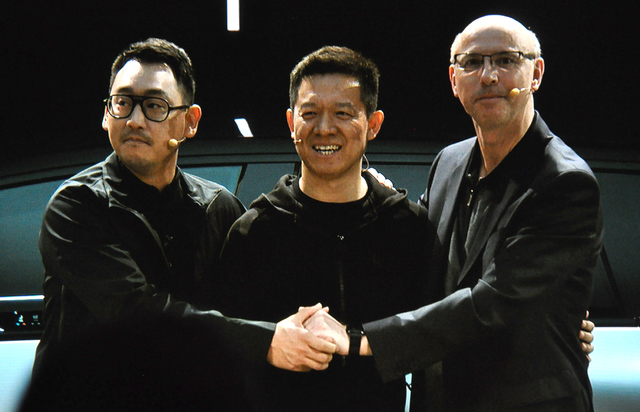 It was a glimpse of what the future might hold. For the evolution of road transportation and the region's economy.
Faraday Future unveiled its heavily anticipated product model inside the Pavilion at the Las Vegas Market on Jan. 3. Several hundred invited guests, employees and media representatives witnessed the one-and-a-half-hour presentation to get a look at the FF 91, an upmarket electric car that has been a closely guarded secret and the subject of considerable speculation from the public and industry observers.
After weathering months of reports about financial and personnel troubles, it was critical for the company to put on a well-received show. Whether it did enough to win sufficient interest from the public and new investors will become clear in the coming weeks, but on this night, the company known for caginess finally revealed much of what they have.
The Gardena, California-based company plans to build a 3 million-square-foot facility in North Las Vegas to produce all of Faraday's vehicles. The project is considered a cornerstone for the city's long-term economic development, but work on the facility ceased in November. City and company officials claim construction will begin early in 2017, but they may depend on Faraday's ability to garner further funding on the strength of the Consumer Electronics Show exhibition.
The company has, until now, kept a tight lid on its progress, keeping prototypes wrapped in black padding — which is common for the industry — and offering the public tantalizing peeks in the form of press releases and short teaser videos. In mid-December, the company opened its doors to offer a journalist pool the best look yet at the state and scope of its production.
Faraday Future is headquartered in an industrial section of Gardena, about 15 miles south of downtown Los Angeles. The gated complex — nestled between a pet cemetery and the Harbor Freeway — consists of a small, two-story, warehouse-style design facility and a small detached office building across the parking lot.
"The building used to belong to Nissan; we are outgrowing it already," explained Nick Sampson, Faraday senior vice president of product research and development. "You'll be seeing people working in the hallways because there's not enough room. We're expanding fast."
The company began in the spring of 2014 with only two people and quickly has expanded to more than 1,000 employees in Los Angeles, plus another 500 collectively at satellite operations in Northern California's Silicon Valley, Shanghai and Beijing.
Inside, the whitewashed open corridors and bays of the upper floor are filled with desks staffed by hundreds of Faraday employees; young, international and seemingly intensely concentrated on their various tasks.
Change is the law of life
"We are not putting ourselves out as a car company," Sampson said. "We are a completely different organization. We are technology, entertainment — and many more things. The way to get to that future technology is to look at ourselves, imagine ourselves in the future. At what people want and need, and then look back at how we can get that. So our mission is to think and act in creative ways most people cannot even imagine.
"We have experts from all over the world," he said. "Not only car people — we've got people from Google, from Apple, from different industries. We are not just putting together a product that is the typical evolution of existing products; it is starting with a clean sheet of paper and building from nothing."
On this day, the collective focus was on the run-up to CES, a fact underlined by a second-by-second countdown to the event on a 6-foot screen in the office lobby. Faraday's 2016 CES offering was a high-powered concept car many underwhelmed observers likened to the Batmobile.
"Last year, we somewhat stunned or annoyed the world with what we showed," Sampson said. "But we already knew when we showed you that car last year what this first product would be. The EV car is just the core of what we are doing.
"Around the EV, we've got autonomous driving. We've got smart use of interfacing, artificial intelligence, so that the car can learn about you, your habits, how you want to use the car. It is about the cloud and the big data behind that."
The core
The first impression one gets when viewing the Future Faraday product model is its nearly undeniable beauty. It cuts a sleek, lean profile featuring a gently curved windshield that extends almost to the car's front end. The look is more a natural evolution of a traditional automobile body than a jarring design departure pulled from an imagined deep future.
The second impression is the car's size. Despite the sybaritic shape, this vehicle appears surprisingly large and powerful.
"Does anybody get carsick?" asked the test driver to the journalists who had just buckled themselves into the prototype sitting in the parking lot of the StubHub Center sports complex located 1 1/2 miles from the Faraday facility.
Everyone answered no, but nobody sounded particularly confident about it. The driver accelerated and took a series of screeching, tight turns, but the vehicle felt remarkably stable through the maneuvers.
"We're going to do a 0-60 now," the driver explained. "Put your heads back all the way against the headrests."
Seconds later, the car felt like it was launched, rapidly gaining speed to the point of alarm before breaking off and slowly coming to a halt. The automaker claims this car peaks at 1050 horsepower and is capable of reaching 60 miles per hour from a stationary position in 2.39 seconds, which the company says is a record for a commercial automobile. In this demonstration, it of course took a bit longer — but not much.
"What do you think?" the driver asked.
His question evoked the type of light laughter that accompanies the release of anxiety, along with a few nods. The demonstration was duly impressive.
Under the hood
Faraday's vehicles are powered by grids of batteries, which are referred to as "strings" by the company, placed along the base. The batteries power between one and three motors — potentially modified to four — that allow for two-wheel or all-wheel drive systems.
Slight alterations to base length, battery and motor placement allow for the flexibility to easily produce a range of market models with different functional properties, all from a standard platform architecture.
"This is a new species of vehicle," Sampson said. "That flexibility and architecture allow us to develop vehicles that have the performance of a sports car, while having the agility and feel of a smaller compact car and yet be quite large."
Virtual to reality
"When Nick laid out a schedule for the development of the program, I said, 'No way. It can't be done,'" said Richard Kim, Faraday's lead designer. "I know it is a novelty to a lot of companies, but we actually had to use virtual reality to develop what we have done so far. We embraced (it)."
Kim said he believes this is the first vehicle ever to be designed principally through the use of VR technology. "If you want the most progressive, forward-thinking vehicle design, you have to use the most forward-thinking methodologies," he said.
He said the car contains hundreds of innovative, first-to-market features, both inside and out.
"The interior is really an oasis. This is going to have more connectivity than your home or office. It is going to be more comfortable and have better air quality than your home or office. Aromatherapy, massage. This list goes on," he said.
Body building
Angus Locke sat at his desk in front of a small computer screen, observing the digitized air flowing in candy shades of green, blue, yellow and red around the form of a vehicle. The Faraday senior aerodynamics manager gestured toward company engineers sitting at a bank of desks directly across the hallway.
"You often see a very distinct split between engineering and design," Locke said. "I've been working in engineering consultancy for over 20 years, and that's one of the key features of the aero team, you struggle to have a good dialogue with the design team to ensure the shape you produce is both beautiful and aerodynamic."
Locke, who most recently was with Tesla, said he appreciates the cohesion at Faraday that comes from close communication between departments.
"The tools we are using are cutting-edge and are allowing us to do very detailed, transient simulations," he said. "We can actually see the turbulence and flow, and really understand where some of the losses are occurring around the vehicle. We can also morph the body shape. So we can take a design from the studio and apply morphing parameters to it to try to optimize drag lift for stability, for cooling or any aerodynamic parameter."
He said one often-overlooked key to strong aerodynamic design is to test vehicles in a wind tunnel that utilizes moving ground.
"It is something that manufacturers in the U.S. have not necessarily embraced but is prominent within Europe," Locke said. "That is because there is as much to be had from the underside of the vehicle and the flow around the wheels as there is from the body shape."
"The whole design exercise was sort of inside out," Kim said. "The shape is driven by aerodynamics. The smooth, round front end — the way it gets sliced off at the back; buttress area; and it has a clean break at the rear are all for great aero numbers. And, of course, aero numbers are very important to electric cars because good aero means good range."
The range — referring to the distance the vehicle can travel on a full charge — is upward of 378 miles, according to the car makers.
Digital lifestyle
"It will be the most connected vehicle in the industry," said Mark Zeinstra, Faraday's director, internet of vehicle. "We have near broadband connectivity, so you can stream movies, different content, applications to the vehicle. A couple of screens in the car will allow you to bring all different types of content into the vehicle."
The car features multiple modems designed to use different types of carrier aggregation to get the desired speeds.
"Using technology to take the strongest signal, or all three signals, and aggregate them into one stream so we get high levels of connectivity," Zeinstra said, "we will be guaranteeing connectivity, even when you are dropping out at different areas."
The vehicle not only makes the suddenly old-fashioned car key obsolete, but the entire door handle mechanism, too.
"We have seamless entry, so you can enter the vehicle a couple of different ways," said Zeinstra. "One way, you will be able to come up to the vehicle with your Bluetooth-enabled phone that will allow your doors to open. We also have a camera located in the B-pillar (beginning at the driver-side and passenger-side windows) that will also allow you to seamlessly get in the car if you don't have your phone with you."
Once someone is inside, the vehicle will have the ability to detect that person's identity, and personalize their driving or riding experience.
"(The car) can recognize you from your phone, from a combination of facial recognition and iris detection," Zeinstra said. "We have cameras at every seat. So that seat will be personalized for your content. So whatever shows you are watching and your digital lifestyle, those shows and content will show up in the car. That information will be stored in the car for security purposes."
The screen on the B-pillar can give passengers an array of digital readings, including charging status. Displays in the door replace the typical car switches.
"You can change your seats, temperature, volume — you can even answer phone calls from the seats you get into," Zeinstra said.
The vehicle's high-resolution rearview window display is hooked up to three separate cameras to provide an expansive field of vision.
"You really don't have a blind spot in the car," Zeinstra said. "We also have an industry-leading, heads-up display featuring an image on the windshield. That will allow you to see different types of images, as well as different content on (the windshield) as well."
Lighting the way
The Faraday production model is designed to feature a number of lighting innovations, including the ability to better use the system to communicate with other drivers and pedestrians.
"We have a very complex array of lighting in the front of the vehicle that allows us to control every single element — from intensity and color — to communicate with people around the vehicle," said Adam Ruddle, Faraday senior manager for vehicle lighting.
"We have a very distinctive, white crossbar lighting, and we have solid optics for the low beam, which also have solid state cornering function to give us extra lighting when we are approaching bends."
The company also is working on using a pulsing light that moves around the lighting banks on the car doors to communicate with the outside environment that the car is in an autonomous driving mode.
"It is going to have to be a learned thing in terms of the protocol and what is understood from different lighting," said Ruddle, who expects certain standards to develop as self-driving cars become commercially available, and laws and regulations are passed to accommodate them.
All together now
The amalgamation of all these elements into a product that can be driven off car lots the world over is planned to be done at the company manufacturing plant in North Las Vegas.
"We had to grade (the North Las Vegas site) to bring it to a level," said Dag Reckhorn, Faraday vice president for global manufacturing. "The next phase will start early next year. We will reveal (a construction timetable) early next year."
The facility will be highly automated, with about 80 percent of the body assembly achieved through robotics, as well the anti-corrosion dip and painting, according to Reckhorn.
"Final assembly is the lightest of the robotics," he said, noting that finessing interior carpeting and other detailing typically requires human hands. The plant is expected to provide 4,500 jobs, half of which must go to Southern Nevada residents, as stipulated by the agreement between the state and company.
Blood in the water
Faraday is proposing the highly ambitious timetable of starting vehicle production at the North Las Vegas facility in early 2018, with products on the market two years later.
"Don't worry about APEX, we're building cars at APEX," said North Las Vegas Mayor John Lee during a Dec. 7 pitch to regional real estate agents. "It's going to happen."
But many observers do worry, while others eagerly seem to await an expected Faraday implosion.
Beneath the hyper-swaggering social media releases and significant design and production accomplishments lies a company seemingly fighting a multiple-front battle for survival. Or more precisely, companies.
Faraday Future is actually two legal entities, the second being FF Cayman Global, according to a Dec. 22 report on the automotive website The Verge.
And it is this second company that owns Faraday's intellectual property, something media outlets, including The Verge, have jumped on as evidence of danger to investors or contractors. But Joseph Gerstens, accounting department professor at the University of Nevada, Las Vegas' Lee School of Business, noted that this sort of corporate structure is nothing out of the ordinary.
"The holding of intellectual property in a separate entity is very common," said Gerstens. "It allows for easier spinoff or sale of the IP without having to dissect the original, parent company."
Faraday officials have declined to comment on the existence of FF Cayman Global, stating that as a private company, they opt not to discuss fiscal matters.
On Dec. 23, Joerg Sommer, vice president for product marketing and growth, and Marco Mattiacci, chief brand and commercial officer, left Faraday. The departures were followed by news of the resignation of Le Eco executive Ding Lei as acting Faraday CEO.
Faraday's principal investor is the 44-year-old Beijing-based billionaire Jia Yueting, whose core business is Leshi Internet and Information Technology — aka LeEco or LeTV — is itself in the midst of a critical shakeup. But the idea Yueting is turning his back on the project was in dispute by his appearance at Tuesday's unveiling.
"Once you own an FF 91, you can get rid of your other cars," he said. "We are not just a beauty and new, but a globally shared internet mobility ecosystem."
Yueting's cameo provided the lone awkward movement of the evening, when the FF 91 failed to open its doors to the man who primarily has funded its creation.
Leshi is developing its own electric car, LeSee, which also is scheduled to be unveiled at CES beginning Thursday, after press time. Sampson called Leshi a "strategic partner" but said the companies are fully separate, autonomous entities, despite Yueting's financial involvement.
"Faraday has been in constant communication with the city, with commitments … to commence the second phase of construction in February," said North Las Vegas City Manager Dr. Qiong Liu in December via a statement.
"Mr. Jia Yueting informed me that the company raised an additional $600 million in investment funds in November and that completing the North Las Vegas plant is a top priority."
Liu said the city's public works department believes the work hiatus will prove to be a benefit to the project by allowing design plans and engineering studies to catch up to the construction timeline.
"Construction cannot proceed until the technical studies and civic improvement plans are approved by the city, as required by our normal permitting process," she said.
"We are going to persist," promised Sampson at the conclusion of Tuesday's unveiling. "We are going to make the impossible possible."