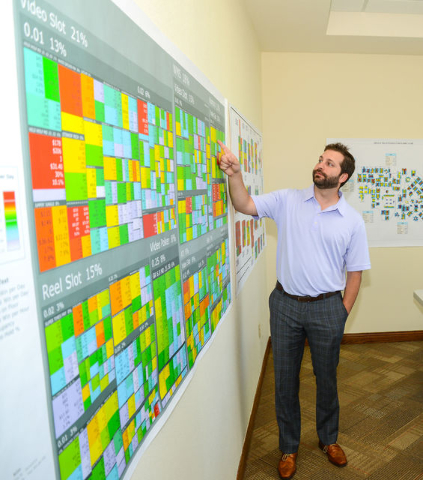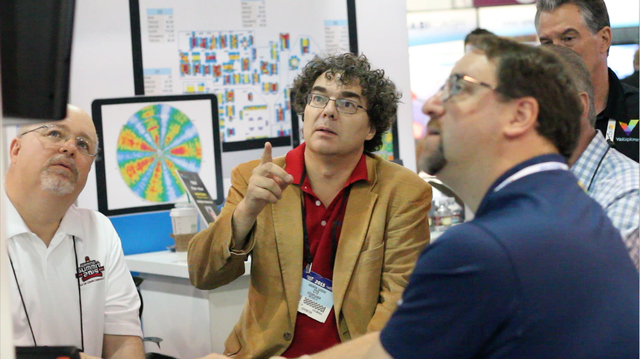 A lot has changed in the gaming industry — most notably, the shift from a single stream casino-based profit center to multiple profit centers in the retail, restaurant, nightclub, hospitality and even the swimming pool areas.
It used to take an army of accountants to gather data from each of the department silos and combine them into rudimentary reports, charts and graphs. Those functions are now performed with the push of a button, thanks to a company called VizExplorer.
The company is the brainchild of Andrew Cardno and took six years to develop. It was founded in 2008.
Cardno, the founder and chief technology officer of VizExplorer, is not only an expert at analyzing and interpreting data, he co-wrote the book on casino data analytics, "The Math that Gaming Made" (2011). His co-author is Ralph Thomas, a UNLV Ph.D. graduate in mathematics and VizExplorer's chief data scientist/general manager of gaming and strategy.
Together, Cardno and Thomas have authored an 18-part series for Casino Enterprise Management Magazine titled, "Where is the Money?" Cardno holds more than 60 patent applications and has been a featured speaker on the subject of analytics at a variety of venues around the world.
VizExplorer's corporate headquarters are in San Diego, but the Las Vegas office on Eastern Avenue near Windmill Parkway employs a team of 45 computer software engineers and analytical experts who spend their days developing complex algorithms to analyze casino operations. Cardno expects that number to grow to 60 employees in the next year.
Part of Cardno's expertise is in the analysis of gaming customers. His programs analyze customer types and gaming preferences. VizExplorer's team of Ph.D. and master's-level researchers have developed an operational intelligence company focused on developing software that enables companies to analyze complex consumer data from multiple sources and then act on that data. The tools are designed to take a company from analysis to action.
"I think that the casino resort industry is very innovative, and I see constant change and new products," Cardno said. "It is evolutionary, and I just love the speed with which we have innovated. It is hard to have imagined. In the future, I see a completely new business model developing with different kinds of social entertainment and new kinds of games emerging."
In a January article titled Creating Customer-Centric Gaming Floors, Cardno states that "catering to today's older gamblers while ignoring future gamblers (including potentially the very large group of millennials) is an extremely risky proposition for a casino."
To demonstrate how the types of patrons and their preferences can change over time, Cardno uses the "Red Beaker Analogy." In his example, a beaker is filled with red fluid symbolizing the initial group of customers. As a new group of blue customers start to patronize the casino, the water in the beaker starts to turn purple until the new type of player dominates the casino floor, turning the fluid to blue. The transformation is easy to see with water and colored dyes, but not so easy to detect without analytics to monitor.
"However, while following the slot averages and thus naturally catering to red customers seems like the right thing to do, we ignore blue customers at our future peril. They are the future of our business, and a lost new customer today could mean multiples more lost in the future," said Cardno.
According to Cardno, "Much of the discussion around millennials has fallen into one of two camps: marketing and new products. On the marketing side, casinos are trying to create new areas of excitement that will draw millennials into gambling while they enjoy their current casino entertainment options of choice, like shows and dining. On the product side, slot operators are beginning to explore the concept of skill-based slot machines."
Perhaps the millennials are the blue dye that changes the beaker water totally blue. With proper analytics, that tipping point will be visible to the casino executives, and they will then start monitoring for a new "red" group of players who will slowly turn the beaker fluid back to its original color.
The Silverton Casino was the first to buy into Cardno's theories and expertise by becoming VizExplorer's first customer. Using VizExplorer's complex analytics has helped the Silverton to successfully expand its highly visible off-Strip presence.
Today, in addition to the Silverton, VizExplorer customers include Boyd Gaming, Station Casinos and more than 600 other casino clients on five continents. And VizExplorer is expanding its services to sports stadiums and manufacturing facilities.
In an article published in Casino Journal Feb. 9, Cardno writes "it is not just size of data that matters, it is also the diversity of sources."
Cardno's analytical programs combine the diverse data sources within the resort casino, systems like slot and table player tracking, slot and table accounting, cage accounting, bingo-poker-sports, hotel, food and beverage, employee tracking, valet, spa and many others. And of course, the data sources are multiplied by the number of resort properties.
"The challenges are the same regardless of the size and scale of the resort organization," said Cardno
The main challenge is distilling the mountain of financial reports and customer profiles into useful information for the C-suite executives and the management team.
Cardno uses the example of the casino shuttle driver who picks up clients at the airport and various locations and drives them to the casino or planned events. The VizExplorer's hostViz and greetViz modules provide real-time customer profiles that are available via smartphones and tablets. The connectivity of these programs allows the shuttle drivers and casino hosts to interact with the customers and make them feel welcomed by knowing when they last visited, the activities they like, where they are from, family members and other useful information.
Three other program modules are also available. FloorViz is an advanced slot floor optimization solution to help increase profits and maximize slot machine return on investment. CampaignViz is a marketing campaign management solution, complete with test and control to better segment audiences to deliver targeted campaigns to high-value players. And techViz is a real-time service and dispatch management solution to maximize the efficiency of the service department and drive slot floor profitability. All modules are designed to assist various levels of management with both the overall management of the resort and the individual departments.
On July 13, during the Casino Marketing &Technology Conference at the Paris Hotel, VizExplorer introduced its latest module, greetViz. The new program is designed to provide automated mobile alerts to staff members when important guests enter the property. This program allows staff members to personally greet the guest, send a drink, or welcome them in some other meaningful way.
"We have truly become the operational front end of a gaming operation," said Cardno.