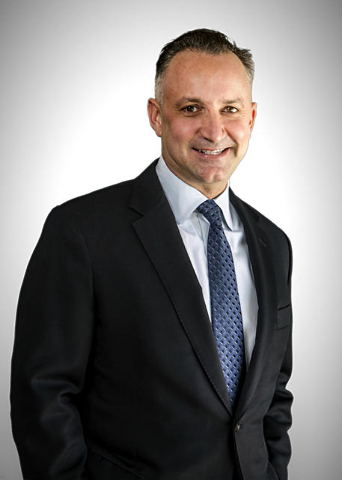 Chris Brooks is a native Nevadan with a passion for preserving and protecting the state that he loves.
Today, he's parlaying his deep experience in solar technology into developing one of the largest community solar projects in the country.
After graduating from Clark High School in 1990, Brooks immediately started working as an apprentice electrician at Brooks Electric, a company owned by his grandfather. His on-the-job training was extensive and fast-paced, thanks to a couple of major contracts that included electrical infrastructure upgrades and installation at Nellis AFB and Indian Springs Auxiliary Air Field, now known as Creech AFB.
In 2000, a shortage of electricity supply caused by market manipulations, illegal shutdowns by the Texas energy consortium Enron, and capped retail electricity prices caused multiple large-scale blackouts in neighboring California.
Brooks began looking at Nevada's energy regulations and saw an opportunity to make an impact by building distributed energy generation projects through the use of solar. He formed Las Vegas Solar Electric in 2000 and completed his first renewable energy project in 2001.
In 2004, Brooks joined with Bombard Electric and served as the director of Bombard Renewable Energy until 2014.
"During that time we installed well over 1,000 industrial and residential solar projects throughout Southern Nevada. I stopped counting after reaching 100 megawatts," said Brooks. "I am most proud of seeing what has become of the solar industry in Nevada, from the humble beginnings back in 2000 to today, and knowing that I played a role in making that happen."
Brooks' accomplishments include the design and installation of, what was at the time, the largest rooftop solar array in the valley at a vitamin manufacturing facility in Henderson. He also was involved in building the Nellis Solar Power Plant, the second largest ground-mounted solar system in North America when it was completed. The plant utilizes 70,000 solar panels, occupying 140 acres of land, and generates 14.2 MW of power.
Past accomplishments aside, Brooks doesn't show any signs of slowing down.
In 2014, he joined Valley Electric Association, Inc. as the executive vice president of energy services. VEA is a member-owned cooperative, nonprofit electric utility headquartered in Pahrump. VEA was founded in 1965 as a result of various mergers and acquisitions of small local community cooperatives that back to 1940.
Today, VEA has 18,000 members equaling more than 45,000 people spread over 6,800 square miles mainly in Nevada along the Nevada-California state border. VEA's residential members are the co-op's largest single consumer group, but the company's customers have grown to include some high-profile federal government facilities in Nevada — the Nevada National Security Site and Creech Air Force Base.
Planning for increased load demand and accommodating member growth are among the challenges VEA faces as it looks to the future. VEA does not generate the electrical energy it supplies to members and buys most of its power on the open market. However, Brooks is helping to change that dynamic.
With Brooks on board, VEA is in the permitting and design stage for the development of one of the largest community solar project in the country, where 100 percent of the energy generated will be delivered to the contributing participants. The project will be built on 80 acres of property in Pahrump and generate over 15 MW of power. (On average, one megawatt of power is enough to power 165 homes.)
"One of the important aspects of this project is that 100 percent of the solar panels, inverters, and steel used in this project will be manufactured in the USA," said Brooks. "In addition, all of the engineering design consultants and contractors used on the project will be Nevada residents." The project is estimated to provide jobs for over 200 workers at its peak.
Along with providing long lasting renewable energy, Brooks is also taking precautions to protect the natural environment. The solar panels will be constructed in such a way as to preserve the natural plant life and Desert Tortoise habitat. In addition, the solar panels will be spaced in such a way that the system does not look like a lake from the air and distract migratory birds.