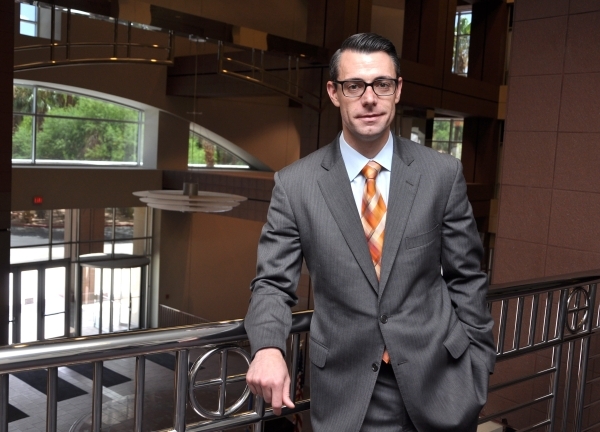 When it comes to gaming and sports wagering, one local company is at the forefront of developing ways to increase the industry.
CG Technology, formerly known as Cantor Gaming, has led the way in developing mobile applications for gaming, sports wagering and mobile casino betting. CG Sports allows customers to make sports wagers with their mobile devices from anywhere in Nevada while CG Casino allows customers to play casino games and win money with their mobile devices.
CG Technology was also the driver of new legislation to allow sports entity wagering (Senate Bill 443) and the global risk management bill (Senate Bill 445), which allows Nevada race and sports books operators to manage back-end functions — such as setting the lines, managing the data and managing the risk — in Nevada. SB445 is key to growth in the industry if sports wagering is opened up in new jurisdictions — both foreign and domestic.
CG Technology's technical advances and work in the Legislature are all in an effort to increase the $3.9 billion wagered annually in Nevada. In 2013, wagers placed through CG Technology totaled more than 25 percent of the state's wagering market, according to CG Technology.
"CG Technology has always led the way since it entered this market," said Quinton Singleton, its vice president, deputy general counsel and assistant secretary. "We were the first with mobile apps, first with mobile sports betting and first with mobile casino betting. In the old days — 2009-10 — we were actually physically building the mobile devices for people, and this was before smartphones even existed. When the smartphones came around, we were first in getting apps to do mobile sports wagering and mobile casino betting.
"What you are seeing now is CG Technology again leading the way with this new legislation, saying this is the future of sports wagering, and we went so far as to invest a huge amount of time and effort into getting these law passed. We worked with gaming regulators and the Nevada Legislature to continue to bring the race and sports book industry in Nevada to the forefront."
Singleton added that Station Casinos might have been the first to implement private network wagering with Cox Communications.
One of the next big opportunities CG Technology has its eye on in Nevada is the growth of in-game wagering. The company pioneered in-running wagering that allows wagers to be made on a variety of outcomes during an event including first downs in football, free throws in basketball and many other in-game options, according to the company.
"We think it is one of the big opportunities still in Nevada," Singleton said. "We are waiting to see it adopted like you see in other jurisdictions where it represents a principle amount of gaming revenue, or at least the wagering activity. We are actually planning on launching a new in-game or in-running product later this year, which will be a very compelling product for customers."
The mobile technology will be important to the success of in-game wagering because of the small window of time the markets would be open.
"They can do it through mobile or live in the casino, but we pretty much have everyone do it on account mobilely because it is so instantaneous," Singleton said. "The markets are only like 10-15 seconds open because it's, 'OK, they are going to kick a field goal, open the market. OK, they've kicked the field goal, close the market.' We've got a limited period of time, which makes it a product adaptable for mobile devices."
As for now, this option is only available to users of Apple iOS and Android phones because of their popularity in the marketplace.
"We see that the market largely adopts the iOS and Android operating systems/phones," he added. "This in turn drives the products we create for customers, which is why we have only released Apple and Android applications."
Another opportunity that might come onto the forefront at the race books is the opportunity for mobile race wagering. However, Singleton isn't so sure that product would work as well as mobile sports wagering or in-game wagering.
"It's maybe a potential opportunity, but I think a lot of people like to come down to our sports books and watch the racing on TV. So, we encourage that, but maybe someday we'll come out with a mobile product on that."
In Nevada, CG Technology operates the sports books at The Venetian, Palazzo, Cosmopolitan, Palms, Silverton, Hard Rock, M Resort and Tropicana. The company also manages the book at Atlantis Paradise Island Resort in the Bahamas.
CG Technology opened the race and sports books at the Silverton in November 2012. Since partnering with CG Technology, Cory Klerk, general manager of the Silverton, said he has been pleased with the partnership because of CG Tech's guest service and its technological advances in the race and sports wagering industry.
"CG Technology's staff at the race and sports book has the qualities that we look for in our own team members, and the service they provide is seamless to the Silverton's guests," Klerk said. "It is more cost-effective to partner with CG Technology than managing a sports book in-house because they have state-of-the-art equipment and a better quality product than we could produce on our own."
At these locations, CG Technology provides race and sports books services and the mobile gaming or mobile casino services to those proprietors.
"Basically, we are a technology company that provides race and sports books technology, mobile gaming technology and risk management for race books and sports books," Singleton said.
In 2014, CG Technology agreed to license its sports book system at eight Logrand Group casinos in Mexico, including the Jubilee in Monterrey, Nuevo Leon, which is Mexico's largest casino. Under the terms of this agreement, Logrand Group will be able to use CG Technology's software in additional locations as their business expands.
CG Technology is also targeting opportunities in Macau, Australia and New Zealand.
"We currently work with partners in the U.S. and The Bahamas," Singleton said. "We are constantly looking at expansion opportunities. We are focused on the Americas from top to bottom, and we are also getting a lot of outreach from Europe and Asia in the terms of wanting our products and services.
"So, we are selective in who our partners are, and we closely work with them to see who is the right fit for us. We are constantly looking at international expansion."
CG Technology, the gaming subsidiary of Wall Street firm Cantor Fitzgerald LP, is headquartered in Las Vegas.