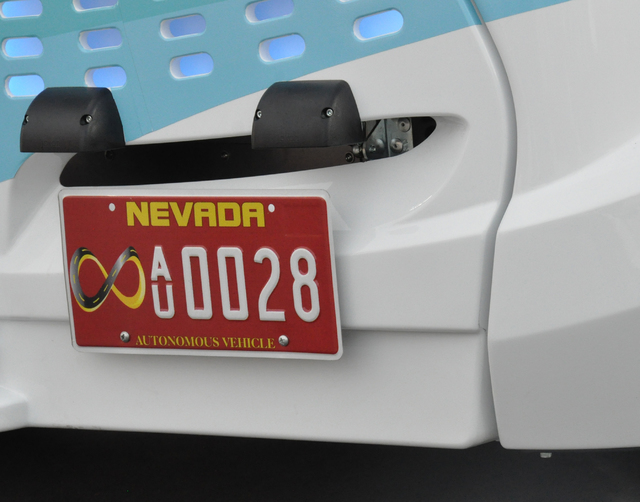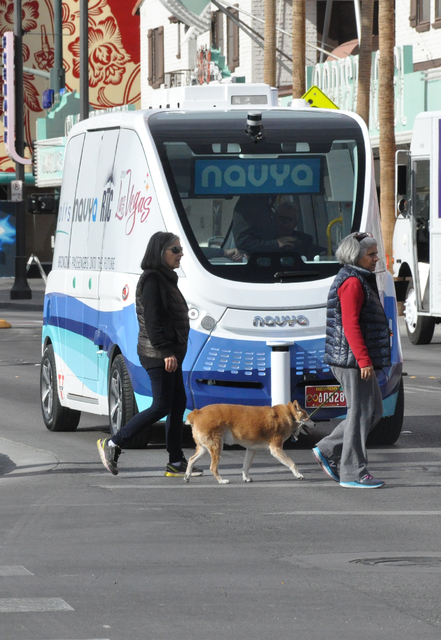 A new, slightly odd-looking shuttle made its way down Fremont Street in downtown Las Vegas in the first few weeks of this month. When one climbed inside, the sight was even more unusual. The shuttle operates without a driver.
The autonomous vehicle ARMA is the creation of the Lyon, France-based company NAVYA, which operates a fleet of 30 shuttles that have serviced commuters in six other countries.
"We were at CES, then brought the vehicle for a 15-day demo," said Henri Coron, NAVYA vice president of sales and marketing. "This is the first time any autonomous vehicle (has operated) on the open road in the U.S. We are very proud because it is a big achievement."
The demonstration was offered free to riders. The pilot demonstration was conducted inside the new Innovation District — intended as a testing ground for technology in the sectors of transportation and alternative energy. It is the result of a partnership between NAVYA and public transportation systems operator Keolis North America, which operates the RTC's transit system along the Las Vegas Strip and the southern portion of the valley.
"The city of Las Vegas is on the cutting edge of technology and innovation, building on the strong tech foundation provided by SWITCH and Nellis Air Force Base," said Mayor Carolyn Goodman during remarks at a Jan. 10 kick-off event.
"The city is making major investments to improve motorist mobility and safety, provide reliable transportation choices and showcase technology in downtown Las Vegas, and we are thrilled Keolis is taking us a step in that direction."
Coron said the idea behind this demonstration was to gauge reaction to the autonomous vehicle as people traverse Fremont Street between Las Vegas Boulevard and Eighth Street.
"We hope this gives lots of ideas to other cities and states," he said.
ARMA can accommodate 12 riders and will always have a human inside monitoring the operations of the autonomous system.
The company emerged from Induct Technology, which created a prototype of the vehicle that was unveiled at CES in 2013.
"(Induct) were engaged in a lot of products. They were burning a lot of money and went bankrupt," Coron said. "We took over the company in 2014 and will not do the same silly thing. We are concentrated on this vehicle. This year we expect to deploy another 200 vehicles. We will be assembling in Detroit by June, kicking off our U.S. operation. We are hiring people right now."
The company is establishing offices in Boston, Orlando, Florida and San Bruno, California. The Michigan assembly facility will employ 15 workers to produce 50 vehicles annually, numbers that could increase if U.S. market sales exceed expectation, according to Coron. Vehicles for the European and Middle East markets are assembled in Lyon.
"We are not manufacturers," he points out. "We assemble the vehicle. Every part is already existing. So what we do in Lyon, we can duplicate in Detroit and other places in the world."
Coron believes ARMA has the potential to significantly reduce chronic urban vehicle congestion. "Every city wants to get rid of traffic, but if you look at commuters worldwide, 90 percent are mono-drivers (without passengers)," he noted. "NAVYA is a solution. You create parking at the entry to the town, for example, and collect people with a shuttle. Or you place a NAVYA shuttle every 200 meters along housing facilities and bring them to public transport."
The fully electric vehicle runs for 10 hours on five hours of charging, Coron said, although excessive heat and other factors reduce the ratio. "We were asked to do a fuel version, and we refused. We went with electric, and we will stay electric."
"This pilot marks an important milestone in bringing us closer to our shared vision of delivering public mobility solutions that are both connected and sustainable," said Clement Michel, CEO of Keolis North America.
Neither Michel or Goodman indicated whether the city would consider continuing or expanding the ARMA service once the pilot program has ended.