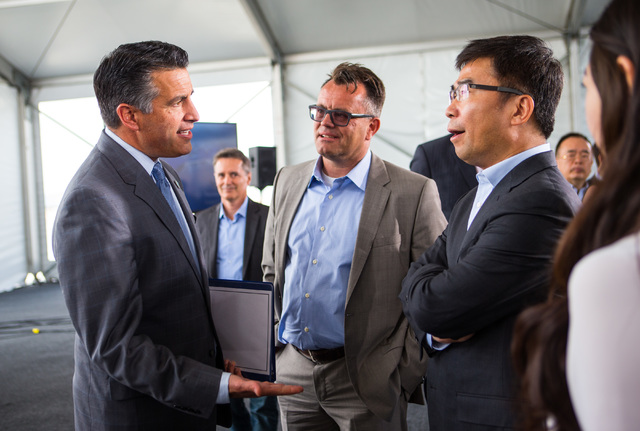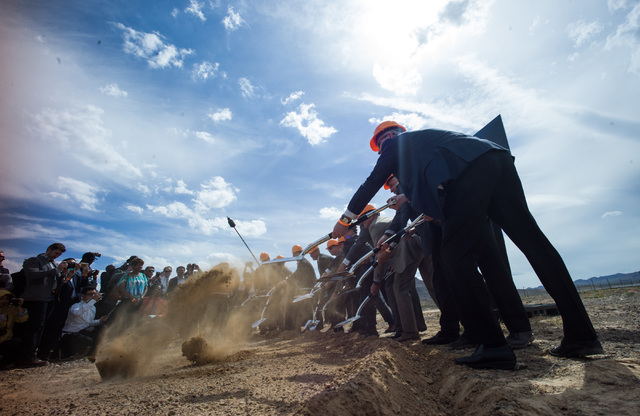 The shimmering mirage of a $1 billion futuristic electric vehicle production plant that could help transform the economic fortunes of North Las Vegas may be fading. The onus is now on Faraday Future to demonstrate to government officials, investors and the public that it possesses the resources and business acumen to produce.
The technology startup company announced last week that work has been suspended on a planned 3 million-square-foot facility intended to produce Faraday's line of innovative modular electric vehicles.
North Las Vegas officials remain confident in the project, according to spokesperson Delen Goldberg, who said the city and Faraday are in close contact. But the office of State Treasurer Dan Schwartz — who has been openly critical of the deal since it was approved in a special session of the Legislature last December — considers the developments evidence of the project's potential risk to taxpayers.
"What we are seeing in the last week and a half is a slowdown and eventual work stoppage at the site (and) cash-flow problems," said State Treasurer Chief of Staff Grant Hewitt. "So I think there are a lot of big question marks."
The cessation of activity comes only weeks after it was reported the company failed to make payments to contracted engineering firm AECOM.
Gardena, California-based Faraday plans for work on the facility to resume next year. Its representatives said in a written statement it still plans to reveal the production model in January at the 2017 Consumer Electronics Show at the Las Vegas Convention Center.
Faraday had proposed an ambitious timetable of starting vehicle production at the North Las Vegas facility in 2017 or early 2018 with products on the market two years later.
The company confirmed the department of six key employees in October, including Financial Director David Wisneiski and General Council and Vice President of Governmental Affairs James Chen.
Faraday's principal investor is 44-year-old Beijing-based billionaire Jia Yue Ting, whose core business is Leshi Internet and Information Technology (LeEco or LeTV), which is in the midst of a shakeup. Jia released an internal company letter Nov. 6, reporting that Leshi had expanded more rapidly than capital and resources dictated. The letter was first obtained by the Chinese newspaper Global Times and used as a source by Forbes and other U.S. media outlets.
Faraday Future is a non-listed Leshi entity.
The company announced a temporary halt to Asia Pacific expansion and named longtime Huawei Technologies official Gao Jun as chief executive for the region.
Jia's letter follows the launch of Leshi products — including smartphones and the LeSee electric car prototype — into American markets less than one month ago. Leshi, through multiple subsidiaries, is engaged in the production and distribution of films and videos, internet television, eco-agriculture and the production of smartphones and other devices, plus multiple unrelated endeavors.
The company announced Nov. 15 that it has secured $600 million in capital investment, half of it earmarked for its two electric car development projects and LeEco Global, according to Reuters. The money comes as the result of agreements with pharmaceutical company Luye Group, furniture sellers Man Wah Holdings and apparel manufacturers Heilan Group.
Leshi was affected by recent volatility in the Chinese economy to the extent the Shenzhen Stock Exchange froze trading of company stock for six months. When trading resumed June 3, Leshi stock dropped from 56.32 CNY per share to 44 CNY 11 days later and has struggled to maintain any gains since. The stock dropped another 4.5 percent after the Nov. 6 letter became public.
The Faraday project relies on the sale of state debt to create $120 million in bonds dedicated to site infrastructure improvement after Faraday places $12 million into an escrow account and creates a $75 million surety bond, to be returned after the North Las Vegas facility is operating and generating revenue.
Meanwhile, the Governor's Office of Economic Development said the deal is structured so that Faraday does not receive abatements until it has invested $1 billion into the facility and that no bonds will be issued until the company provides security to the equal amount of the bonds, which are not expected to be issued before the fall of 2017 and are subject to state Board of Finance approval.
"The state's agreement with Faraday anticipated a range of possible outcomes, offering Nevadans new opportunities if Faraday succeeds while protecting the state in the event it did not," GOED spokesperson Jennifer Cooper said in a written statement.