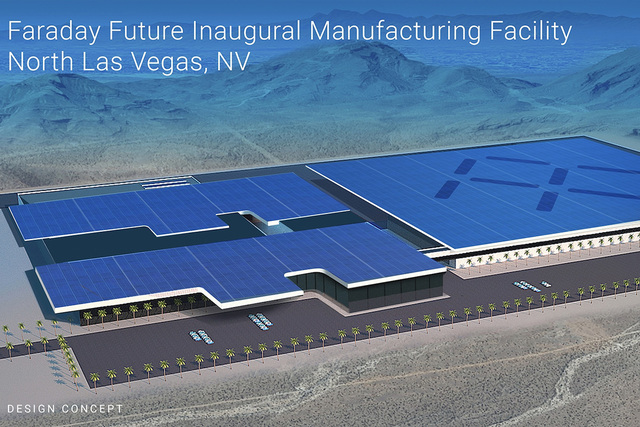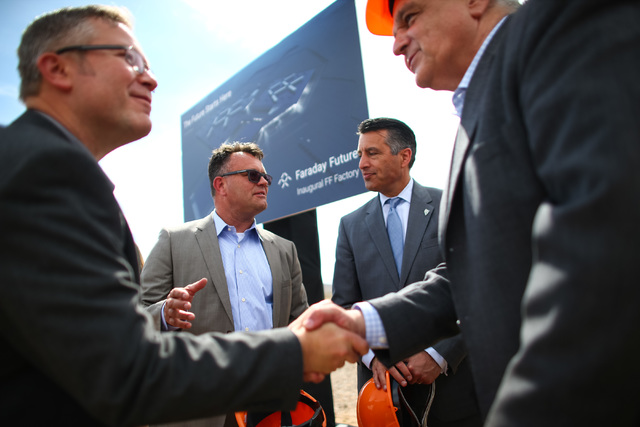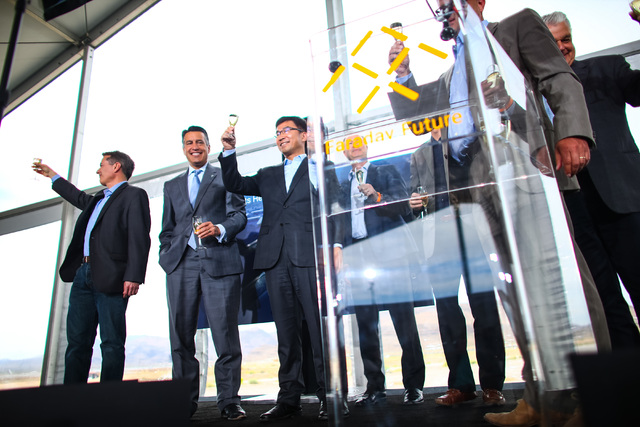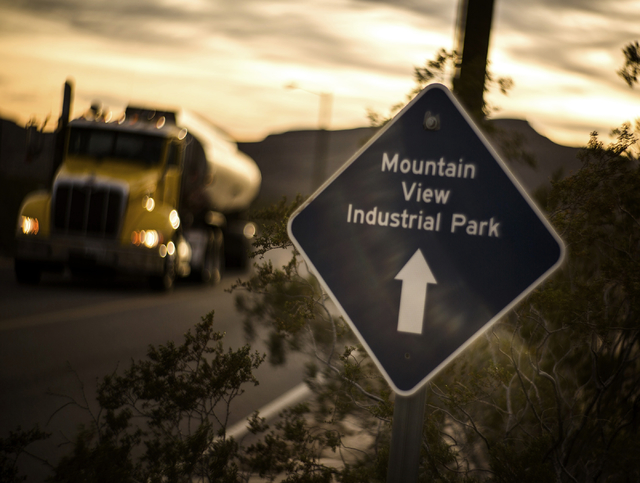 The technology start-up company Faraday Future has fallen behind on payments to U.S.-based engineering firm AECOM for the construction of an auto manufacturing facility in North Las Vegas. A letter from AECOM officials to Faraday dated Oct. 10 warned that a work stoppage would be considered if money owed is not paid, according to report in Automotive News. AECOM is owed $46 million for work in September and October, according to the report. Farday released a statement Oct. 25 saying the relationship between the companies remains strong and that they are committed to the completion of the project.
On Oct. 17, AECOM announced an agreement with Faraday for site construction in the amount of $500 million, about half of the project's total price tag. The companies had been working together on the project since at least the beginning of September.
"Working in collaboration with AECOM, we were extremely impressed with how quickly they aligned with our company's vision of manufacturing in North Las Vegas," said Faraday global manufacturing Vice President Dag Reckhorn via an Oct. 17 statement, the day the agreement was made public.
State treasurer Dan Schwartz initially blocked the sale of state debt to create $120 million in bonds dedicated to site infrastructure improvement until Faraday placed $12 million into an escrow account and created a $75 million surety bond, to be returned after the North Las Vegas facility is operating and generating revenue.
The company partially fulfilled those requirements earlier this year and infrastructure work has been progressing for more than two months, including sewer and water systems and the emergency management system, which is expected to be 90 percent completed by the end of the year, according to North Las Vegas public information officer Delen Goldberg.
She says North Las Vegas officials remain confident in the project. "There are dozens of trucks moving dirt at the site at this very moment. Our understanding is that payments are current."
The planned 3-million-square-foot facility with a $1 billion price tag is intended to produce Faraday's line of innovative modular electric vehicles. The facility design will feature numerous sustainable and otherwise environment-friendly elements, according to AECOM, including prismatic skylights, photovoltaic solar panels and energy-efficient systems for heating and cooling the plant. Faraday spokesman Richard Otto said construction is planned to begin before the end of 2016.
AECOM was founded in 1990 and maintains multinational operations for a range of clients. Projects include New York's World Trade Center, which is now under construction; Hong Kong and Los Angeles International Airports; the 2012 London and 2016 Rio de Janeiro Olympics; and the AT&T Stadium in Arlington, Texas. It is headquartered in Los Angeles and employs about 90,000 people worldwide.
"A revolutionary approach to transportation requires an unprecedented manufacturing facility, and AECOM is thrilled to be working with Faraday Future to help make its vision real in Nevada,'' Michael S. Burke, AECOM chairman and chief executive officer said in a written statement.
"Our involvement taps our extensive automotive industry experience and our integrated approach to delivering challenging projects quickly.''
Gardena, California-based Faraday plans to reveal the production model in January at the 2017 Consumer Electronics Show at the Las Vegas Convention Center. The company says the vehicle will allow for unprecedented human-vehicle interaction, with attention paid to advanced ergonomics and the integration of state-of-the-art technology into the driving experience.
Faraday is proposing the highly ambitious timetable of beginning vehicle production at the North Las Vegas facility in 2017 or early 2018 with products on the market two years later.
"They will have one assembly line for all their vehicles, because of the design," said City Councilman Isaac Barron, who was part of North Las Vegas' effort to attract Faraday. "It is one basic modular design for their compact, sub-compact, full-size sedans and pickup trucks. Once that assembly line is running, they will be able to crank out a lot of vehicles. This is revolutionary — something we've never seen before."
The company has attracted key engineers and executives from rivals Tesla Motors and in January unveiled a concept car — a single-seat racing vehicle — at this year's CES.
Yet the company has struggled to engender confidence in some financiers and auto industry observers. Faraday's principal investor is the 44-year-old Beijing-based billionaire Jia Yue Ting, whose core business is Leshi Internet and Information Technology (aka LeEco or LeTV).
Leshi, through multiple subsidiaries, is engaged in the production and distribution of films and videos, internet television, eco-agriculture and the production of smartphones and other devices, among other endeavors. It has also produced an electric sedan concept car.
Jia has stated that part of his interest in the advancement of electronic vehicle technology is its potential to help alleviate the extreme air pollution experienced in many of China's largest cities.
Leshi was affected by the recent volatility in the Chinese economy to the extent that the Shenzhen Stock Exchange froze trading of company stock for six months pending government approval of financing strategies. When trading resumed on June 3, Leshi stocks dropped from 56.32 CNY per share to 44 CNY 11 days later and have struggled to maintain any gains since.
As part of the infrastructure agreement, the state will fund construction of a 4-mile long commuter train extending from the Union Pacific Station to the auto facility. The Regional Transportation Commission has issued a request for proposals from prospective bidders for that project, as has the Nevada Division of Highway Transportation regarding its plans to widen a portion of U.S. Highway 93 near the Faraday site, according to Goldberg.
Barron believes the Faraday facility is the cornerstone of an effort to transform the city's economic landscape through high-tech manufacturing, an effort that suffered a significant setback in 2014 when the city learned that Tesla would be locating its Gigafactory 1 in Sparks.
"We were really depressed," Barron said, remembering the day where city leaders learned, via conference call, of Tesla's decision not to come to North Las Vegas. "So the mayor (John J. Lee) and I sat down and said 'what do we do'. The mayor had some ideas that we each go on the hunt. We should bring a Tesla here to the city. It was a lot of work. We didn't know at the time that Faraday Future was out there, but once we found out, we aggressively went after them."
Barron acknowledged that investing resources in a start-up automotive company like Faraday comes inherently with a degree of uncertainty, but expressed confidence that the appropriate vetting and financial safeguards are in place to justify the risk.
"This is a game-changer, not just for North Las Vegas, but for the entire region," he said. "People don't see it now, and some doubt it is going to happen. For many years we have been talking about diversifying our economy, but mostly that has just been words. But now we have a chance to step into the future with evolving technology. This will spur other industries to come to the valley. The potential is fantastic and will be transformative."