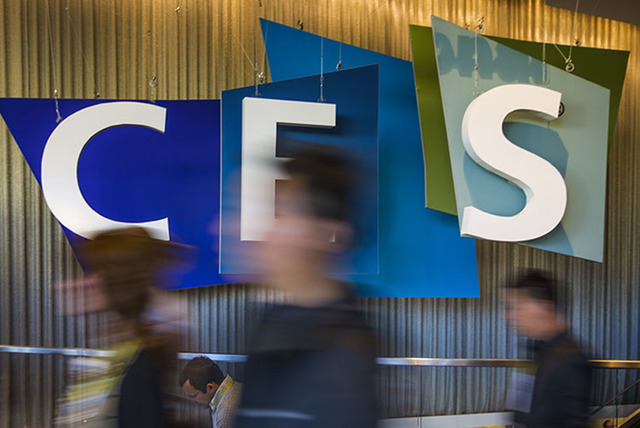 The latest technological product advances will be on display for more than 170,000 trade representatives and industry reporters during the four-day Consumer Electronics Show, which opens Jan. 5 at multiple locations in Las Vegas.
"Consumers are becoming more sophisticated in how they react with brands and consume content," CES Senior Vice President Karen Chupka said in a press release. "The role of technology has enabled content-producers and advertisers to engage consumers like never before."
Chuptka also serves as senior vice president of corporate business strategy for the Consumer Technology Association, the Arlington, Virgina-based trade organization that owns CES.
Industry observers are especially interested in exhibitors' offerings in the areas of televisions, drones, virtual reality equipment, phones and wearables.
One of the most anticipated categories this year, and one that could have significant bearing on the region's economy, is automotive.
The technology startup company Faraday Future plans to reveal the production model electric vehicle Jan. 3 at the Pavilion at World Market Center.
Representatives of the Gardena, California-based company claim the vehicle will allow for unprecedented human-vehicle interaction, with attention paid to advanced ergonomics and the integration of state-of-the-art technology into the driving experience.
The modular electric vehicles are planned to be produced at a $1 billion manufacturing facility in North Las Vegas, which is expected to create 4,500 jobs after buildout. The proposed project has been mired in delays and Nevada State Treasure Dan Schwartz has publicly doubted its viability.
The planned 3 million-square-foot facility design has numerous sustainable and otherwise environment-friendly elements, according to Los Angeles-based contractor AECOM, including prismatic skylights, photovoltaic solar panels and energy-efficient systems for heating and cooling the plant.
Work stopped last month after the initial phase, which consisted of grading and preliminary infrastructure upgrades.
Construction was initially set to begin prior to the end of 2016. Faraday still holds the highly ambitious timetable of starting vehicle production at the North Las Vegas facility in early 2018 with products on the market two years later.
The project is considered a cornerstone for North Las Vegas' long-term economic development, as it would bring necessary infrastructure to the APEX Industrial Park, which city officials hope will become the hub of a burgeoning tech industry.
Faraday has maintained a high level of secrecy regarding its endeavor and there has been speculation by observers regarding project funding — principally from businessman Ji Yueting, owner of Beijing-based company Leshi.
"Faraday has been in constant communication with the city, with commitments … to commence the second phase of construction in February," North Las Vegas City Manager Dr. Qiong Liu said in mid-December via a statement. "Mr. Jia Yueting informed me that the company raised an additional $600 million in investment funds in November and that completing the North Las Vegas plant is a top priority."
"Don't worry about APEX, we're building cars at APEX," said North Las Vegas Mayor John Lee during a Dec. 7 pitch to regional real estate agents. "It's going to happen."
Faraday presented a single-seat racing vehicle that got a largely lukewarm reception at CES 2016, but this will truly be their biggest public moment to date, one that could help shape whatever the future holds for this company.
Faraday Future opened the doors in of its Gardena design facility to selected publications during the December run-up to CES.
Get an inside look at this innovative, ambitious company and its production model at businesspress.vegas, beginning Jan. 4.
But Faraday won't be the only technologically advanced vehicle debuting in 2017. Major automakers — including Volvo, Ford and Mercedes-Benz — regularly use the platform to show off innovations and advances in autonomous driving capability, increased connectivity and technology related to car sharing and personalization is expected throughout the industry.
Hyundai is expected to reveal self-driving advances in its Autonomous Ioniq hatchback, an electric concept model which includes an array of cameras for road marker comprehension and a forward-facing radar system.
Delphi Automotive and computer vision system company Mobileye will conduct a 6.3-mile test of its Centralized Sensing Location and Planning (CSLP).
"Three factors will separate the leader from the pack in the race to offer driverless vehicles by 2019 – best-in-class perception sensors such as cameras, radar and LiDAR, automotive experience and computer-processing speed," said Glen De Vos, Delphi vice president of services, in a statement. "We will demonstrate the capability of the CSLP solution in our intensive drive at CES 2017 in Las Vegas."
The companies say the CSLP will be available commercially beginning in 2019.
Screen time
Advances in television technology are also expected to be on display, with major producers Sony, Samsung and LG showcasing larger screens with compelling, pixel-dense images and sound systems. OLED — organic light-emitting diode — screens will compete with Samsung's SUHD (UHD is an industry standard acronym for ultra-high definition).
Multiple makers are expected to unveil advances utilizing High Dynamic Range imaging (HDR), all in the pursuit of attracting consumers with screens that offer superior luminosity, detail and color definition.
Even better than the real thing
Virtual reality is poised to take over the world of entertainment, not only in the realm of video games, but feature film, television, sports, comics, erotic content and pretty much every other area of life one experiences in a digital medium.
Microsoft will soon launch innovative VR headsets at reasonable price points (around $300). Visitors can expect a glimpse of the entertainment future, both in equipment and content, which is expected to rapidly deliver the VR revolution from its current nascent stage.
Phone it in
Almost everyone's interest is piqued by mobile phone technology and CES should offer much in that area as well. LG is expected to feature a number of new devices, as many Sony and Shenzhen, China-based Huawei, which is looking to expand its U.S. market share.
Droning on
The latest in drone technology was a major area of interest in 2016 and will likely be so again this year.
The public can't seem to get enough of these oversized mechanical insects that provide ever-better aerial views of our world — often threatening our privacy and occasionally our physical safety in the process.
Multiple manufacturers, including Shenzhen-based DJI Innovations, are expected to show off their most innovative designs.
Wearables — principally wrist gear but also tech devices embedded in headbands and shoes — are typically well-represented at CES.
One of the lessons one can take from the world's most expansive tech show is that not all innovation stands up to the test of public acceptance. We may have an insatiable appetite for tech products, but it is a discerning one also.
Commercially successful products often emerge from a stack of failed ones that never reach a stage of mass production, but each has a role in a tech ecosystem that is the true show of CES.
The event debuted in 1967 in New York and drew more than 17,000 visitors, about 10 percent of the expected number of attendees for this year's show. For much of its existence, CES was held twice annually, with Las Vegas hosting the winter version beginning in 1978. In 1998, the show switched to an annual format hosted exclusively in the city.
Some of the notable concepts and products to debut at CES over the years include the Blu-ray disk format in 2004, 3D televisions from multiple companies in 2011 and the beginnings of autonomous driving technology in 2015.
The Tech East Venues are the Las Vegas Convention and World Trade Center, Westgate Las Vegas and Renaissance Las Vegas. The Tech West venues are the Sands Expo, The Palazzo, The Venetian, Wynn Las Vegas and Encore at Wynn. Aria, Vdara and Cosmopolitan are the South Tech Venues.
CES is a trade-only show that is not open to the public.