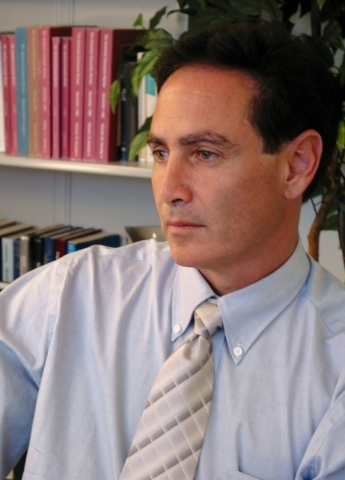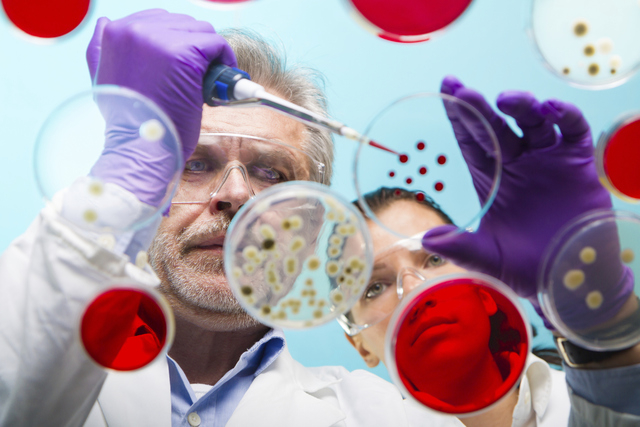 Needles, pills and patches may become tools of the past for some medications, including those used for oral pain medications, nail fungus and possibly diabetes.
CellMedics Inc., a Henderson biopharmaceutical company, is on the ground floor of a new technology that will allow topical drug delivery — a cream with specific properties that allows it pass medication through the skin into target tissue.
Some medications could become passengers on board the cream and head towards a destination — underlying tissues in some cases; the bloodstream in others.
"This technology has the potential to be the preferred method for the administration of many drugs — particularly those that have the potential to cause stomach pain or liver disease when taken orally," CellMedics Inc. founder and CEO Scott Shapiro said.
CellMedics was founded about 15 years ago. Shapiro said he was "looking for a pharmaceutical platform technology that could be patented and had very large markets."
He found a biochemist in Australia who broke ground on a "transdermal vehicle cream." His method was better able to penetrate the skin and deliver drugs to a targeted area in the body.
CellMedics acquired the rights to patent this technology and related technologies, Shapiro said.
But there was still work to do. Research and development persisted overseas in Sydney and in Las Vegas for over a decade and a half.
CellMedics is preparing to market an over-the-counter topical cream for pain and arthritis sufferers.
By the fourth quarter, Shapiro said, he intends to manufacture and distribute the product in the United States and he is looking at manufacturing space in Las Vegas or Henderson.
There is potential in the pain relief market.
"The global pain market is worth about $23 billion a year," Shapiro said. "So if we crack that market with a better product, we're in good shape."
The pain relief cream will retail for $25 for a 35 gram jar, Shapiro said.
Shapiro is weighing how to distribute his product. He's looking at selling it directly to consumers online at cellmedics.net. He is also considering selling through rheumatologists, pain specialists and primary care physicians, pharmacies and health supplement and vitamin stores.
Shapiro is thinking beyond the United States.
"We are in discussions with several potential distributors for worldwide territories," Shapiro added.
Several professional golfers on the Champions Tour have become users of CellMedics' pain-relief cream. The cream was also to be featured on "The Champions Tour Learning Center" on NBC's Golf Channel.
Professional athletes and a number of physicians have become investors, helping CellMedics raise $1 million. The company is looking to raise another $1 million.
Beyond pain cream, CellMedics is developing an over-the-counter nail fungus treatment. Shapiro said it has shown promise based on initial testing.
The company has also developed an anti-aging cream, which is also patented.
But the market's potential goes beyond these developments.
"Pharmaceutical companies are interested in the CellMedics topical cream drug delivery platform because it extends the product life-cycle of existing drugs that have patents expiring, and it makes generic drugs patentable because they're being administered in a new dosage form," Shapiro said.
Shapiro said he's considering licensing his drug delivery platform to large pharmaceutical companies.
Martin Schiller, executive director at the Nevada Institute of Personalized Medicine and professor at UNLV's School of Life Sciences, has used Cellmedics' cream to relieve soreness after playing squash. He was in the audience when Shapiro presented information about his product at a recent Nevada Biotechnology and Health Sciences Consortium event. Schiller acknowledged that the clinical trial data supported efficacy of the creams in treatment. He also noted "He didn't show data that those channels were generated in the skin," Schiller said of the presentation "From a scientific perspective, he presented a good mechanistic story, but further investigation into the mechanism is needed."
Overall, the entire drug delivery industry including inhalers, needles, pills, patches and creams brings in $114 billion in annual revenue, according to datamonitor.com.
And CellMedics is expanding its potential beyond the pain market. The company says it has been making headway on a transdermal insulin cream. The product is still at the early stages of development, but there were some recent positives.
"A CellMedics prototypeinsulin cream showed promise in a study that evaluated the pharmacokinetic and pharmacodynamic effects across the skin in a diabetic mouse model," Shapiro said. "These results support the feasibility of developing a transdermal insulin cream for human applications."
According to the website, "in a randomized controlled trial, the cream showed greater improvement in pain, stiffness and physical dysfunction verses an oral prescription pain killer in the treatment of osteoarthritis of the knee."
There are always challenges when testing new drugs for use with a topical delivery system. Some molecules don't lend themselves to crossing through the skin easily. Large molecules, or macromolecules, are difficult to push across the skin.
"Theoretically, most drugs that can be delivered orally can also be delivered transdermally," Shapiro said. "However, any formulation that we develop would have to undergo rigorous safety, stability and efficacy testing."
This could take years, he added.