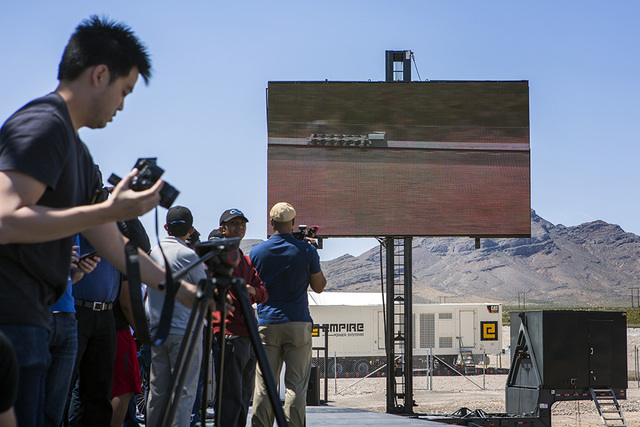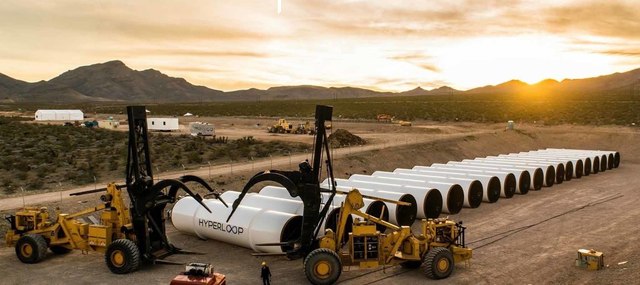 Eight months after an open-air test of its high-speed transportation technology, Hyperloop One announced it will demonstrate it in an enclosed steel tube in the Southern Nevada desert this spring as it seeks out the attention of the Trump Administration.
The announcement by Nick Earle, senior vice president of global field operations for Hyperloop One, was the highlight of a transportation technology summit Jan. 3 at Mandalay Bay as part of the Consumer Electronics Show.
Hyperloop operates a research and development site at the Apex Industrial Park in North Las Vegas. In May, it conducted a 100-meter open-air test as the first phase of the vision of billionaire entrepreneur Elon Musk for allowing cargo and people to travel at more than 700 mph.
Construction continues in North Las Vegas on what's called a Dev Loop — a completed integrated system in which capsules travel in tubes.
"What we are going to bring to Apex in the next three months is the full technologies together to create the world's first functioning hyperloop," Earle said. "It will be 500 meters just to prove we can get it moving at the right velocity, get it levitating, and that we get it to break. Bear in mind that the Wright brothers' plane went 110 feet."
While some have dubbed the May open-air testing as a significant milestone, this new test will be the true Kitty Hawk accomplishment. It was December 1903 when the Wright brothers made the first controlled and sustained flight in an aircraft in Kitty Hawk, North Carolina.
"This is what we call the Kitty Hawk moment once you prove the engineering," Earle said. "No one has demonstrated that you can create levitation at speeds in a tube with no power."
The spring test will reach speeds of 30 to 50 percent of the ultimate goal of more than 700 mph, Earle said. Once this latest test succeeds, the closed loop will be extended "to a few kilometers," and they will continue to upgrade and improve the technology and make it less expensive, he said.
A high-speed rail system in Japan reaches 460 mph with the electrified track, Earle said. Only 10 percent of the hyperloop is electrified, and that's why it's half the cost to build than the $25 million to $40 million a mile for high-speed rail, he said. It's only going to get cheaper and speeds will get faster with the more testing that's done in North Las Vegas, which he called their "R&D lab in the desert."
Hyperloop's goal is to construct its first system that moves cargo by 2020 and one that moves people by 2022. It has a study underway with the Port of Los Angeles where cargo could be shipped inland to be processed, Earle said.
DP World, the third largest port operator in the world, is the largest shareholder of Hyperloop One, and cargo movement will be an important component, Earle said.
The people movement in a hyperloop system is moving quicker in Europe and the Middle East, where studies are underway in the United Arab Emirates. A system linking Helsinki, Finland and Stockholm would offer a 28-minute trip between the cities that are 294 miles apart.
The Dubai and Finnish governments are bringing delegates to Apex in January to learn more about the technology, he said. National government involvement is important because it will take government subsidies to make the system affordable, he said.
"This is not a system for the superrich," Earle said. "It will be priced at the public transit level. We need a sponsor at the government level and route to be identified. We need a lot of help from the government to do this, and that's why we're raising awareness."
A hyperloop in the U.S. is going to require the backing of the federal government. There's the need for route and geological studies to determine the placement of a system underground and above ground and where there's a need, Earle said.
High-speed rail was an emphasis of the Obama Administration, which made funding available for that purpose, but there's been little progress. With the emergence of hyperloop technology, backers of the concept hope that will be a point of emphasis going forward.
"The rest of the world has moved a lot quicker than the U.S., and we're optimistic that might change under a new (Donald Trump) Administration because transportation was specifically called out as one of the things he wants to invest in," Earle said. "If there's a country that needs a better mode of transportation, even without the Hyperloop, it would be the U.S. The East Coast routes in the U.S. are crying out for a more effective mode of transportation. We're hoping within the new few months we will start to get some action in the U.S. The U.S. is lagging (in terms of transportation compared to the rest of the world), but this could be an opportunity to leapfrog."
Hyperloop has received $9.2 million in economic incentives from the state that includes sales, business and property-tax abatements. In return, the company is investing more than $121 million in equipment and facilities and creating high-wage jobs.
The summit was hosted not only by CES but the Nevada Center for Advanced Mobility and other partners such as the Regional Transportation Commission of Southern Nevada.
Nevada was signaled out during the conference for its efforts in encouraging development of autonomous vehicles and implementation in a traffic system that passes information to drivers about when traffic lights will change.
Nevada officials got to hear from federal representatives and transportation heads in Utah and Michigan about what they're undertaking, as well as those from the United Kingdom's take on autonomous vehicles. Private industry leaders also talked about autonomous vehicles and new technologies hitting the market.
"What we wanted to do with this summit is have a message others can share with us with what they're doing with advancing technology and transit and transportation," said Tina Quigley, general manager of the RTC. "And we wanted to share with them what we're working on and looking for in partners in advancing technology and transit and transportation. In the old days, automakers wouldn't need to talk too much to the local governments. It's a different game now. As the car becomes smarter and connected, it needs to be able to talk to its infrastructure and understand traffic signalization on speed zone changes and paint markings."
Dan Langford, the innovation director for the Nevada Center for Advanced Mobility, which was launched by Gov. Brian Sandoval in light of the advancement and development of electric and autonomous vehicles in the state, said the event came about as a way to learn what's happening in the transportation technology arena rather than by attending conferences in other states.
"It's showing the path we're setting for ourselves going forward," Langford said. "We're playing a leadership role in the manufacturing area (with Faraday Future's electric cars plant planned at Apex)."