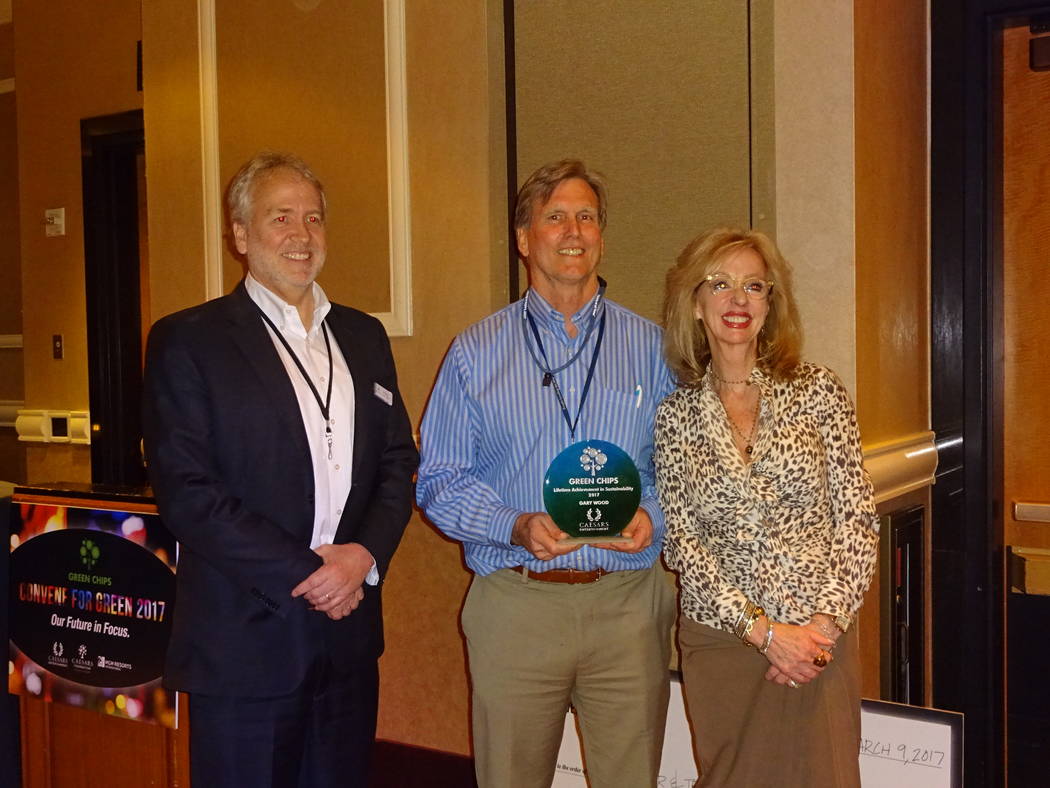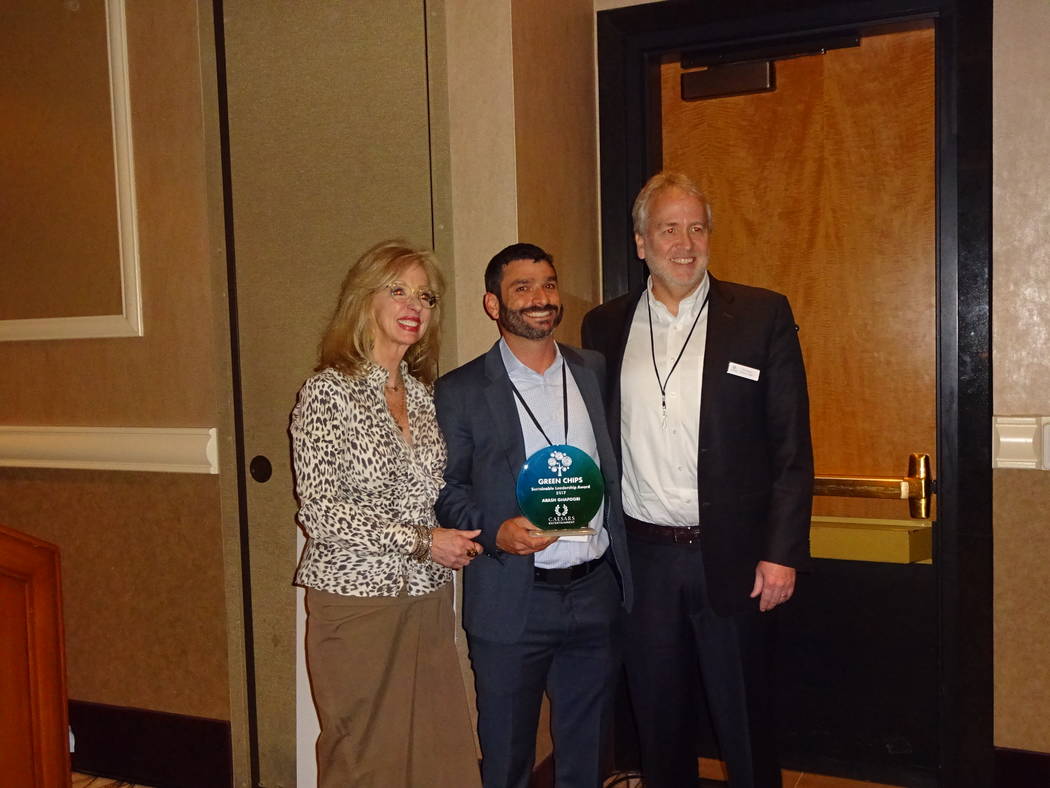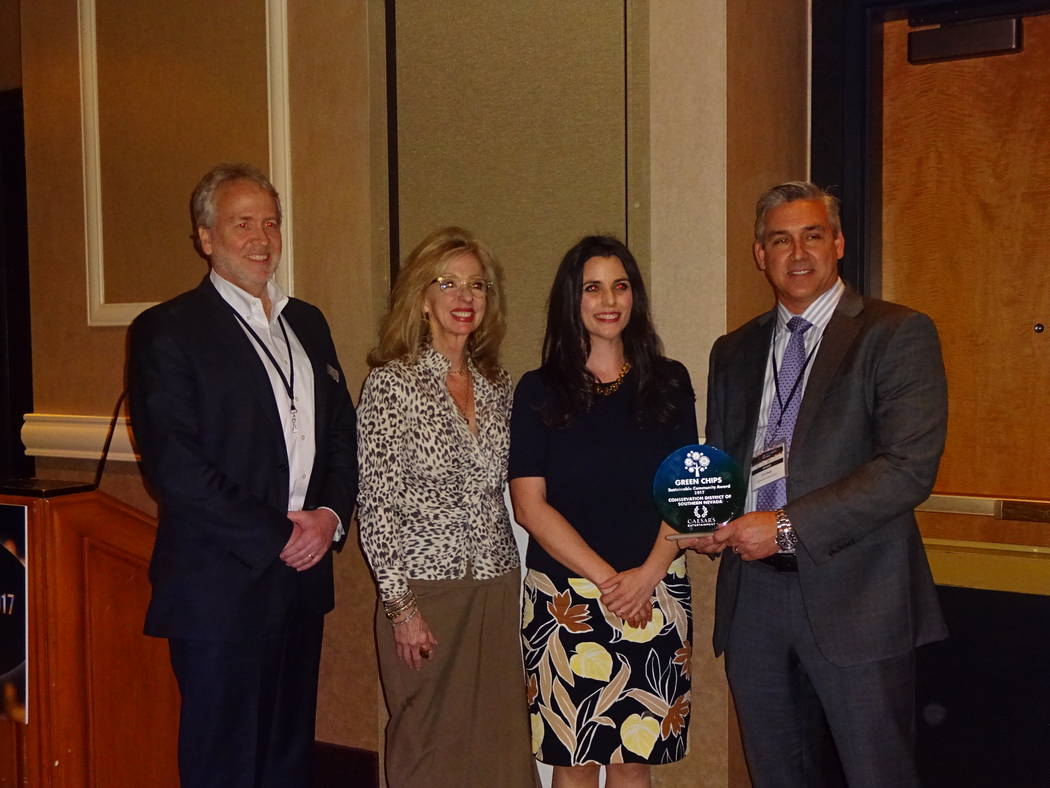 On March 9 at the Rio, Green Chips held its annual Convene for Green Conference with panel discussions about past community successes and future needs.
One of the highlights of the event was the debut of the nine-year-old public-private group's new name and logo. Green Chips' tree sprouting green poker chips was replaced with a modern logo showcasing the new name, Impact Nevada.
The initial idea and conversation for the development of Green Chips revolved around green practices. Today, that conversation has changed or evolved to include environment, nature, health, economy, energy, social equity, transportation and other elements that create a sustainable community. The Green Chips board elected to rebrand the organization to reflect this philosophy.
During the afternoon and evening event, 140 attendees, which included politicians, corporate executives and community organizers, heard four presentations that included:
■ Our Future in Energy: This addressed recent renewable energy initiatives' impacts on our community and how the public and private sectors are working to achieve goals.
■ Art in Focus: This talk was presented by Jean-Francois Michaud, director of corporate social responsibility for Cirque du Soleil.
■ Our Future in Medicine: This presentation included a deep dive into individual and collaborative goals toward making our region a global center for health and wellness. (Highlights on page 7.)
■ Collaboration in Focus: This discussion showcased federal, state, regional and local collaborations that are scaling urban agriculture in our region. Highlighting the discussion was the development of the Zion Choice Neighborhood Community Garden Park, a vacant desert lot that is being converted to a community garden to teach residents how to grow vegetables and cook healthy meals.
To close the conference, Jan Jones Blackhurst, executive vice president of government relations and corporate responsibility for Caesars Entertainment, former mayor of Las Vegas and one of the founding members of Green Chips, along with co-founding member Tom Perrigo, director of planning and chief sustainability officer for the city of Las Vegas, discussed the influence that Green Chips has had on the community.
The group was founded in 2008, when a small group of five individuals decided that it would be a great idea to promote a green agenda to the local businesses and community leaders. It was organized to become a public-private partnership that advances environmental sustainability initiatives by bringing together major employers, utilities and public agencies to collaborate on the idea of sustainability.
"What was unique about Green Chips at the time and what I have always liked with Las Vegas is taking the opportunity to surprise people. People have perceptions about who we are, what we are, what we stand for and what we do. So putting together a program that defined this community as a leader in sustainable practices was just too good of an opportunity to pass," Blackhurst said.
"When you step back and look at what we have accomplished together and as individuals, in our companies and our organizations, it really is phenomenal what has happened over these last nine years, and a large part of that is because of Green Chips," Perrigo said.
Some of those successes are:
■ Introduction of the annual Green Chips State of Sustainability Report.
■ Powering the Welcome to Las Vegas sign with renewable solar energy.
■ Sean's Park at Opportunity Village, a 2.5-acre park designed for children and adults with intellectual disabilities.
■ More than 5,000 residential homes placed on sustainability programs.
"When we first started with Tom, there were five of us, and we were hoping that we could find some other interested corporate sponsors. And what really happened is that the community came together as it has done so many times and said, not only are we going to do this, but we are going to do it bigger and better and with more enthusiasm than anybody else could imagine," Blackhurst said.
"We do things, and then we become the model for the rest of the country, and that is what is so amazing about all of the people in the room today," Blackhurst said.
"A lot of the conversation today at Convene for Green has been around how do we create that perception of our community that is going to draw in the talent, the companies, the workers to create the workforce and that is really important to our community moving forward," Perrigo said.
Rounding out the event were the 2017 Community Sustainability Awards, given to those who have shown exemplary effort and achievement in making Southern Nevada a better, more productive and sustainable place to live. Receiving awards were:
■ Sustainable Leader Award – Arash Ghafoori, executive director, Nevada Partnership for Homeless Youth
■ Sustainable Community Award – Conservation District of Southern Nevada
■ Sustainable Future Award – West Technical and Career Academy
■ Lifetime Achievement in Sustainability – Gary Wood, Green Chips co-founder and Renewable Energy Program manager for the Las Vegas Valley Water District/Southern Nevada Water Authority.
Green Chips, being rebranded as Impact Nevada, is a nonprofit 501(c)3 organization that assists partner agencies in aggregating federal, state, local and foundation financial resources to encourage clean energy, environmental conservation projects, social equity initiatives and improving the quality of life in Nevada.