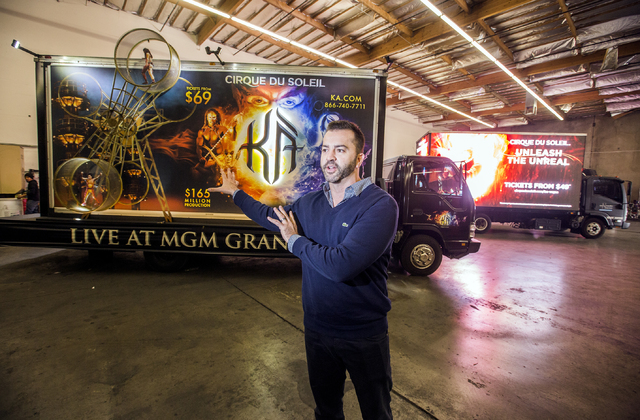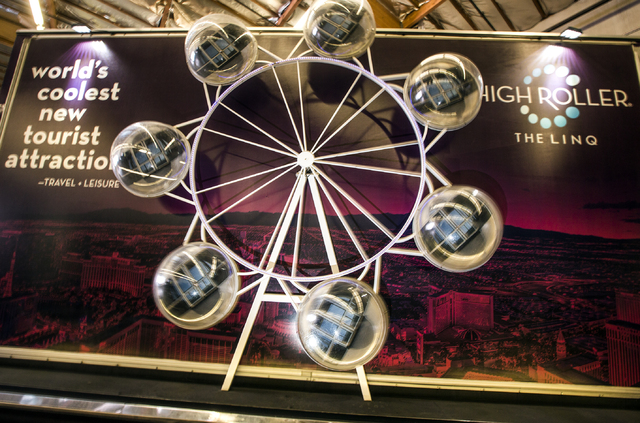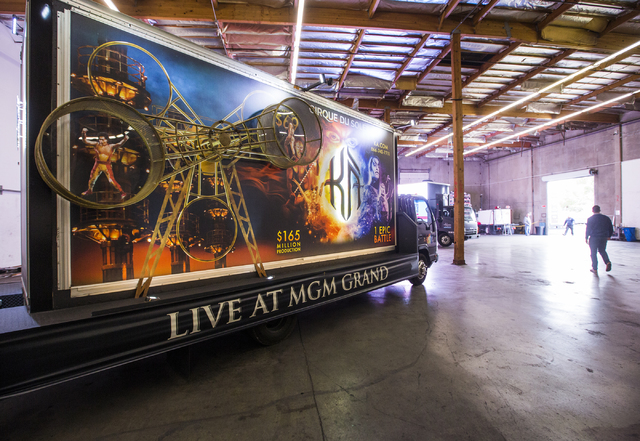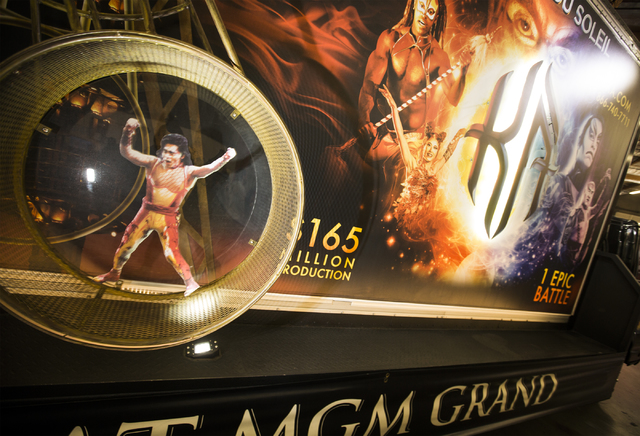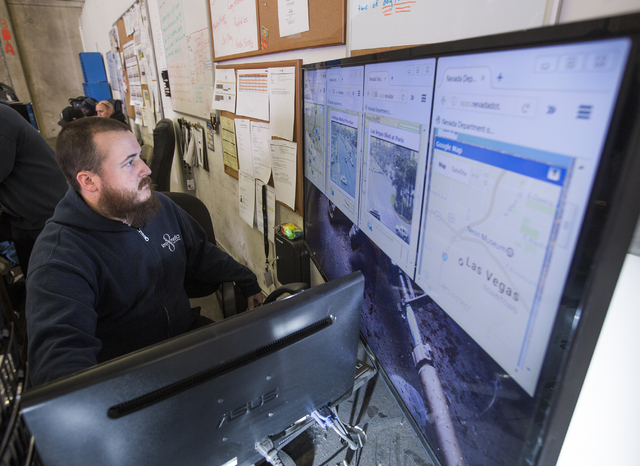 Jeremie Watkins founded Kre8 Media Outdoor Advertising in 2012. The outdoor media advertising executive saw one of Shaun Habibian's digital billboards and contacted him immediately. A year later, the two men were partners and on their way to building a mobile billboard company with 42 trucks and 202 employees based in a 25,000-square-foot warehouse at 4050 W. Harmon Ave.
Watkins said his company has roughly half of the 70 to 80 outdoor billboard trucks in the Las Vegas Valley. He said his business grew, even in the post-recession years, because it offered affordable advertising.
He declined to give yearly revenue, but he did say 2016 "has been wonderful."
He sees the industry growing in numbers, technology and sophistication. He sees more digital boards with high-tech beacons that will broadcast messages to nearby smartphones and souped-up trucks that can double as giant video games at special events.
Meanwhile, he and his design team have created unique mobile billboards that feature moving parts, such as the spinning wheel on the sign that promotes the "KÀ" show; or the giant beer keg, which tourists sometimes mistake for the real thing, for the Beerhaus at The Park on the Strip.
Q: What is your background?
A: I was born in Aviano, Italy. My father was in the Air Force, and he met my mother while he was stationed there. We moved back to Simi Valley in California, where he grew up. When I was in high school, I was really fortunate to get a football scholarship to play for Arkansas State and graduated in 1998. I coached high school football before moving to Las Vegas in 2005 and went to work for Big Traffic, an outdoor advertising company. They were focused on mobile billboard advertising. I fell in love. I just really enjoyed the aspect of outdoor advertising and how creative and flexible it was.
Q: When did mobile billboards come to the Strip? When did digital trucks appear on the scene?
A: A few years before I got in(to) the industry, 1999 or 2000. They were mostly to advertise shows, restaurants and casinos. Digital came on the scene in 2012. We were one of the first to hit the market.
Q: What kind of trucks do you have?
A: We have 39 static trucks and three digital trucks. There are pros and cons to each. It costs three times the amount to buy and build a digital board compared to a static board. You are looking at $200,000 to $250,000 for each one, depending on the quality of the LED screens. Some aren't that sharp; some are more advanced. We use the latest technology for outdoors, LED screen pitch 6mm. It cost about $150 to $250 an hour to drive the billboard. The static side runs $45 to $60 an hour. So it's a bit more cost-effective for a static board. On the flip side of that, digital allows customers to switch out different messages. It depends on what the client is looking for.
Q: What kind of special effects have you added to the trucks?
A: Cirque du Soleil asked us to build a live Wheel of Death on a billboard to promote "KÀ." It's a spinning wheel with mannequins of trapeze artists in the show. It's a custom build and has lighting effects. People are becoming immune to the same old stuff. There is room to be more creative, do things a bit more unique. It takes about three to 10 weeks to build the custom boards in the warehouse.
Q: Who are your customers? Is there any advertising you won't do?
A: In addition to Strip casinos, shows and restaurants, we advertise for local businesses, restaurants, political campaigns and car dealerships. We will not do strip club advertising. Have not and we will not. It's just a stance we have taken.
Q: Your company was not involved, but there have been some accidents on the Strip. What are your safety concerns?
A: Safety from our perspective is the wellness of our employees. It's also a public-safety responsibility. We do several things. We monitor 24/7 NDOT (Nevada Department of Transportation) cams and also our own GPS tracking devices on every single one of our units (trucks). All of our drivers are employees. It's important. Some competitions hire independent contractors. Winds pick up in December. What we have in place are specific criteria when winds get to a certain point. We adjust the route; if they remain high, we bring in the entire fleet. The board (truck) you saw flipped over on the Strip (in late December) could have easily (involved) a pedestrian or another car.
With the lack of education in this industry, it is only a matter of time before something really bad does happen. We are always motoring. Our drivers are trained. We make sure safety is first. We do background checks on every employee.
If there ever is an incident, blood is tested for alcohol and drugs on the spot. We know who is out there on the boards and who is representing our clients.
Q: It sounds like you want more regulations for your industry?
A: We do. It's a bit critical, but in our opinion, rogue operations don't follow certain protocols and criteria. They don't hold themselves to specific standards. We take it upon ourselves to implement processes for safety precautions. We pay payroll taxes and local taxes, and everyone in our industry should as well. Companies that have independent contractors, these companies don't know who are in their trucks. The county is working on an outdoor sign ordinance. The mobiles will be included in that.
Q: How has the industry changed?
A: This industry has grown so much over the last 12 years. Maybe we had 15 trucks 12 years ago. Now, there are 70 and 80 overall in the valley. When it gets to this level, it's not flying under the radar. It is here, and it is here to stay.
Q: How do you deal with the traffic?
A: Our warehouse manager always monitors all cameras and live traffic updates. Whenever there is an accident or construction on a specific route, we detour that route. We are not interested in adding to the congestion.
Q: What is the future of your company and your industry?
A: Digital. Obviously, digital is significant from two standpoints. Flexibility for our clients so they can change out images in real time. The second one is the live updates. CNN will be able to live stream news alerts on a digital board. Nothing is happening yet. (But soon you will be able to) watch the news on the fly and get sports scores on a digital truck. Lastly, beacons.
We are really close to having a beacon in the truck. If a cellphone is enabled by a pedestrian on the Strip, the same message or special offers (on the mobile sign) can connect to that phone. It is currently happening in outdoor (advertising).
We will be able to offer it in the next two to three months. Also, there is the possibility of making the truck into a video game for events. That is an area of opportunity for growth. Digital boards parked at special events can broadcast it live. It can be interactive to play games; it can be a full immerse, interactive experience.