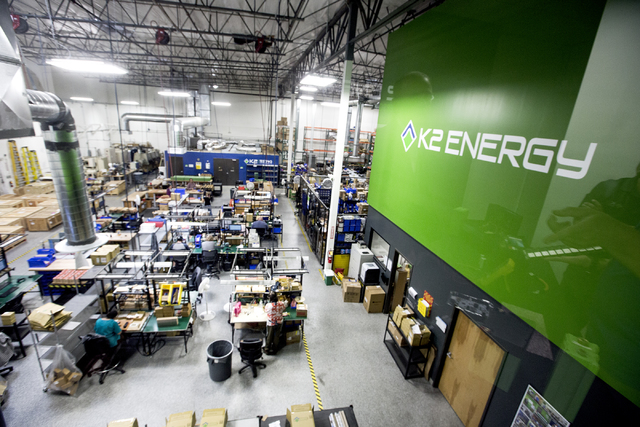 Tucked in an industrial park just south of Warm Springs Road, K2 Energy Solutions isn't the sort of business that holds a high-public profile, but the Henderson start-up is part of the tech industry vanguard that is reshaping the region's economy.
"We were four employees in the Henderson Business Resource Center," said company CEO Johnny Stoker, recalling the 2006 launch of what has grown into an international company that has made a name for itself by producing innovative, high-quality lithium ion batteries.
"We are really the safest traditional lithium ion product on the market," Stoker said. "We also have high power, very long life compared to the other lithium, ion and we don't experience thermal runaway, like you have seen recently about types of batteries that can literally explode in cellphones and other types of personal devices."
Stoker said he chose to base the business in Henderson for both technical and default reasons. Battery product requires a dry environment and expends considerable energy, which is significantly less costly in Nevada than other regions that were considered.
"We really thought the environment was good here, in terms of support for the business," Stoker said. "Between the city of Henderson and the Henderson Chamber, and the Business Resource Center, it was very simple. Basically, we were set up in a matter of hours. We had our business plan reviewed by UNLV and the S.C.O.R.E people. And taxes are low. So we didn't see value in setting up in another location."
K2 is part of a growing local manufacturing sector that Henderson Economic Develop Manager Ken Chapa considers critical to the area's long-term economic outlook. He believes the region is attractive to prospective businesses because of a relatively low cost of operations, proximity to major Western markets and access to a high-quality labor pool.
"Henderson has a history of being a manufacturing town," Chapa said. "When you look to the future and the new opportunities, those traditional manufacturing methods are still very important. We are finding that there is actually an increase of smaller operations such as K2 that are going to employ fewer people than those huge factories of the past, but they are doing more high-tech things. Higher value products produce a higher value wage."
UNLV Lee School of Business Dean Brent Hathaway says student are increasingly interested in tech industry opportunities, not only in production or engineering but design and business operations as well.
"Having more opportunity for employment from outside our traditional core industries is really attractive," Hathaway said. "We are excited about these industries coming here and believe we can provide a really strong workforce for them."
"One thing you tend to see is the cluster effect," Stoker said. "Like in the Olympics, the swimmers behind the leader catch a bit of the draft. Having a critical mass of companies and technology can really trigger a lot of progress. You see it in Silicon Valley, Boston, Provo, Utah. As we get more of that here, you can really see the leverage of having these businesses in a small geographic area."
Stoker says making the choice to locate K2 in his hometown has yielded intangible benefits that for him outweigh the business advantages.
"I derive more satisfaction knowing that we have 70-plus people coming to work every day, and we are bringing that kind of support to this community," he said. "And we are buying a lot of products from local suppliers, so I feel especially good about that. It is No. 1 on my list, why I like doing what we're doing."