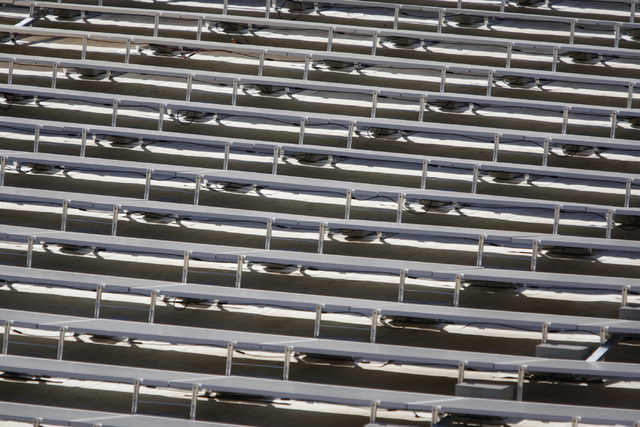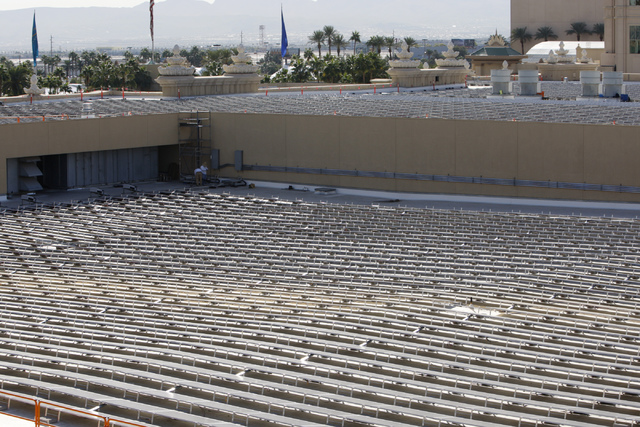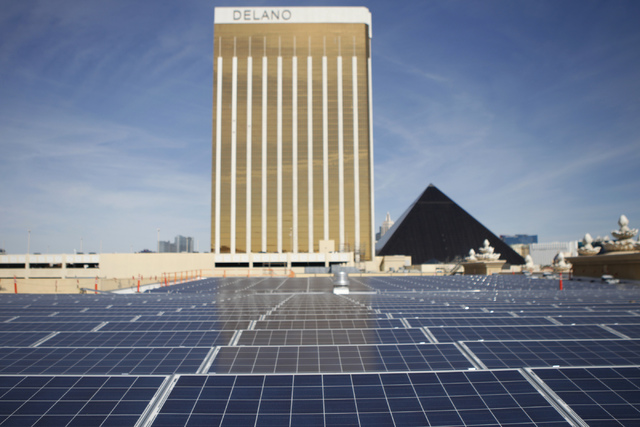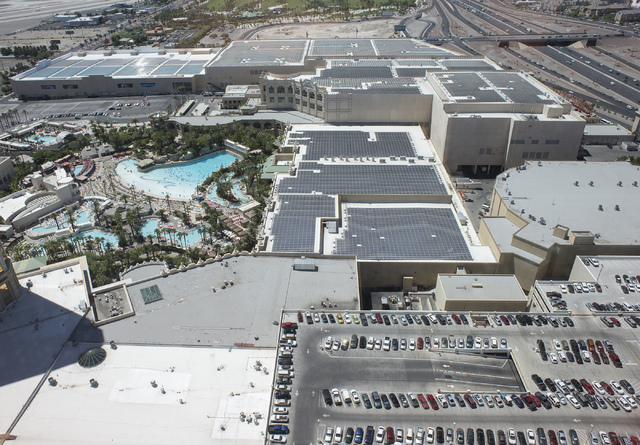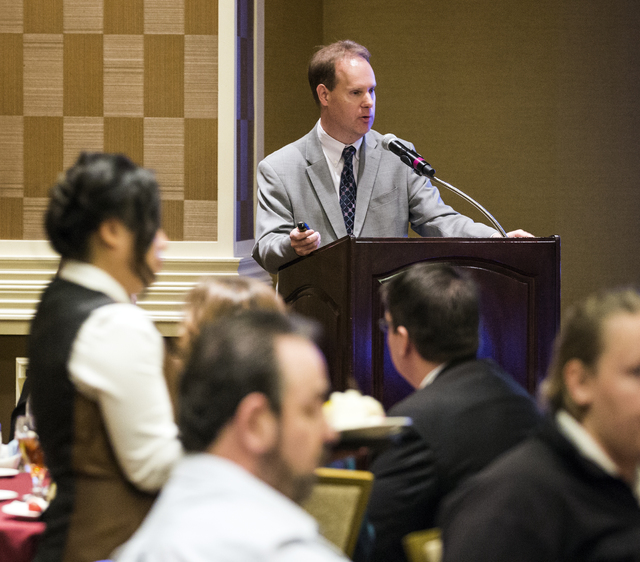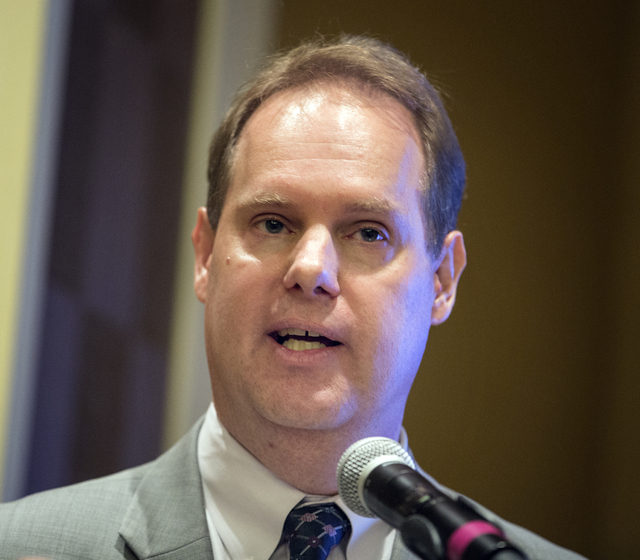 MGM Resorts International is moving into the next stage of its energy story after cutting ties with NV Energy last year — one that could include an increase in the resort company's renewable energy portfolio.
"MGM here in Nevada has evolved significantly in energy and today has the ability to access the open market, including renewable power," said Henry Shields, executive director of finance and analysis, corporate sustainability division at MGM Resorts International.
After paying a nearly $87 million exit fee, MGM cut ties as an NV Energy customer in October under existing legislation from 2001. The company remains on NV Energy's grid but ceased to buy power from the utility at that time.
Now the company is carefully studying "all forms of renewable energy in the context of the broader market," Shields said.
This new power landscape could include accessing utility-scale solar power projects offsite or an expansion of what the group has already done with rooftop solar and other self-production efforts on the Strip.
Shields said MGM could see a partnership with a solar Photovoltaic developer, as an example.
"We're carefully studying the markets for electricity, including renewables, and we'll continue to do so for plans, longer term," Shields said.
MGM Resorts already has some examples of expanding its renewable energy profile at its Strip properties.
The gaming company worked with New Jersey-based NRG Energy on the expansion of its solar array on top of the Mandalay Bay Convention Center. In 2014, the system could produce 6.3 megawatts with 21,000 panels.
NRG built and operates the array, which was completed in 2016. The project was expanded to include 8.3 megawatts with 26,000 panels across 28 acres. MGM purchases power from NRG. At full production, the system will provide 25 percent of Mandalay Bay's power usage.
MGM's Aria property has other examples of self-production of power. The property's Central Plant is an 8.2-megawatt system fueled by natural gas. It's a combined heating and power plant.
The system captures waste heat, which is used to heat water in the property's buildings. The system provides the baseload of electricity for the entire Aria campus, about 30 percent.
CORPORATIONS MOVE AWAY
FROM NV ENERGY
MGM is not the only corporate entity to leave as a customer of NV Energy in the past several months. Wynn Resorts followed suit in October, paying $15 million to do so.
After a lawsuit this summer, Switch Communications was approved by the Public Utilities Commission in December to exit NV Energy for an exit fee of $27 million. The company plans to purchase 100 percent renewable energy for its Las Vegas data center.
The most recent megaresort to follow suit was Caesars Entertainment Corp., which gained permission from the PUC in March to exit the utility. Caesars will pay a $47.5 million exit fee to NV Energy. Caesars, like MGM, will obtain power from Arlington, Texas-based Tenaska Power Services.
THE NEVADA LEGISLATURE AND ENERGY
Legislation may be on the way to disrupt the state's energy markets.
A ballot initiative that could eventually create an open energy market in Nevada made it through round one in November. In the last election cycle, the Nevada electorate voted to pass Question 3, which would allow the Nevada energy market to open to competition and end NV Energy's monopoly.
The measure must pass again in 2018. If that happens, the Nevada Legislature would be required to put a law in place to establish the open energy market and end the monopoly. The deadline for that would be July 1, 2023.
Las Vegas Sands Corp. was the largest donor to Nevadans for Affordable Clean Energy Choices, a group in support of Question 3. Sands gave nearly $2 million to the group that raised just over $3.4 million to get the measure passed in 2016. Sands had an option to apply to the PUC to depart from NV Energy, but the company chose not to submit an application.
Sean Gallagher, vice president of state affairs at the Solar Energy Industries Association, said he wants to see any implementation of Question 3 keep with the wants of the electorate who helped it pass.
"What that means, for example, the renewable portfolio standard that applies to utility companies applies to competitors on the open market as well," Gallagher said. "Right now, Nevada has a requirement, I believe, is 25 percent energy from renewable sources by 2025. The 25 percent renewable should apply to those companies as well."
According to the PUC's website, under the state's renewable portfolio standard, 20 percent of the energy supplied by an electric utility that sells to retail customers in Nevada has to come from renewable sources. That number is pegged to go up to 25 percent by 2025.
Legislation proposed during the 2017 Nevada legislative session, Assembly Bill 206, would push the standard to 50 percent by 2030 and 80 percent by 2040.
Measuring if pricing is affected in a deregulated market can be difficult to pinpoint, according to a study done by Christensen Associates Energy Consulting, which was commissioned by the Electric Markets Research Foundation. The report was published in February.
"Measuring the price impacts of retail choice programs is difficult because retail choice is only one of many factors that affect power system costs," the report stated.
Studying the matter statistically has led to contradictory conclusions in the past about its impacts, according to the report.
However, evidence found in the report supported several conclusions about the 14 states (and the District of Columbia) that had open energy markets at the time of the study: Open energy markets had less stable prices, because prices vary with current fuel prices and other market factors; retail electricity varies in price by locality; and states with retail choice have had persistently higher prices than other states, though the gap has been closing, in part, because of low natural gas prices.
SOLAR INDUSTRY
The cost of solar has become competitive with its conventional counterparts, including large-scale solar power production plants in the state, Gallagher said.
"Those projects can sell power at a price that's very competitive with any other generation source — any conventional source, whether it's coal or natural gas," Gallagher said.
The Nevada solar industry has made large strides, doubling its solar capacity from 1,033 megawatts in 2015 to 2,191 megawatts in 2016.
According to a report by SEIA and GTM Research, the state moved up to the fourth-largest solar producer in the country, up from fifth place in 2015. Nevada is also the fourth fastest-growing state in this industry.
The solar industry also is booming on a national level.
According to data from the U.S. Energy Information Administration, wind and solar made up the largest portion of the 27 gigawatts brought online in the U.S. in 2016, equating to more than 60 percent of the total. In solar, 8.7 gigawatts were brought online in 2016, with wind at 7.7 gigawatts.
Federal-level initiatives may slow under the new administration, but states may have something to say.
"With the new administration, we're not going to see the federal government be a driver for renewable energy in the near term," Gallagher said. "But states and utilities are increasingly moving toward a lower carbon energy future, and we see that continuing."
Gallagher gave two reasons for this: cost — solar is becoming competitive with conventional sources — and demand from corporate customers.
The Las Vegas Review-Journal and Las Vegas Business Press are owned by the family of Las Vegas Sands Corp. chairman and CEO Sheldon Adelson.