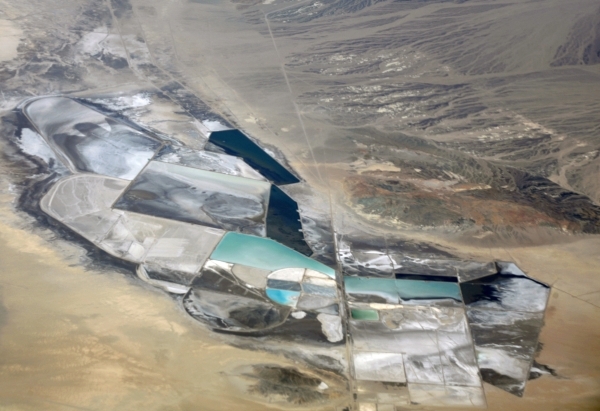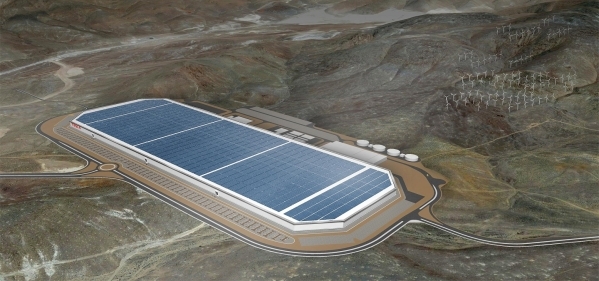 While gold and silver may be the glamor children of Nevada'€™s mining industry, lithium is the workhorse.
And at the intersection of increased lithium mining, Nevada's capacity for world-class battery research and manufacturing and Tesla'€™s Gigafactory lies opportunity.
Nevada could be on the cusp of becoming a leader in energy storage technology.
Located next to the small town of Silver Peak, in Esmeralda County, is the Chemetall-Foote lithium mine. It opened in 1966 and is the only operating source of lithium in North America. Aside from Nevada, most of the known supply of lithium is in Bolivia, Argentina, Chile, Australia and China.
Lithium is a silver-white metal — soft enough to be cut with a knife — commonly obtained from brine and clay. A member of the alkali metal group of chemical elements, lithium is the lightest metal and the least dense solid element. Like all alkali metals, lithium is highly reactive and flammable.
About 26 percent of the lithium mined in the world is for use in batteries. A $10,000 battery for a plug-in hybrid auto contains about $100 worth of lithium. Fears of a shortage of lithium have been resonating among both suppliers and manufacturers as they face the dramatic growth of the electric vehicle market and solar energy storage needs.
Seeing a demand growth, the Chemetall-Foote operation, which produces about three million pounds of lithium a year, is being expanded to double its capacity. The project is funded in part by a $28.4 million grant from the U.S. Department of Energy.
Ownership carousel
Albemarle Corp., a premier specialty chemical company headquartered in Baton Rouge, La., is anticipating an increased value in lithium and closed in January on its $6.2 billion acquisition of Rockwood Holdings, owner of the Chemetall-Foote mining operation.
However, the ink may not be fully dried on the Albemarle deal when the mine will once again change hands.
BASF, one of the world's largest chemical manufacturers, has made it a goal to become one of the top three suppliers of battery materials by 2020 and may soon close its own deal to acquire Albemarle Corp.
Meanwhile, the Chemetall-Foote mine may see some competition from Reno-based Western Lithium Corp. What is being touted to be the fifth-largest lithium deposit in the world has recently been identified in Nevada's Humboldt County, near the Oregon border, and Western Lithium and is diligently working on plans to begin mining that deposit by 2017.
Not by coincidence, the Tesla Battery Gigafactory now being constructed in an industrial park east of Reno, is also a convenient four-hour drive north of the Chemetall-Foote lithium mine, and a nearly equal distance south of the soon to open Western Lithium mine. Tesla expects to produce up to 500,000 lithium batteries at the plant's peak in 2020. Mass production at that level is projected to reduce the cost of each battery by up to 30 percent. It is expected that Chemetall-Foote will not only provide all of the needed lithium for the Tesla Gigafactory, but it could also supply the much-needed electrode materials as well.
Tesla's plans
Tesla manufactures 50,000 Model S automobiles per year, which brings up the question as to the need for a Gigafactory that can produce 500,000 batteries. The answer might be in the most anticipated and significant electric car announcement to date — the new Tesla Model 3 that is scheduled to hit the market in 2017.
With a starting price around $35,000 and a range of 200 plus miles, the cars are targeted to reach sales of 500,000 per year by 2020. However, for all of the hype surrounding the new Model 3, virtually nothing is known about the technical details of the automobile. Vague descriptions by Tesla founder Elon Musk have led automobile experts to speculate that the Model 3 will be about the size of a BMW 3 and weigh between 3,100 and 3,600 pounds.
Along with speculation about the new Tesla Model 3 are speculation about the battery technology. While lithium will continue to be a major component, experts think Tesla's scientists are experimenting with other components that will allow the battery to hold more of a charge and run cooler than current technology.
But Tesla is not the only company to be putting pressure on the lithium reserves. In January of this year, Mary Barra, CEO of General Motors, introduced the Chevy Bolt, which is also scheduled to arrive in 2017. The Bolt is an all-electric vehicle described as a "€œtallish five-door hatchback crossover,"€ with a $30,000 price tag (after government rebates), and a range of 200 plus miles.
Henderson competitor
While the announcement of Tesla'€™s Gigafactory has put Nevada in the recent spotlight, it is not the first lithium battery plant to open in the state.
K2 Energy has been quietly making advances in the development of lithium-powered batteries at its Henderson facility since April 30, 2013. K2 Energy manufactures lightweight, high energy density lithium iron phosphate batteries, which it ships to clients around the world, including the U.S. military.
Three years ago, after hearing about electrical fires aboard Boeing's 787 Dreamliner aircraft caused by lithium-ion batteries, John Stoker, CEO of K2 Energy, and his team of engineers set out to build safer and more powerful lithium iron phosphate batteries for the aerospace industry.
In a demonstration of its technology, K2 Energy teamed up with Las Vegas-based Shelby Automotive to build a custom battery system to power its Cobra 427 electric vehicle. The result was a more than impressive 0-60 acceleration in 3.2 seconds, and a range of 170 miles without a plume of exhaust fumes trailing behind.
In addition to electric vehicles, lithium batteries are also being touted as the key to energy storage from solar and wind generating systems. One such company, Juice Box Energy Inc., is using lithium batteries as a part of its residential package to store energy from rooftop solar systems. Already approved for installation in California, Juice Box is working with Nevada regulators to approve their technology for residential installation.
If successful, Juice Box could solve the net metering debate and be a viable alternative to sending the residential power back into the grid.
The construction of Tesla's Gigafactory and the expected battery manufacturing jobs are an economic boost to northern Nevada. In addition, earlier this year the State Transportation Board unanimously approved a $70 million design-build project for State Highway 439, also known as USA Parkway. The USA Parkway already consists of 5.4 miles of four-lane highway built by the owners of the industrial park where Tesla is building its Gigafactory. The $70 million investment from the state will extend the road 21 miles and provide a connection between I-80 and U.S. 50, giving more direct access to the 107,000-acre industrial park for the workers who live in the communities of Yerington, Dayton, Stagecoach, and Carson City. It will also shorten the route from the Chemetall-Foote mine to the Gigafactory.