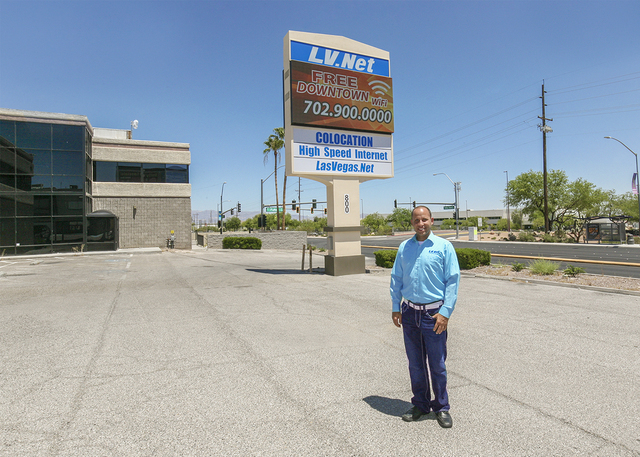 Marty Mizrahi is a man on a mission. He wants his company, LV.Net LLC, to be the internet services provider for every home and business in Las Vegas. And although his biggest competitors, Cox and CenturyLink, aren't going anywhere, he has managed to either absorb the smaller competitors or witness their departure from the market.
The company's clients include banks, hotels and 20 solar companies. It provides free Wi-Fi for the Las Vegas Athletic Clubs, and is the provider for the Las Vegas Downtown Connect network, delivering free Wi-Fi within an approximately 3-mile radius downtown. The company is also the only wireless network for businesses in rural areas around Las Vegas, including Pahrump, Primm, Boulder City and Laughlin.
LV.Net acquired United Network Services Inc. in the spring of 2014 and recently completed the integration. The merger expanded LV.Net's local footprint to more than 100 network points-of-presence locations.
It upgraded equipment throughout the network to enhance signal strength, reliability, monitoring and response times. The purchase also allowed the free downtown Wi-Fi to be updated from a connection speed of 1 Mbps to 100-plus Mbps.
The UNSI assets also included a VOIP (voice over IP) platform with an enhanced feature-set that can be bundled with LV.Net's internet services to complement its portfolio.
The company has operated continuously in Las Vegas since 1994.
"The reason why I can do this is we were in business before Cox and CenturyLink were providing internet, and we grew our business so well, with so little debt."
Mizrahi is LV.Net's president and handles most of the strategic planning. In 2000, Ron Cook, former owner of The Connecting Point, acquired a small interest in LV.Net.
The company has no debt, save for loans taken out to acquire real estate holdings. It has four local offices, two of which are data centers. It provides co-location solutions, allowing customers to house their network servers at a secure, climate-controlled site that is staffed 24/7 and freeing up space for other needs.
Two years ago, the company purchased a two-story office building at 800 S. Valley View Blvd. for $1.12 million using an SBA 504 loan.
The loan process was not as difficult as Mizrahi anticipated, he said. "This was my first time using a SBA (U.S. Small Business Administration) loan, and it was very easy," he said. "The whole process took 60 to 90 days."
This year, they were awarded a $50,000 redevelopment grant from the city of Las Vegas to spruce up the Valley View office's exterior, including a 45-foot digital LED sign bearing the company name. Other upgrades on the building, which is currently being used for storage but will become a marketing center, are scheduled to be completed this year. And the company is purchasing a warehouse nearby for much-needed storage.
Although LV.Net is the ISP for several outlying California school districts, Mizrahi has no plans to expand into the Golden State, he said. Instead, he's concentrating on building a stronger presence in and around Reno and rural Nevada, eventually adding another 20 to 30 employees to his current staff of 50.
He predicts his partnership with the city of Las Vegas will expand as it strives to become a smart city. "They want to be at the forefront of technology, so anything that has to do with technology, they are embracing," he said.
The 40-something Mizrahi moved to Las Vegas straight out of high school in 1989 from Los Angeles, where he grew up helping his parents with their decorating business. Proficient in tech skills, he skipped college and started his own company five years later.
He cornered a lot of domain names and desirable phone numbers, including his company's current 702-900-0000, which he pronounces "nine million." He sold the domain names "LA.com" to the Los Angeles Daily News in 2002, and "Vegas.com" and "Vegas.net" to Greenspun Media in 1999 for undisclosed sums.
When he's not working, the divorced father is taking his two daughters to gymnastics meets or Cowabunga Bay. He lives in a home at the Las Vegas Country Club Estates.