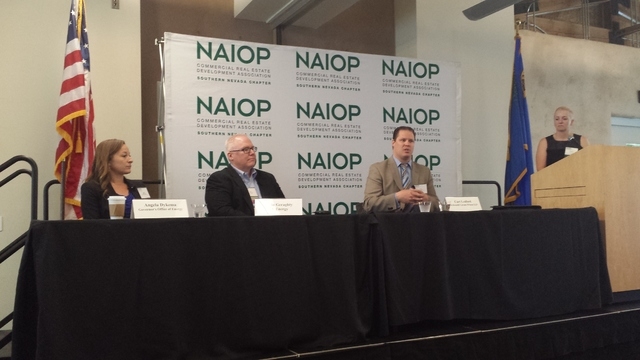 Despite the recent setback to residential rooftop solar, a panel of experts agree that Nevada is poised to become a leader in renewable energy.
The key to Nevada's success could be the many utility-scale solar projects, such as the recently completed Crescent Dunes solar thermal project located in Tonopah and the Copper Mountain project outside of Boulder City.
When it comes to utility-scale solar, a lot has changed in the past 10 years. Where a one-megawatt system was at one time an incredibly large system, today's systems range from 250 to as much as 600 megawatts. Companies are also doing it at a decreased cost. Depending on the technology, the cost to generate solar-driven energy has dropped from $10 per watt 20 years ago to between $2 and $3 per watt today. Contracts to purchase utility-scale solar energy have dropped from $130 to $45 per megawatt hour.
In addition, the cost of building a solar generation facility is cheaper than building a natural gas-fired generation plant.
The development of these utility-scale projects is also being encouraged by the Governor's Office of Energy, which provides tax abatements and incentives for companies to build renewable energy projects in Nevada. "The program has been very successful; to date, the state of Nevada has invested $614 million in 28 renewable energy projects and received a return of over $6 billion on that investment," said director Angela Dykema.
Another factor driving the increased construction is the state's 1997 adoption of a renewable portfolio standard that mandates 25 percent of a regulated utility's generating assets must be from renewable energy sources (such as solar, geothermal, wind and hydro) by the year 2025. NV Energy's statewide renewable portfolio stands at 21 percent, and with more than 350 megawatts of solar energy still under construction, the state is well positioned to exceed that goal in the next nine years.
In fact, "it is Warren Buffett's goal to make Nevada 100 percent renewable," said Kevin Geraghty, vice president of energy supply for NV Energy. Buffett, who owns NV Energy, also owns MidAmerican Energy, which serves the state of Iowa and has just invested an additional $3.6 billion to complete the largest wind farm in the country, making Iowa the first state in the country to become 100 percent reliant on green energy.
"But, can we (Nevada) get to 100 percent green energy without raising rates? That is the Rubik's cube to solve," said Geraghty.
Producing renewable energy is like walking a fine line. Whereas gas-driven generators can be regulated at different speeds to produce electricity at various levels to fit the demand, renewable energy is either all or nothing.
A lesson can be learned from California, which has spent a lot of time and money promoting both rooftop and utility-scale solar renewable energy projects. On March 27, the California utilities had to completely shut down large renewable projects because they were overproducing energy. There have also been many times this year when, at 11 a.m., California paid Nevada $200 per kilowatt hour to take a small amount of renewable energy that was being overproduced. Likewise, on days of inclement weather, when California's solar systems could not generate enough power, it has paid NV Energy up to $1,000 per kilowatt hour for Nevada energy to supplement its need.
Power purchase agreements between Nevada and other states within the Western states grid assure that power can be purchased at the lowest possible rates. The grid, like the interstate highway system and the Internet, is set up to benefit regions of the United States whereas state borders only serve to drive up the cost. The new Harry Allen generation plant tied to the Eldorado Valley transmission line, along with the One Nevada Transmission Line, are important additions to the ability of Nevada to deliver needed energy to California, Arizona and Idaho.
This informative panel discussion took place during the monthly NAIOP meeting and was moderated by Jennifer Turchin, principal architect with Coda Architecture, and a sustainability advocate. In attendance were major architects, engineers, contractors and commercial developers that shape the business and development of Southern Nevada.