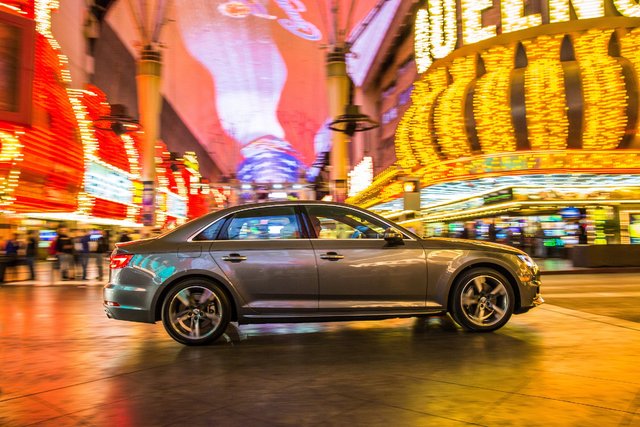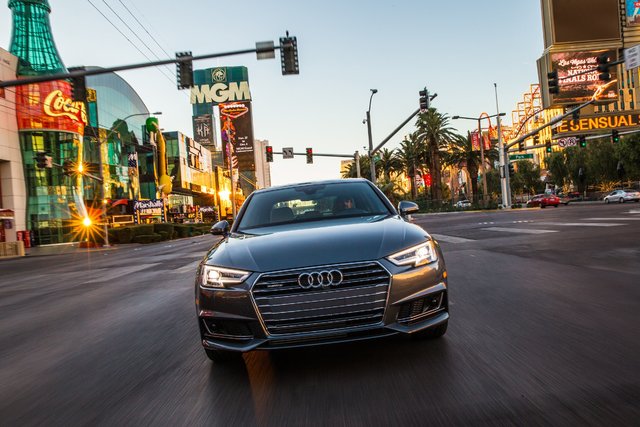 Motorists driving select Audi vehicles in Southern Nevada are the first in the nation to use technology that allows drivers to see on their dashboards how long it will take the red light ahead to change to green.
Audi and the Regional Transportation Commission of Southern Nevada recently announced that the technology has gone live in December with about 100 intersections, many around the Strip, showing up on the instrument panels of 2017 Audi A4, A4 Allroad, and Q7 models. The vehicles are available locally at Audi Henderson and Audi Las Vegas or through rental car companies. Officials estimate about 120 vehicles have the ability to connect at this time.
Ultimately, the technology will be implemented in 1,100 of the region's 1,300 traffic light intersections and spread to other cities across the country. While only Audi motorists benefit directly from the so-called Traffic Light Information system until other carmakers join them, the RTC said the data transmitted from the vehicles will assist in better coordinating traffic signals in Southern Nevada.
"It costs $6 million to build 1 mile of roadway, and in the resort corridor we have no more room to build asphalt," said Angela Castro, senior director of government affairs, media and marketing for the RTC. "If instead of throwing asphalt down, we invest in smart infrastructure that will help us with safety, congestion and capacity, then we need to be looking at this."
The RTC has a lot of data on area freeways, but doesn't have as much on signalized roadways, Castro said. The more Audis with the technology that are on the streets, the additional data will better manage timing signals and increase capacity in those corridors and address complaints from motorists about uncoordinated intersections, she said.
"We've heard about it, and we're working on creating a better and improved network," Castro said. "The challenge can be a hardware issue that the cities are responsible for. We manage the timing and coordination. Sometimes, we don't know about it, and that's where this technology will help us instead of someone having to call in and say why aren't the lights better coordinated. Right now, we rely heavily on those calls."
Each intersection has somewhere between 20 to 22 lights on average with a range falling between 15 and 30 lights, officials said.
Audi selected Southern Nevada to implement its traffic light system as part of its efforts building toward an autonomous vehicle. Audi displayed a self-driving car at the Consumer Electronics Show in January 2014. Using an autonomous vehicle license issued by Nevada, Audi in January 2015 drove a vehicle from Silicon Valley to CES.
"I think the technology is very cool," said Jim Diguilio, general manager of Audi Henderson. "It's an important part of autonomous development. You have to have the cars be able to communicate with infrastructure to execute the best way possible. It's a fantastic step in the right direction, and Audi is at the forefront of that type of development. For those with this now, it can make your trip more efficient and save on fuel economy."
Anupam Malhotra, director of connected vehicles for Audi, said Southern Nevada is much easier locale to implement the technology since traffic management in the region falls under the RTC. In Southern California, there are 115 such entities to deal with, he said.
Audi and its provider take information over the internet about traffic light timing and use sophisticated algorithms to provide the forecast of when the light will turn green, Malhotra said. That information is sent to the vehicle via a 4G LTE connection, he said.
The driver will see in their instrument panel a symbol that looks like a traffic light with red light highlighted and a second-by-second countdown of when the light will turn green.
"As people wait at these intersections, you don't know when the light is going to turn green and so you always have your hands on the wheel, eyes constantly on the traffic signal and foot near the accelerator ready to go," he said. "When you multiply that by the number of intersections you have to go through in your typical day, that's a lot of work your mind is doing."
If someone knows there's 120 seconds before a light turns green they're more relaxed; they can take the time to tend to the child in the back seat; they can have a conservation with a passenger; and they can listen to song on the radio, Malhotra said.
"Maybe you wore a coat because it's chilly outside and you're warm and toasty now and you can take the time to take that coat off," he said. "It gives you time to relax and enjoy yourself a little more."
Audi has built in safeguards for the driver to look at the traffic signal because once the countdown reaches four seconds, it disappears. If the driver is approaching an intersection, the stop light countdown may show up because it's calculating the speed they are going and doesn't change if they speed up he said.
"We find that with that information, drivers ease off the acceleration and let the car glide into the intersection and stop," Malhotra said. "That helps with efficiency of the car, but this is all about giving you a more relaxed experience in the car."
This can be done because of the sophistication in the region's traffic light infrastructure system and vehicles that are ready to accept that information, he said. That data is crunched immediately, and the car can make the decision on whether to display the information to the driver if there is a high confidence it's correct, Malhotra said.
The timing is adjusted for emergency vehicles and pedestrians pushing a button to cross the intersection, he said.
The traffic signal display in the vehicle can come on three quarters of a mile away from the intersection, but Malhotra said the driver won't be confused if traffic lights are spaced too close. It will wait to display when the vehicle passes through the light, he said.
If a driver is on a course that doesn't have traffic lights for a long distance, they might not be able to see the traffic light if there is a hill. The system, however, will inform the driver the next traffic light is going to be red and that they should prepare for that.
"One of the key things is you may be stopped at an intersection and you might be behind a large truck you can't see that traffic light," Malhotra said. "Now, you have that traffic light on your instrument cluster so it is always in front of you even if you are not looking at the traffic light."
There are a times a driver may have a long countdown and decide to turn right and take a different route. That's not coordinated at this time with a car's navigation system but is expected to be included in the future, Malhotra said.
The technology works on those select Audi vehicles built after June 1, 2016. It requires a subscription to Audi's streaming service that can run from $27 to $33 a month.