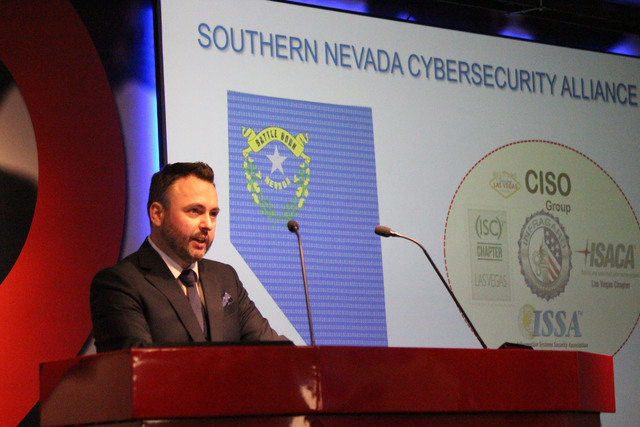 The newly launched Southern Nevada Cybersecurity Alliance (SNCA) is on a mission to help fill the supply gap of local experts in the cybersecurity field.
One of the organization's foremost goals is to educate the current and future cybersecurity workforce. According to SNCA founder Jonathan Davies, workforce studies show that by 2020 there will be a global shortage of 1.5 million cybersecurity experts.
U.S. companies already have experienced shortages, with 209,000 cybersecurity positions going unfilled in 2015, according to a study by Intel Security in partnership with Washington, D.C.-based Center for Strategic and International Studies, a bipartisan, nonprofit policy research organization.
There is also trouble filling available positions at the local level, Davies said.
SNCA's solutions to the foreseeable shortage include creating corporate-sponsored scholarships for students at the University of Nevada, Las Vegas, and providing industry mentors for Southern Nevada's future cybersecurity experts.
Davies, who spent 20 years in military intelligence in the United Kingdom and now works in the private sector in Las Vegas, said he would like to see three to four scholarships to start: a woman's scholarship, undergraduate and graduate scholarships in the field of cybersecurity.
For those already in the industry, SNCA will provide funding for certifications for industry professionals. But there are some hurdles to getting education assistance.
The group was launched with the intent to leverage the expertise of several Las Vegas cybersecurity groups: the International Information System Security Certification Consortium's Las Vegas chapter; the Las Vegas chapter of the Information Systems Audit and Control Association; the Las Vegas CISO group; the FBI's InfraGard program, Las Vegas division; and Information System Security Association's Las Vegas chapter.
Members of these groups can join SNCA at no cost, as long as they agree to assist North Las Vegas, Las Vegas, Henderson and Clark County by providing subject matter experts in the event of a perceived threat to the critical infrastructure of the regions.
"In return for agreeing to put their name on that list, they will have access to subsidized training, where they can request a disbursement if they want to take a class, a boot camp or want to buy an exam voucher," Davies said.
Local cybersecurity companies seem to like the idea. Troy Wilkinson, co-owner of Axiom Cyber Solution, said he and his staff would support the effort, which was launched at Switch Communication's Innevation Center on Sept. 29.
Representatives of major cybersecurity companies also spoke at that event, including Carbon Black, Bit Defender Antivirus Software and The Learning Center/Cyber World Institute, a cybersecurity training firm. These companies are sponsors of the International Information System Security Certification Consortium's Las Vegas chapter. Davies is president of that organization. Symantec Corp., known for Norton's Antivirus software, also is a sponsor of the (ISC)2 organization.
SNCA as yet has no corporate sponsorship, but Davies said he is working on that aspect. It is hoped that SNCA businesses could start to benefit from educational backing the group is forming.
"It will help businesses, because if a member of your staff is affiliated with SNCA, you can rest assured they are getting access to the best training available," Davies said. "And you're not having to pay for it because they are getting it through the SNCA."
Businesses also would benefit by not having to head-hunt across the nation and spend money to lure experts to the valley.
"The tech world in Las Vegas has boomed over the last five years, Davies said. "I just want to see that continue, let it snowball. I've read stories about Las Vegas being the Silicon Valley, and I would love to see that happen."