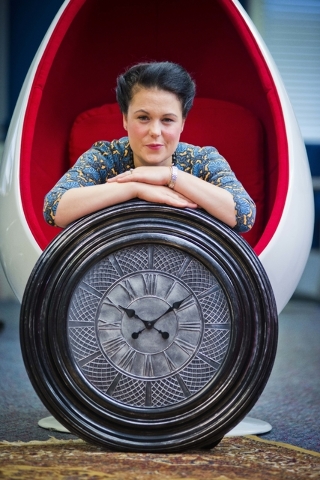 Leah Hutcheon's first time in America came earlier this month when she scouted out the new location for her Scotland-based business, Appointedd, in downtown Las Vegas.
The Scottish software startup is an appointment scheduling tool that seeks to remove the pain of working across U.S. time zones and internationally.
The Edinburgh, Scotland-based business is scheduled to debut its downtown Las Vegas office at Work In Progress, a company that offers memberships and workspace to growing startups, located at 317 S. Sixth St.
"They're very plugged into the community and we want to work with as many local companies as possible," Hutcheon said. "We're excited to do all the fun startup stuff like building a team."
Hutcheon said Appointedd will be hiring five people in management, technology and customer service. She added that having a Las Vegas office lets the company consistently serve its customers.
"As we expand globally, we can offer our customers 24/7 support between here and the U.K.," she said. "This is an amazing opportunity for us to learn, grow and become the best company we can be."
The company's software product seeks to fill a void.
"We all do so much online from banking to shopping and many small businesses have static websites that they pay a lot of money for but don't have tons of control over," Hutcheon said. "And most people remember to book appointments at 9 o'clock at night after they put the kids to bed, so we wanted to streamline that whole process."
Hutcheon said businesses can choose from three monthly subscription packages, priced from $12 to $60. They can list their services, photos and business logos so their customers can set up an account on the site to book appointments. The site also lets businesses see who is booking the appointments and at what times. And it offers a financial reporting tool.
Upgraded packages let businesses imbed the software onto their own websites and send emails and text messages to their customers to wish them a happy birthday, remind them of appointments and promote offerings.
"While our focus is on smaller independent companies — that's where we find the need is — we're also getting interest from larger companies so we may put an enterprise package together at some point in the future," Hutcheon said.
For more information, visit www.appointedd.com.