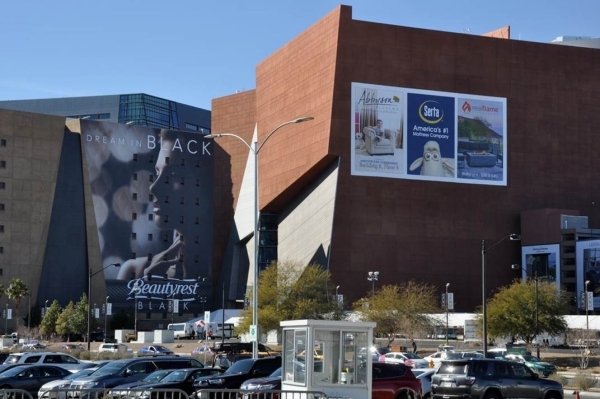 In the new economy, cost savings and operational efficiency have become the new gold standards of business.
Yet in a place synonymous for its affinity for both the dollar and technology, it comes as a surprise that the Las Vegas market as a whole has been slow to identify one of the most basic ways to stretch budgets — adapting and utilizing the most current technology to reduce printing costs including production, operation and storage.
"The 24/7 nature of business now aligns perfectly with the technology that produces at a higher quality, faster and a lot less expensive than the previous generation of digital printers and definitely screen printers," says Joe Castellano, president and chief executive officer of Color Reflections Las Vegas.
This advancement in technology is especially relevant to Las Vegas casinos that require extremely fast turnarounds to give a "face-lift" to a low-performing slot machine game on the casino floor. Prior to this generation of technology, slot machine manufacturers would order a set amount of a slot machine game's printed exterior or "shell" and hope their predictions of customer demand would be accurate.
Now, with LED lamps that cure the ink in a cool temperature to speed up the drying process that prints 1000 dots-per-inch (dpi) in a fraction of the time, these companies can now react to real-time demand, and swap out games overnight or what industry insiders call "giving them a face-lift."
In the 7½ hours it would take traditional screen printing technology to produce one 39-inch-by-16-foot sign, the new digital printing technology processes could produce about 35 of the same sign.
"The cost for screen printing starts at a $4,000 setup cost before anything is even printed," says Michael Plier, spokesperson for Electronics for Imaging (EFI), a digital imaging company that manufactures printers and digital front ends to produce signage in several sectors, including Las Vegas' gaming industry. "Thermo-formed graphics are the best options and have proven to reduce labor costs by 93 percent without having to eliminate labor and increase productivity 95 percent."
EFI led the discussion of the latest technology and features available to the digital printing industry when it hosted its annual 'EFI Connect' conference at Wynn Jan. 19-22. As Wynn's longest-running annual conference, Steve Wynn served as a keynote speaker to mark the occasion and offer his gratitude. However, even a visionary like Wynn could not predict how fast the digital printing industry has moved in the past decade.
The gaming industry has been relatively slow to embrace this newest generation of faster-producing digital printers. Across the United States, chain hotels use the same printers for the coverings of the fruit juice displays often found at continental breakfast stations. The convenience store industry was perhaps the fastest adapter of this printing technology, uses the thermo-formed graphics for advertising and marketing purposes to attract attention to their location, often near a highway. Now, the automotive industry has become a big customer, utilizing the printing technology to add new customized options to vehicles.
"The gaming industry needs to continue to embrace these new features and speed, and not feel threatened by it," says Plier. "The printing process is actually faster now than the vacuum-forming process to mold the material."
Because of this efficiency, digital printing allows industries with many brands — like gaming and food and beverage brands — to minimize storage costs by printing on demand.
Color Reflections Las Vegas runs two shifts, seven days a week, to meet customer demand. They expanded to the two-shift model in 2008, mainly in response to constant last-minute trade show requests.
"During the Consumer Electronics Show (CES) in January, we are open 24 hours a day starting from Jan. 2 until the second day of the show," says Castellano. "Because of the speed of the process, we are constantly in touch with the client. There are often numerous layers of approval in short deadlines."
Much like digital screens, the new LED lamp technology allows the graphic display to produce a smooth, HDMI, high-resolution image, instead of a dot-filled or "pixelated" image like one would see in a comic book. These advanced digital images are on prominent display on hundreds of ATMs across Clark County. The solid color back lighting displays in ATMs are conservative compared to the various multicolor digital printing displays found at slot machines at every casino.
"The future of these digital printing resources are textile wall coverings and possibly converting spaces like meeting rooms, banquets and even public events with advertising and graphic images," says Plier.
For the Las Vegas market, embracing the flexibility of these new digital printing resources means that the future casino floor can look different depending on the group, organization or convention that is in town. A casino floor during the popular National Finals Rodeo weeks in the winter could be filled with games that have a cowboy and western feel while the same casino floor could have more brands with international characters if a worldwide convention is in town.
For those new to these new digital printing products, as with many technology advances, you get what you pay for.
"I always tell my clients that the cheapest price is not always the best price," says Castellano. "We provide a high quality of service, a quick turnaround and our services keeps the business in Las Vegas and Clark County. We want to be the ones that show everyone the importance of these printers and how they can directly help save money for a business' bottom line."
Along with helping local businesses and saving capital, the new digital printing technologies allow for a digital "sprucing up" of casino floors, giving casinos a new look and feel for 2016 and beyond.
"Las Vegas is just a huge canvas that our technology can decorate," says Plier. "This is a huge opportunity for Las Vegas to play catch-up and be a leader in digital printing to meet demand and make the casino floor even more fun."