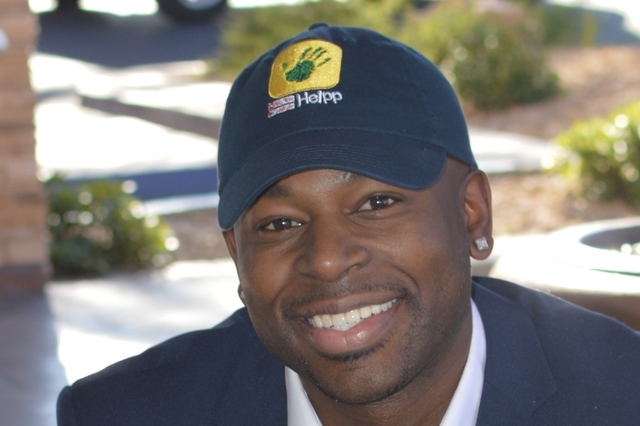 Torian J. Duncan is the founder and CEO of HELPP LLC, developer of a new app that launched June 8 and received 15,000 downloads in the first five days. The concept is akin to crowdsourcing meets Dear Abby.
Duncan said he is fielding offers for upwards of $2 million to partner.
Duncan spent three years studying at Dixie State in St. George, Utah, before coming to Las Vegas to follow his dreams. He has been working as a VIP host at Wynn Las Vegas.
Q. How did you make the leap from VIP host to app entrepreneur?
A. There are a lot of people that come to Las Vegas to have fun, to escape, right? So, working as a VIP host, we help people escape from whatever they're escaping from and at the moment in time they have so much fun, have so much joy, I like bringing that to people in their lives. But, once you leave Vegas, it's back to reality. I want that joy to be constant. I have some clients that come to the club, they ask me personal questions, things that they're going through, and I'm like, 'Man, I wish you never told me that because I kind of look at you, not in a negative way, just in a different way.' I want them to be able to ask those questions and still have the same relationship with people. Honest help for people.
Q. What exactly does the Helpp app do?
A. Helpp app gives you the opportunity to help people as close as next door or as far as the other side of the globe and reap rewards instantly. No matter how simple or deep your issues … you can get Helpp. No matter what color you are, where you are from or what background you came from, because the person you will be helping or helping you will be anonymous.
Q. What is it about the Helpp app do you think made it successful and you famous so quickly?
A. I think it's something people have been waiting for. I know years of my life thought it would be this quick. I literally uploaded my video at 3 a.m. and woke up at 11 a.m. to over 100,000 views. I think it's because there's a lot of people out here that really want to help people. There's wealthy, wealthy, people out here that want to help people but they're tired of helping with money. There's less wealthy or a lot of poor people that really want to help people but feel like they don't get the respect, people won't take them as serious.
The two greatest things I ever heard as advice came from a homeless man and my 6-year-old niece. The homeless man was on the bus and my niece was just honest with me and was so simple. It's like wow, but people won't respect their answers as much as they'd respect somebody of power. So, my app gives everybody the equal power of respect to help.
The biggest thing reason why it went so quick is because there's a lot of people in this world that want to help people and there's a lot of people in this world that need help. The thing about help is it never goes away; you're going to need it again. The spirit is stirring your whole life; from 6 years old to 100, everybody's going to have advice and wisdom to help somebody.
Q. Where did you get the idea to start this company?
A. I started this app like four years ago. It was supposed to be a website. The website was just going to be a website people could go on as a third party when they're bored. It was going to be called bored.com; like, why are you bored? I'm bored because of this. People have the opportunity to comment on it. As time progressed and desktops started becoming more laptops, laptops started becoming more tablets, tablets are becoming phones, I wanted to progress with that.
I always wanted to have someone be able to ask a question and get an honest answer but there's different answers you get when you ask for advice. Like if Shaq (Shaquille O'Neal) walked into the room and asked about his girlfriend beating him, it would be a little different than if somebody asked who was a midget. It would be a completely different answer. So I wanted to figure out a way how to have the same truth, the same advice, no matter what background they're from. I wanted none of that to matter. I just want it to be the honest truth.
I also wanted it to be a competition to help one another because these days everything is quite negative. I wanted to make something where people wanted to go on and actually help. Get the best of both worlds, honest advice. And, no matter how deep and dark your secret, you can ask it on my app because it's anonymous.
Q. As a new young executive, what are the goals, mission and values of your company?
A. The tagline for the app is: "You have the opportunity to help and be helped from anybody around the world, or in your area, and reap rewards." The main goal of the app is to be the No. 1 app in the world people come to for help.
Q. Where do you see HELPP going?
A. I see Helpp going extremely far. Just this week alone, I've talked with seven very powerful individuals and they all want to give me $2 million up to partner with me. And, as of now, we're working on making it a secondary for Siri so you can either ask Siri a question and get a robotic response or you can double tap and you can have a human response to a question you're asking. So we're working on really making it a secondary for all cell phones.
Q. Are you still working as a VIP host? Do you plan to quit your day job?
A. I'm currently a VIP host at XS and Intrigue. I worked at Drai's for about three years. I still work, may not be for long. I'm trying to move forward. I eventually plan on quitting my job and going full-time to focus on Helpp and the organization to be the best help experience for everyone worldwide.
Q. What's would you like people to know about you?
A. I'm a very down-to-earth person. Anybody can contact me and I'll listen to everyone and I prefer it. And if anyone ever wants to talk, they can talk to me. If I'm available, then I'll be more than happy to talk to them. I'm no different from anybody else. I'm no better than anybody else, no smarter than anybody else. The only thing I did was stay consistent and stay consistent with a purpose. That's the only thing I did.